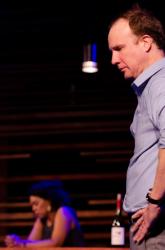 Patrick (Steve O'Connelll) and Gaby (Melanie Loren) are a biracial power couple with a picture-perfect life.  He's an up-and-coming politico running for governor of Ohio, she's a trust lawyer.  His biggest problem this morning is dealing with the schedule presented by his annoyingly perky PR assistant, Leslie (Kayla Kennedy).    
After receiving a distressing phone call, Patrick abruptly leaves his campaign headquarters.  He's learned that a secret from his college days is about to be revealed, and there's nothing he can do to stop it, so he goes home to tell his wife. 
One night, during a drunken night during fraternity pledge week, he was told to paint a racial slur on the door of a black student.  Against his better judgment, he did it, then quit the fraternity the next day.  Although he never told anyone about it, a fraternity brother who went along, told the press. 
Patrick's perfect life begins to unravel as he tries to deal with the consequences of his youthful prank.  His campaign blows up; his marriage begins to fall apart.  When he tries to apologize to Jamal (Samuel Campbell III), the victim of his prank, he learns for the first time about badly it had affected him. 
In order to salvage his campaign Leslie urges Gaby to make a speech supporting her husband, but she can't bring herself to do it. 
"The Firestorm" runs through April 28th at the Mayslake Peabody Estate, 1717 31st St., off Rt. 83, Oak Brook.  Parking is free.  Running time is 1 hour, 35 minutes, no intermission.  Performances are Wednesdays at 8:00 pm; Thursdays at 3:00 and 8:00 pm; Fridays at 8:00 pm; Saturdays at 4:00 and 8:00 pm; Sundays at 3:00 pm.  Tickets range from $34-$44.  FYI (630) 986-8067 or www.firstfolio.org.