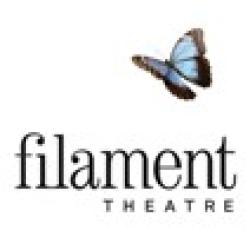 Chicago's Filament Theatre (4041 N. Milwaukee Avenue in Portage Park) – nationally recognized as a pioneer in 'anti-adultist' theater-making and creating work for, and with, young audiences – announces the world premiere of the youth-curated, 'choose-your-own-adventure' inspired production, Think Fast, Jordan Chase!, opening March 18, 2023. This piece was created through SPARK, Filament's signature new work development program where young people curate the entire production experience with support and skill-building from Filament's artistic and education directors.
Think Fast, Jordan Chase! was created by Chicago playwright Sonia Goldberg through interviews and workshops with young people. Directed by Jamal Howard, this magical, 'choose-your-own-adventure' style story centers the voices of young people who are Black, Queer, and Disabled to tell a universal tale about old friends, new kids, and what it means to stay true to yourself. All ages are welcome, but Think Fast, Jordan Chase! will be best enjoyed by ages 8 and up. Audiences are invited to celebrate the theatre's 15th anniversary season with $15 tickets to all 2022-23 season performances. Visit www.filamenttheatre.org for performance and ticket information.

Photos: 1. Think Fast, Jordan Chase! residency at Portage Park Elementary
2. Headshot of Think Fast, Jordan Chase! playwright, Sonia Goldberg
Playwright Sonia Goldberg notes, "This play is about bullying, but there are no villains. A 'bully' is always someone in the thick of navigating big emotions. We all have complex backgrounds, wants, and needs. Sometimes there are misunderstandings that get in the way of connection. If you learn to take a breath and listen, a world of opportunities opens up. I wrote Think Fast, Jordan Chase! with direct inspiration and life advice from youth. This play gives their own wisdom back to them!"
"At Filament, we are excited by stories that give young people real power and agency, and Think Fast, Jordan Chase! is a perfect example.  Developed through two years of workshops with young people, it gives the audience the power to decide what will happen next. It's a new story every time—one where we imagine new worlds, meet new people, and practice how we might navigate future challenges.  I am delighted to bring this rollicking new adventure to our audiences," shares Molly Bunder, Filament Theatre Artistic Director for Creative Partnerships. 
Think Fast, Jordan Chase! travels through time and space. We follow Jordan as she navigates the difficulties of making a decision that may jeopardize her relationship with her best friend, Mahari, and a decision that may harm the new student, Ryan. By transporting Jordan to outer space or a pirate-filled island or a fantasy land, the mystical Grandma Nicky sets Jordan on a journey to get to the root of the issue between Mahari and Ryan. Jordan will rely on the audience to help her choose the right path.
Filament Theatre, on Chicago's Northwest Side, has been creating innovative theater for young audiences since 2007. Filament's mission is to create a more equitable society by celebrating and amplifying the perspectives and experiences of young people through the performing arts. Please visit www.filamenttheatre.org for more information.