This past Friday, our fall semester Drug Abuse Resistance Education (D.A.R.E.) classes began in our local schools.
D.A.R.E. is a program where police officers visit students to discuss a variety of different safety topics with the core curriculum being presented during their fifth grade year. 
This semester, D.A.R.E. classes will be presented in the following classes:
Kindergarten, 1st, and 3rd grade classes at Frank Hammond, Eads, and Elliott Elementary School
Half of the 8th graders at Wilbur Wright Middle School (the other half will participate in the spring)
5th and 8th graders at St. Thomas More School and St. Paul's Lutheran School
The fifth graders at each of the parochial schools will also have D.A.R.E. Graduation ceremonies in December where they will be honored for completing the core curriculum and will receive D.A.R.E. t-shirts, certificates, and gift bags while some of the students will receive additional honors.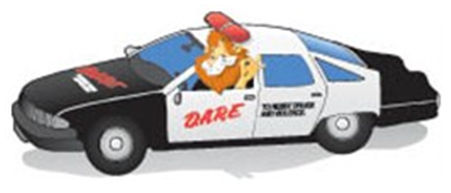 Officer James Ghrist instructs the D.A.R.E. Program at the elementary schools and Officer Gabe Isenblatter instructs it at Wilbur Wright Middle School. The program has been provided to Munster students for 35 years and will be celebrating its 40th Anniversary in the United States this spring. Please watch for announcements on how we plan on celebrating these exciting milestones through various activities during the school year. Thank you to everyone who helps to keep our D.A.R.E. Program going strong.
For more information about D.A.R.E., please contact Officer Ghrist at 219-836-6639 or jghrist@munster.org.