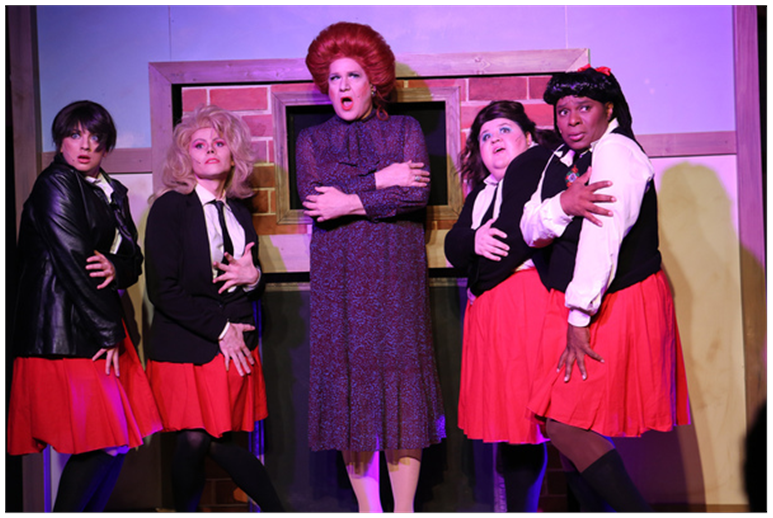 Something sinister is going on at the Eastland School. Several of the girls have mysteriously gone missing. One of them happens to be the sister of influential and astute reporter Claudia Collins (David Cerda). Claudia, with her faithful assistant Morgan (Marissa Williams), plans to get to the bottom of it. While driving to New York state, they devise a plan in which Claudia will disguise herself as a new student named Sissy and Morgan will impersonate a British chambermaid named Eunice in order to infiltrate the tony all-female boarding school and find some answers. 
Sissy befriends her fellow students including the somewhat gossipy Tootie (Robert Williams), butch Bronx native Jo (Alexa Castelvecchi), opinionated and spoiled rich brat Blair (Graham Heacock) and naïve Natalie (Brenna Watkins). Overseeing all of the mayhem is housemother Mrs. Garrett (Ed Jones).  Throw in some outrageous story lines involving taboo drugs, illicit alcohol and a sacrificial goat, some twistedly inane musical numbers and even a caricature of Gary Coleman (puppet design by Jabberwock Marionettes) and you have all of the ingredients that create one heck of an amusing show.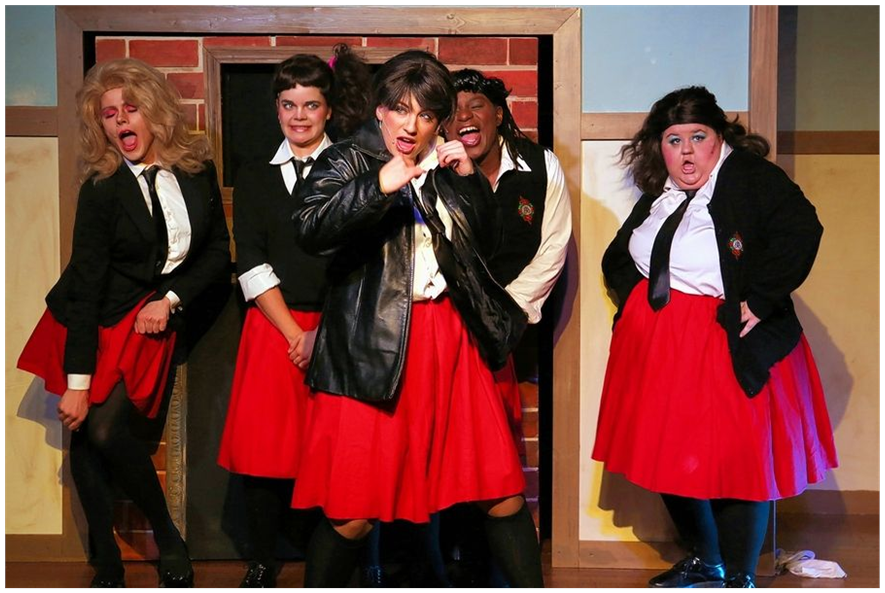 While some technical issues marred the opening night performance it certainly did not damper the fun. In one case it actually added to the hilarity. When a make-up kit, which was a prop, was not present before a scene, it caused a major delay in the timing that it took for Cerda to change into a witch's costume. All of the actors on stage did a wonderful job of "buying time" until Cerda's entrance. Castelvecchi had the evening's best ad-libbed one liner once Cerda reappeared, but he totally burned her with his bitchy retort.
Also, not everyone was on the same page keeping up with Stevie Love's catchy choreography but all of those glitches have been ironed out by now. Heacock, in particular, was memorable as he purred his lines as the sex kitten Blair. But, as is usually the case with all productions from Hell in a Handbag, it was Jones who stole the show. His Mrs. Garrett was perfectly spot-on, complete with droll eye-rolls and jiggly head bobbles and flaming red hair – thanks to Keith Ryan's splendid wig design.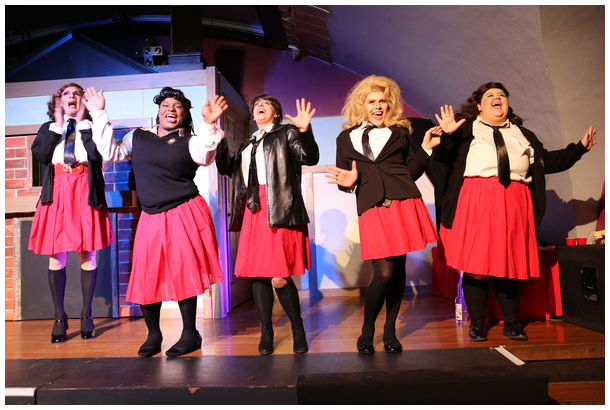 For a heavy dose of demonic delight and creepy camp, be sure to visit Satan's School for Girls.
"The Facts of Life: Satan's School for Girls" continues through November 2, 2019
Mary's Attic, 5400 North Clark Street, Chicago, IL
Curtain Times: Wednesdays, Thursdays, Fridays and Saturdays at 7:30 PM, Sundays at 5:00 PM. Please note: There will not be a performance on Sunday, October 27 at 5:00 PM.
Tickets: $28 to $44 in advance, $30 at the door. Group rates are $22 for 10 or more. VIP Seating is available. Tickets are on sale now through Brown Paper Tickets at www.factsoflife.bpt.me or by calling (800) 838-3006.
Running Time is 95 minutes with one intermission.