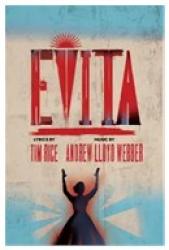 **** Recommended **** Evita has always been one of my favorite musicals.  I love the eclectic mix of music - tango, salsa, rhythmic Latin, classic and rock – especially when the staging doesn't get in the way of the music.  I will never forget reading a review of the movie, in which the young-ish writer actually said it would have been a better movie without all the singing!  Drury Lane's streamlined staging allows the music to soar.  Kudos to Director, Marcia Milgrom Dodge, on finding the perfect blend of voices.  If you want a full-on Broadway-style production, then Drury Lane's Evita is the show for you!  4 BIG Spotlights     
A 1976 Tim Rice - Andrew Lloyd Webber musical collaboration, Evita follows the life and legend of Eva Peron, the second wife of Argentine president, Juan Peron.  Her second act anthem, Don't Cry for Me Argentina is probably the best known song in the show, although On This Night of a Thousand Stars would be familiar to most people.   Several of the original songs were omitted, while You Must Love Me, written for the 1996 movie, has been added. 
Somewhere in Argentina, people are enjoying their evening when an announcement is made. Eva Peron has died.  In this revamped scene, instead of a coffin, Eva Peron (Michelle Aravena), wearing a sparkly white dress, stands like a statue in the midst of her black-clad mourners.  A young man named Che (Richard Bermundez) expresses cynical amusement at all the hysteria, singing Oh What a Circus as he watches Argentina mourn.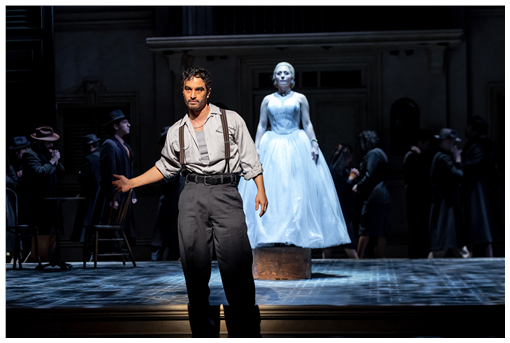 By the way, this isn't the only change.  There aren't any doctors and nurses clustered around a deathbed, and the coffin is absent in the finale as well.  An accordion player (Cory Goodrich) appears in many of the dance scenes.  A children's ensemble (Presley Rose Jones, Levi Merlo, Aaliyah Montana and Peyton Wilson) was added.  Many of the peripheral roles such as Eva's mother and sisters and Eva's progression of lovers have been eliminated, removing a lot of clutter from the staging. 
To explain the phenomenon that is Evita Peron, Che takes his narration back to the beginning, a town called Junin, where the young Eva Duarte (Nina Poulimas) began her chase for wealth and fame.  A tango dancer, she attaches herself to a touring singer, Augustin Magaldi (Paul Aguirre). When he's ready to leave for Buenos Aires, she blackmails him into taking her along.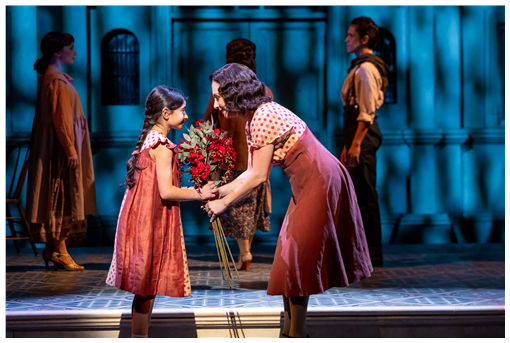 In Buenos Aires, Eva dumps Magaldi.  Che explains her upward mobility through lovers with a song called Goodnight and Thank You.  When she's earning some minor success as an actress, Eva meets Juan Peron (Sean Maclaughlin) at a charity concert and moves in on him. 
Juan and Eva circle one another singing I'd Be Surprisingly Good for You.  Later that night, Eva throws out Juan's current Mistress (Keila Hamed-Ramos), who stands outside singing Another Suitcase in Another Hall.
Juan and Eva, who have fallen deeply in love, lay careful plans for his political future, campaigning with a crowd-rousing march, A New Argentina.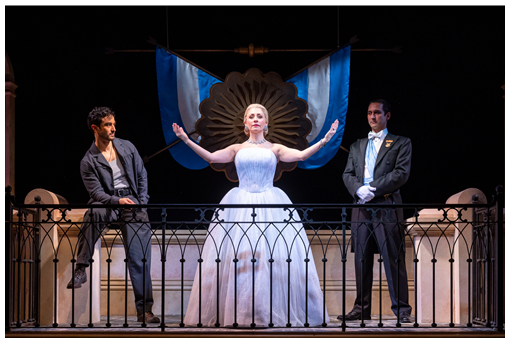 As Eva travels in Europe on her 'Rainbow Tour' she puts on a mini style show.  Starting out with a multi-crinoline skirt with a jacket and matching hat, she steps into a group of maids, does a spin and suddenly she's wearing a pencil skirt with a different jacket and hat.  She repeats that in each new country she visits.  Kudos to Costume Designer Ryan Park, loved the 50s style vibe.    
I'm not sure if I've ever seen a stage production of Evita which actually cast really good-looking leading men.  Let me tell you, both Maclaughlin and Bermundez fit that bill!  They have great voices too. 
Finally, Kudos to the Ensemble – the Tango Dancers, Mourners, Officers, Aristocrats, Lovers, Mistresses, Descamisados – Brian Bandura, Collin Bradley, Jenna Coker-Jones, Clayton Cross, Michelle Lauto, Ivory Leonard, William Marquez, Jessica Miret-Garcia, Mia Nevarez, Martin Ortiz Tapia, Emily Ramirez, Gray Randolph, Josh Pablo Szabo, Shanna Vanderwerker, Arik Vega and Nicole Volpe. 
Note: Guests must show proof of vaccination before entering the theater.  Guests are required to wear masks while inside the building. 
Evita runs through March 20th at Drury Lane Theatre, 100 Drury Lane, Oakbrook Terrace.  Parking is free.  Running time is approximately 2 hours, 15 minutes, with an intermission.  Performances are Wednesdays at 1:30 pm; Thursdays at 1:30 & 8:00 pm; Fridays at 8:00 pm; Saturdays at 3:00 and 8:00 pm; Sundays at 2:00 & 6:00 pm.  Tickets range from $59-$74.  FYI (630) 530-0111 or www.drurylanetheatre.com.