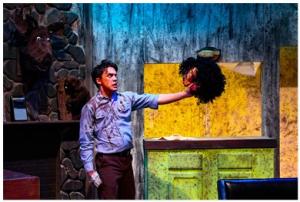 Five college friends embark on a spring break vacation in the woods. Ash (Jordan Dell Harris) and his girlfriend Linda (Kirby Gibson) met at the local Big Box store where they both work in separate departments. Ash's older sister Cheryl (Caitlin Jackson) has come along to act as a pseudo-chaperone and is constantly challenged and taunted by frat boy Scott (Josh Kemper). Scott's companion, Shelly (Stevie Love) is an empty-headed blond who just drunkenly hooked up with Scott the night before.
Not having completely planned out all of the details of their trip, they arrive at an abandoned house in the woods and decide to break in and stay there, since the owners are away. Upon finding a cryptic 14th century book, written in human blood and bound in flesh, as well as a cassette player with some mysterious notes dictated by a respected anthropologist, things begin to go bump in the night (not to mention that trap door to the cellar that springs open yet no one can be found in the basement). Once Cheryl has become too frightened inside the cabin, she decides to go for a walk in the woods. There she is attacked by the wicked trees and becomes one of the evil dead. Of course, it's just a matter of time until all of the rest become walking zombies, each one spouting the famous line "Look who's evil now!" once they have converted.
Into all of this madness wanders Annie (Stevie Love again, but this time in an auburn wig), whose family owns the cabin and whose father's voice can be heard on the cassette as he attempted to solve the coded Book of the Dead. Accompanying Annie are her assistant Ed (Robert Quintanilla) who cannot ever get a word in edgewise before Annie completes his sentence and their hillbilly guide Jake (Shane Roberie), who delivers one of the best songs in the show. Also, Quintanilla does double duty as Moose, voicing the taxidermied animal's head that is mounted above the fireplace.
Every single member of this cast is truly wonderful, each one magnificently adept at split-second transitions from "alive" to "dead" and quick costume or accessory changes. They all work together beautifully to ensure that a tense comedic level is maintained throughout, which guarantees a smile upon your face during the entire show.
Standouts include Love, just because he gets to play two very different characters and does them both coherently. Also very strong is Jackson as Cheryl -- but when isn't this gifted performer ever beyond being amazing. Not only does she get the lion's share of the script's zaniest lines and jokes but she uses her side pony hair piece and desperately roving and bulging Bette Davis eyes to great sidesplitting effect (be especially vigilant of her eyes once she has become evil). But the true star of this show is Harris as Ash. Not only does Harris meet the excruciatingly physical demands that this role requires but he surpasses them with a manic yet always sincere performance. Whether charming with his Donny Osmand-like good looks and matinee idol thick, dark hair or his eerie resemblance to a young Jim Carrrey in his prime, Harris has facial expressions that galvanize you and also impel you to constantly keep your gaze upon him whenever he is on stage, which is for roughly 90 percent of the show.
On the technical side, Jeremiah Barr had his hands full as he was the technical director and also the scenic, props and puppets designer (and there are quite a fair share of puppets in this show). The spirited music direction is by Oliver Townsend and Jon Beal did the fight choreography and has the lofty credit of being the "gore consultant."
Just a final note: While the seating is general admission, select seats in the first three rows, stage right, are sold separately as "The Splatter Zone," where audience members should be prepared to be splashed with fake blood (non-allergenic, completely washable). Disposable plastic ponchos will be provided at the box office (or bring your own).
------------------------------------------------------------------------------------------------
"Evil Dead: The Musical" runs through Saturday, February 16, 2019
The Broadway at Pride Arts Center, 4139 North Broadway, Chicago
Curtain Times: Thursdays, Fridays and Saturdays at 7:30 PM, Sundays at 2:00 PM.
Please note: there will be an added performance on Tuesday, January 29 at 7:30 PM.
Tickets: $30 and are currently available at www.blackbuttoneyes.com or evildeadchicago.brownpapertickets.com
Running time is approximately 2 hours, including one 10 minute intermission.