In a unique collision of recreation and art, the Elmhurst Art Museum joins forces with Colossal founder Christopher Jobson to curate two 9-hole golf courses made by artists, Par Excellence Redux. The Front 9 ends September 16, 2021, and The Back 9 will continue the fun October 13 – January 2, 2022. The fully playable course, designed by artists and architects from the Midwest and beyond, pays homage to the School of the Art Institute of Chicago's wildly popular 1988 exhibition, Par Excellence. Tee time reservations are made online and available at elmhurstartmuseum.org/golf.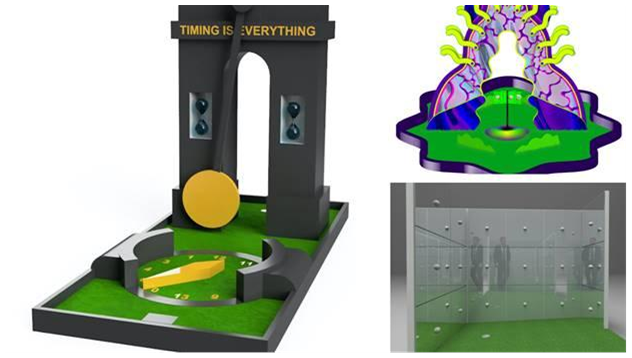 "When we opened The Front 9 this summer, we were thrilled with the response from art enthusiasts and families alike," said Executive Director John McKinnon. "Our mission is to enrich our community through art, and what better way to introduce the general public to artists of different disciplines than through this unusual twist on a familiar pastime?"
The Back 9 holes of Par Excellence Redux are located throughout the Museum's galleries and feature unusual rules, surprising outcomes and a varied collection of themes—from social justice to the occult. The exhibition includes holes with optical illusions, commentary on social and environmental issues, an exploration of the cosmos and more.
The Back 9, on display throughout the Museum's main galleries, includes:
●         "Pinball Golf: An American Life" by Wes Baker (Valparaiso, Indiana)
●         "The Idol" by KT Duffy (Nichols Hill, Oklahoma) is intended as a feminist futurist idol of the mini golf universe, rendered in neon patterns and slick acrylic surfaces. 
●         "Infinity Putt," by Eve Fineman (Chicago, Illinois) takes a straightforward green and adds complexity through suspended golf balls and the use of reflection to create a unique spatial experience where the only obstacle is visual illusion.
●         "Mission: Mars" by Vincent Lotesto (Chicago, Illinois) is inspired by the topography of Mars. To achieve a hole-in-one, the player must aim the golf ball up a ramp located on the southern side of Olympus Mons, the highest volcano in our solar system. The ball eventually falls into the collapsed crater on the summit and exits on the eastern side of the mountain.
●         "A Level Playing Field," by Joshua Lowe (Bloomington, Illinois) is a kinetic sculpture that demands a response to a question that local, national and global citizens are increasingly faced with, "Will we work together towards a common goal, or will we sabotage each other?"
●         "Timing is Everything" by James Merz (Fort Wayne, Indiana) uses several moving elements to illustrate that timing is everything, in life and in sports. The player must navigate through the slowly rotating second hand of the clock and avoid the swinging pendulum to arrive at the hole.
●         "Toad Tunnel" by David Quednau (Chicago, Illinois) illustrates the true-life difficulties faced by the American toad, an animal currently at risk of extinction. This hole illustrates the toad's struggle to get back to its breeding pond, facing obstacles like gas stations, drainage ditches and farms.  
●        "A Place to Play Fairly" by Liam Wilson and Anna Gershoni (Columbia City, Indiana), is an explicit environment to express moral integrity, even during a game so often cheated as mini golf. The course is a large oval with starting and ending points placed back-to-back. The player can play completely around the circle or decide to cheat and putt the ball directly backward for a hole-in-one.
●        Hole #9 is yet to be determined.
The original 1988 Par Excellence exhibition at the School of the Art Institute was the brainchild of Chicago sculptor Michael O'Brien and opened to queues down the block. The exhibition in Elmhurst will pay homage to the original course through ephemera, newspaper clippings, and photos. The designer Annalee Koehn, who was one of the organizers of the original 1988 exhibit, recreated her fortune-telling hole Determine Your Fate, which will serve as the practice hole for The Back 9. Par Excellence was likely the first artist-designed mini golf course ever created and paved the way for future artistic golf courses that would follow.
About Colossal
Colossal is an international platform for contemporary art and visual expression that celebrates a vast range of creative disciplines. Founded as a blog in 2010 by writer and curator Christopher Jobson, the site has over 6,500 published articles from contributors across the globe and reaches tens of millions of readers monthly on several online channels. Colossal is based in Chicago, and now works internationally to curate and produce large-scale art exhibitions and film events. Learn more at thisiscolossal.com/about and christopher.jobs/on/
 
About Elmhurst Art Museum / New Museum Hours
The Elmhurst Art Museum is located at 150 South Cottage Hill Avenue in Elmhurst (IL), 25 minutes from downtown Chicago by car or public transportation (Metra). On the museum's campus is the McCormick House, a single-family home designed in 1952 by Mies van der Rohe, one of the great architects of the 20th Century. The McCormick House is one of only three residences designed and built by Mies in the United States – and one of only two open to the public.
As a unique arts complex, the Elmhurst Art Museum is deeply committed to three distinct areas of focus to inspire and enrich our community: art, education, and architecture. The Museum is one block from the Elmhurst Metra station and beginning July 7, 2021, the Museum will resume its new hours and will be open Wednesday and Thursday from 12:00 p.m. – 5:00 p.m., Friday through Sunday, 11:00 a.m. – 5:00 p.m. and every second Friday of the month from 11:00 a.m. – 9:00 p.m. Golf prices are $10 for Adults (ages 16+), $8 for Seniors, $5 for Children (ages 5-15), and Free for Kiddies (under 5). For more information, please call 630.834.0202 or visit elmhurstartmuseum.org.