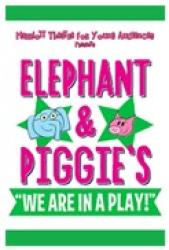 ***** Highly Recommended ***** We attended Elephant and Piggie's "We are in a Play" on Saturday, July 22, 2023 at 10:00 am at the Marriott Theatre in Lincolnshire, Illinois.  My mom, 5-year old, 3-year old, and I enjoyed the play very much.  The play follows many of the Elephant and Piggie adventures found in the book series by Mo Willems.  My kids read and flip through the books at home, so they knew exactly who the characters were on stage; they were so excited to see Elephant and Piggie "in person".
I felt the actors were cast perfectly for their roles.  Piggie is played by Lillian Castillo and she has the energy, silliness, and enthusiasm Piggie has in the books.  Elephant is played by Lorenzo Rush Jr. and he does an excellent job portraying the over thinker, big hearted, worry wart that is Gerald, the elephant.  Both main actors, along with the entire cast which included Brian Bandura, Sara Reinecke, and Ciarra Stroud as The Squirelles," and Patrick Michael Tierney as Dog/Penguin, were terrific.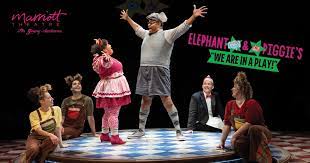 The entire performance was filled with high energy dialogue, singing, dancing, and fun.  The play had everyone laughing, both children and adults.  Once Gerald and Piggie realize they have an audience and are in a play, they get the entire audience to participate.  This production really has it all when it comes to young children enjoying theatre. 
Most kids in attendance were between the ages of 2 and 7, although there were many children younger and older present.  The show lasts about an hour without an intermission.  After the show, the cast hosts a question-and-answer session.  I would give this play a 5 out of 5 stars.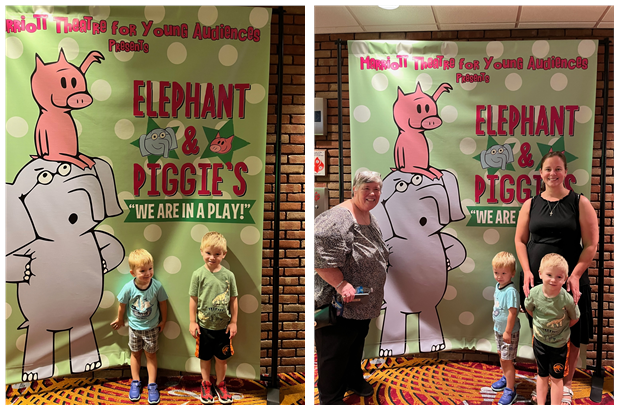 Julia Rack & her review crew
Elephant and Piggie's "We are in a Play" runs through August 13th at the Marriott Theatre, 10 Marriot Drive, Lincolnshire.  Parking is free.  Running time is one hour.
Performances Thursdays through Sundays at 10:00 am with select 12:30 pm performances.  ASL interpreted performance, Saturday, August 12th at 10:00 am.  Tickets are $15.75 excluding tax & handling fees.    FYI (847) 634-0200, www.ticketmaster.com or www.marriotttheatre.com.