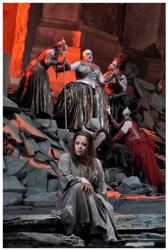 Richard Strauss' score from this 1909 work is perhaps the most propulsive of any in the operatic canon, constantly and almost relentlessly driving the action forward. The intensity is palpable from the opening notes and never lets up until the final, devastating last moments of the downbeat. Perfectly matched with that magnificent score is the libretto by Hugo von Hofmannsthal, in his first (and possibly most successful) collaboration with Strauss. That libretto, which has been termed "visceral emotional poetry" is based on the Sophocles tragedy. However, Hofmannsthal used both the political unrest in Russia at the time as well as the growing acceptance of the theories of Freud to forge his own unique libretto that delves to the depths of the inner psychology of these characters. Melded with that primal score by Strauss, "Elektra" became perhaps too modern for its time.
As the Trojan War came to an end, King Agamemnon, who was the commander of the Greek forces, returned home to find that his wife, the highly-strung queen Klytamnestra (mezzo-soprano Michaela Martens) had taken a new lover -- his own nephew Aegisth (tenor Robert Brubaker). Both Klytamnestra and Aegisth, madly in love and hungry for power, took an axe and brutally murdered Agamemnon while he was in the bathtub.
As the opera opens, Elektra is an emotional wreck, refusing to bathe (can you really blame her based on her father's fate) and the object of ridicule, shunned by her five maids. Her only solace is her tender relationship with her sister Chrysothemis (soprano Elza Van Den Heever), a gentle princess who longs for nothing more in life than to become a mother herself. Prisoners in their own father's palace, these two desire a happier existence. Chrysothemis advises Elektra to avoid their mother, who it seems has recently been plagued by nightmares. Elektra has some very choice words with Klytamnestra and suggests that she knows of a way to cure her mother of those visions. Plotting to avenge the death of their father, Elektra takes it upon herself to resolve the matter. Once her brother Orest (bass-baritone Iain Paterson in his Lyric debut), who had been exiled for his own safety from Klytamnestra, returns to the palace he relieves Elektra of the burden and takes the axe to perform the ultimate act of revenge.
Martens is absolutely terrifying as the wicked Klytamnestra, her demeanor steely and icy. Van Den Heever, on the complete opposite end of the spectrum, is glowing and warm in the role of Chrysothemis. But Stemme, a prodigious talent as a dramatic actress, uses her capacious and expressive voice to create a very complex character. She is her most controlled in her confrontation with her mother and you can actually hear the joy in her voice in her touching scene where she is reunited with her brother.
Director Nick Sandys, reviving the original Sir David McVicar production that premiered at Lyric several seasons ago, has put his own spin on his Lyric directorial debut. Primarily known as a fight choreographer (he has designed fights and movement for 48 Lyric productions since 1995), his style is most evident in the whip-wielding Overseer as she cracks her whip to keep the servants in order, the ghastly pageantry of the Confidante and Trainbearer who accompany Klytamnestra on her regal entrance and most assuredly in the carnage and gore that are featured in the chilling climax.
John MacFarlane's set (he also designed the costumes) overwhelms the senses. At the outset, the extreme pitch of the leaning palace entrance takes a few seconds for your eyes to adjust to its severity. The set towers so high and at such a precipitous angle that the small screen above the stage that the supertitles are projected upon has been shifted to stage left instead of in the center, where it is usually located for all other operas. Jennifer Tipton's lighting design initially basks almost everything in a cold, bluish-gray tone that leads to rich red and orange hues emanating from the locked metal gate that bars entrance to the palace. Her brilliant use of shadows, particularly when mysterious strangers are looming in the wings, is chilling.
There are three remaining performances of "Elektra", February 14th, 18th & 22nd.  Running time is 100 minutes. "Elektra" is presented at the Lyric Opera House, 20 N. Wacker, Chicago.  Best parking option: The Poetry Garage, 201 West Madison, $12 in advance at www.thepoetrygarage.com.  Valet parking is also available - $30.  Tickets start at $37.  FYI (312) 827-5600 or www.lyricopera.org/Cendrillon.