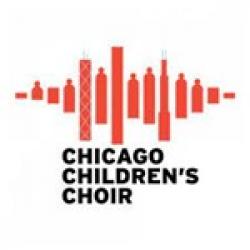 Chicago Children's Choir (CCC), a nonprofit organization that empowers and unites youth from diverse backgrounds to find their voice and celebrate their common humanity through the power of music, will embark on a 10-day, 5-city tour of Egypt this June.
The Choir has toured nationally and internationally since the 1960s, leveraging the universal soul of music to connect people across cultures and geographies. In addition to recent visits to Kentucky, Washington DC/Baltimore, New York/New Jersey, and Puerto Rico, the upcoming tour of Egypt marks the first time the group has travelled since 2019. Among other stand-out experiences, Chicago Children's Choir was the first civilian group to be allowed in the Demilitarized Zone in Korea, performed for Nelson Mandela immediately following the end of apartheid in South Africa, and collaborated with Bobby McFerrin in Scandinavia.
"Traveling shrinks the world. This was more than just singing songs. This was sparking a movement of unity and acceptance and inclusion. We were actually becoming ambassadors for multiculturalism all over the world," says Chicago Children's Choir alumnus Jonathan Brooks.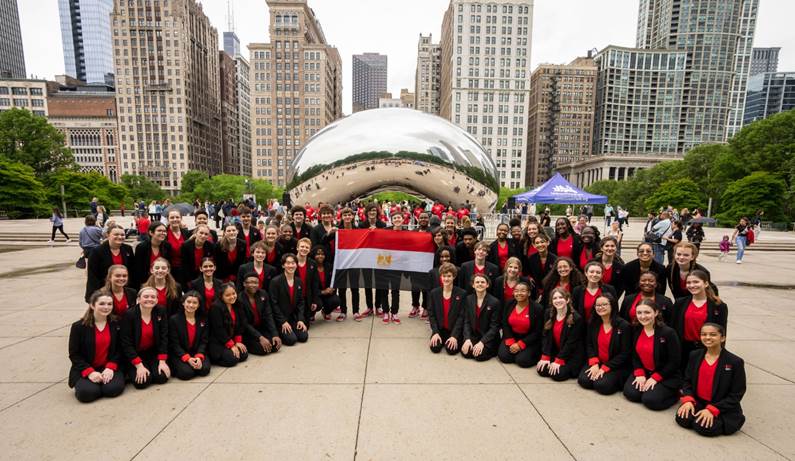 60 high school-aged singers from across Chicago will explore human history and forge bonds with Egyptian youth and artists. Alongside acclaimed Egyptian vocalist Nesma Mahgoub, Chicago Children's Choir will perform at Cairo Opera House on June 21 and for an invite-only audience of local youth at Tehrir Cultural Center on June 22.
"Music was my passport to the world, and I wish the same for today's young people: to be able to connect authentically with people who they might not immediately see eye-to-eye with. Our singers approach these experiences with curiosity and appreciation. We are grateful to the people of Egypt for welcoming us with open arms, and we look forward to showcasing the diversity, vibrancy and creative excellence of the city of Chicago," remarks Josephine Lee, CCC's President.
In addition to performances in Cairo and exploration of one of the Seven Wonders of the World, the Choir will perform at the Great Library of Alexandria on June 28. On the upcoming concerts, Nesma Mahgoub remarks, "I'm delighted to collaborate with this world renowned youth ensemble from Chicago. We have begun preparing in advance of their arrival, and I'm amazed by their talent and reverence for the Arabic language and music. These are shows not to be missed!"
More information is available at www.ccchoir.org/Egypt.
About Chicago Children's Choir
Founded in Hyde Park in direct response to the Civil Rights Movement in 1956, Chicago Children's Choir (CCC) has grown from one choir into a vast network of in-school and after-school programs driven by one mission: to inspire and change lives through music. CCC has impacted the lives of more than 50,000 diverse youth throughout its 65-year history. Since its founding, CCC has focused on building programs that reflect the racial and economic diversity of Chicago. Eighty percent of youth served are from low-moderate income homes and participate completely free of charge. High school seniors enrolled in CCC have a 100 percent graduation rate, becoming global ambassadors who carry on CCC's core values in a wide array of professional fields.
Under the leadership of President Josephine Lee, Chicago Children's Choir has achieved new heights and revolutionized the youth choral arts world through innovative creative partnerships and new artistic endeavors. Recently, the Choir collaborated with Grammy Award-winning music director and producer Peter CottonTale on his original song "Together" for Google's 2020 Year in Search video, which went viral with more than 240 million views. Other recent projects include the 2020 PBS national broadcast of the new staged production of Leonard Bernstein's MASS under the direction of Marin Alsop in July 2018 and 2019 with two frequent creative partners: the Chicago Symphony Orchestra and Ravinia Festival; Lyric Opera's productions of Dead Man Walking, Tosca and Tchaikovsky's romantic thriller The Queen of Spades all of which included select Chicago Children's Choir singers cast as the children's chorus; the world-premiere hip hop musical Long Way Home, written and directed by the renowned Q Brothers Collective, which played to five sold-out houses in 2018 and was subsequently released as a one-of-a-kind album in 2021; and collaborations with Chance the Rapper on his critically-acclaimed directorial debut, Magnificent Coloring World (2021), as well as on his debut studio album The Big Day (2019) and his Grammy Award-winning Coloring Book (2016) studio recording and tour performances. CCC has served as a model for youth choirs across the country including Boston Children's Chorus, Denver Children's Choir, and Indianapolis Children's Choir.
Learn more at ccchoir.org.
About Nesma Mahgoub:
Nesma Mahgoub is an Egyptian singer, actress, and musician, born in Cairo, Egypt. In 2011, She was the first Egyptian female artist to win the Middle East version of the international Reality Show "Star Academy" in its 8th season. She is trained by the famous soprano, Dr. Neveen Allouba & by the CVT (Complete Vocal Technique) authorised vocal coach, Sherif Al Dabaa. and won several prizes in the European competition "Jugend Musiziert" in Germany. She released her first album "Hatolly eh" in 2012. In 2013, she graduated with a Bachelor of Musical Arts in Performance and a theater minor from The American University in Cairo, Egypt. She starred in many musicals done by The American University in Cairo, like the opera ,"Dido & Aeneas", "The Telephone" and the famous musical, "Les Miserables" and "Ellela Elkebira" produced by Fabrica, an Egyptian Musical Theatre company founded by Dr. Neveen Allouba. She played the lead role of a new Arabic original musical "Donia Habibty" with the famous actor, Kamal Abu Raya. The musical shows her unique talent as a singer, actress and dancer and was directed by the famous director, Galal El Sharkawy. Mahgoub has the skill to sing in many languages, like Arabic, English, Italian, French, German, Latin and even Hindi. She excels in her musical career singing Oriental, Pop, Rock, Opera, and much more. She has shown those skills in "Sahibat Al Saada" TV show, hosted by the famous artist, Essad Yunis, where she created and performed medleys of the most famous international songs from around the world and famous songs from the Middle East. She released successful singles in the last few years after her album release, like "Hob Ekhwat", "Mestaghraba" , "Wujuh" and "Kol Shams W LihaDel", which was the hit song of her EP, "Arouma", in 2021. Mahgoub recorded various songs for movies, series, ads and also dubbed different cartoon characters, like Queen Elsa in the Disney animation movies (Frozen I & II). Now Mahgoub is working on her new career path in Independent Music, and she is in search for songs that will complete her new music colour and new look. Alongside her own songs, she is the the musical director of two major projects: CineMania and CineMania بالعربي and in addition to her singing career, in 2017she took a bigger step in music by teaching performance for singers and directing the AcaPop Choir at The American University in Cairo (AUC).