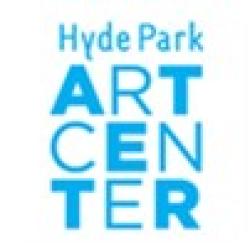 Hyde Park Art Center, the renowned non-profit hub for contemporary art located on Chicago's vibrant South Side, announces The United Colors of Robert Earl Paige, the career-spanning survey of artist, designer, and educator Robert Earl Paige (b. 1936). With multimedia works made between 1964 and 2024, this solo show is the largest presentation of the Chicago native's work to date and brings together a selection of Paige's fabrics and textile work, and rarely seen drawings, assemblages, and ceramic objects that explore the artist's lifelong quest for beauty. A highlight of the exhibition is the debut of recent clay, wall/floor paintings, and collage made during his Radicle Residency at Hyde Park Art Center in 2022-23.  On view from April 6 until October 27, 2024, the exhibition and corresponding public programs are part of Art Design Chicago, a citywide collaboration initiated by the Terra Foundation for American Art that highlights the city's artistic heritage and creative communities.
Raised in the Woodlawn neighborhood on the South Side of Chicago, where he still resides, Paige makes artworks in response to the patterns, colors, and materials of everyday Black life. Art and craft merge in Paige's over-half-a-century exploration of the role of beauty to create shared understanding between people, a concept he borrows from African aesthetics. His hand-dyed textiles, cardboard collages, and ceramic tiles, inspired equally by modernist aesthetics and the traditional basket weaving techniques and symbology of West African cultures, seek to encourage liberation for all. His iconic "Power to the People" design motif of half circles building upward and outward in an organized mesh of individuals expresses how simple gestures and lines can create solidarity.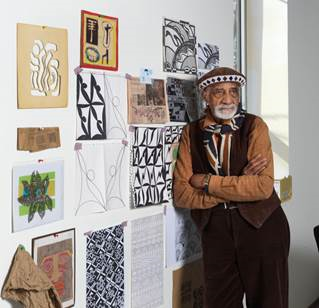 Photo credit: Portrait of Robert Earl Paige in studio at Hyde Park Art Center, 2022, by Tom Van Eynde
The United Colors of Robert Earl Paige uplifts the octogenarian artist's work at a moment of deep-rooted inequity in America. For this exhibition, Paige presents a new, colorful hand-woven textile based on a drawing by his daughter when she was nine years old. The title of the show, The United Colors of Robert Earl Paige, references the title of this drawing, which echoes the controversial 1990s marketing campaign for the clothing company Benetton. Like the 90s, the current moment is charged with societal inequities, from women's rights to healthcare access to ongoing police brutality. The appropriation of this title for Paige's exhibition is a call for humankind to come together and create solutions for these systemic issues.
Multigenerational learning and pedagogy are at the core of Paige's art practice. Teaching art and design to youth for over five decades, Paige believes strongly in community participation to generate art and culture that speaks to the Black experience.
Early in his career, Paige and arts educator Dr. Carol Adams founded EVERYDAY ART, an organization that hosted art exhibitions in unlikely places, like laundromats and funeral homes, and the first arts festival at South Shore Cultural Center in Chicago. Through EVERYDAY ART, Paige and Adams sought to generate a community aesthetic that considered how Black community members both design and work toward a unified neighborhood appearance that embraces their culture and heritage.
The ethos of EVERYDAY ART informs Paige's artwork and belief in aesthetics to strengthen the community around him. As part of The United Colors of Robert Earl Paige, the Hyde Park Art Center will present a companion exhibition, Parapluie, in an adjacent gallery that features the works of local artists Paige identifies as being in his peer-to-peer creative network. The parapluie, or umbrella in French, is how Paige describes the circles of artists that mutually support each other. This multigenerational multimedia exhibition highlights artists who regularly exchange ideas, skills, solutions, and materials with Paige to make new work.
RELATED PROGRAMS
During the seven-month run of The United Colors of Robert Earl Paige, Hyde Park Art Center will pilot a community engagement series of "pop-in" sessions for free artmaking at partner sites around the South Side. These satellite sessions will use Paige's teaching principles as a model for free classes that encourage critical learning and problem-solving skills, while bringing art-making and pedagogy to art 'desert' communities in Chicago throughout 2024. The Art Center will also host a Teacher Institute for Chicago Public School teachers to learn the curriculum and adapt it to their classrooms in August 2024. The community engagement program is generously funded by the Terra Foundation for American Art.
EXHIBITION CATALOG
The exhibition will be accompanied by the first monograph catalog dedicated to Robert E. Paige and feature essays by Romi Crawford, Gervais Marsh, and Allison Peters Quinn, among others. The publication will be distributed by Hyde Park Art Center's in-house publishing arm Green Lantern Press.
The United Colors of Robert Earl Paige is curated by Allison Peters Quinn, Director of Exhibition & Residency Programs at the Hyde Park Art Center, and is funded by the Terra Foundation for American Art.
This exhibition and corresponding publication and public program are supported by the Terra Foundation for American Art and is a part of the TFAA's Art Design Chicago 2024 initiative.
ABOUT THE ARTIST
Robert Earl Paige (b. 1936, Chicago) is an interdisciplinary artist, designer, and educator actively making work that challenges the distinction between fine art and craft by combining elements from African aesthetic traditions, modernist painting, Bauhaus architecture, and vernacular invention in his objects, collages, and fabrics. He earned a BFA from the School of the Art Institute of Chicago and began his career working for the architectural design firm Skidmore Owings and Merrill before transitioning to creating commercial objects and fashion. He has partnered with commercial enterprises such as the Italian fashion house Fiorio and Sears, Roebuck and Co. department stores to produce scarves and interior decor respectively. His signature line the Dakkabar Collection was sold nationwide in over one hundred Sears stores and included several bedroom and home furnishing pieces inspired by West African imagery with a contemporary palette in the 1970s.
Paige participated early in the Black Arts Movement, and believes strongly in its ideology of community participation in art and culture, which continues to be of focus in his pedagogy today. He has taught art and design principles to youth through Gallery 37 (Chicago) and is a frequent lecturer with the nomadic Black Arts Movement School Modality. Paige has been an artist-in-residence for many organizations, including the Cabrini Green neighborhood alliance, DuSable Museum of African American History, Schomburg Center for Research in Black Culture (New York), Ndebele Foundation (South Africa), and Hyde Park Art Center.  Works by Robert Paige have been exhibited at Salon94 Design and the Cooper Hewitt, Smithsonian Design Museum in New York City, and in Chicago at the SMART Museum of Art and the Chicago Cultural Center, among others.
ABOUT THE HYDE PARK ART CENTER
Hyde Park Art Center, at 5020 South Cornell Avenue on Chicago's vibrant South Side, is a hub for contemporary arts in Chicago, serving as a gathering, production, and exhibition space for artists and the broader community to cultivate ideas, impact social change, and connect with new networks. Since its inception in 1939, Hyde Park Art Center has grown from a small collective of artists to establishing a strong legacy of risk-taking and experimentation, emerging as a unique Chicago arts institution with social impact. Today, the Art Center offers a diverse suite of programs for artists and art lovers of all backgrounds, ages, and stages in their careers including: contemporary art exhibitions in six galleries; open-access community-based school with 1,500 annual enrollments; weekly arts education to 1,000 elementary school students in public schools; weekly and summer teen programs for 100 teen artists; professional-advancement programs for artists; a local and international artist residency; and public programs that connects residents with Chicago art and artists.The Art Center functions as an amplifier for creative voices of today and tomorrow, providing the space to cultivate new work and connections.
For more information, please visit www.hydeparkart.org