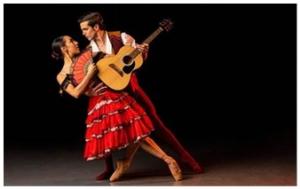 **** Highly Recommended ****  If you were thinking about getting a ticket to see the Joffrey Ballet this season, the absolutely fabulous Don Quixote is your last chance this season – and if I were you, I'd be ordering my tickets now!  Yuri Possokhov, who choreographed Don Quixote to music written by Ludwig Minkus more than 150 years ago, combines classical ballet with Spanish flamenco to create a masterpiece.  Travis Halsey's colorful costumes complement the choreography, adding Spanish color and flair.  Don Quixote is a gorgeous spectacle, the best I've seen in a long, long time. 4 Big Spotlights
The Joffrey's Don Quixote originally premiered October 12, 2011 at the Auditorium Theatre.  In this performance, the Lyric Opera Orchestra, conducted by Joffrey Music Director Scott Speck, provided the soaring music written by Ludwig Minkus while he served as the Composer of Ballet Music to the St. Petersburg Imperial Theatres in Russia.  The first performance of his Don Quixote was performed by the Bolshoi Ballet in 1869.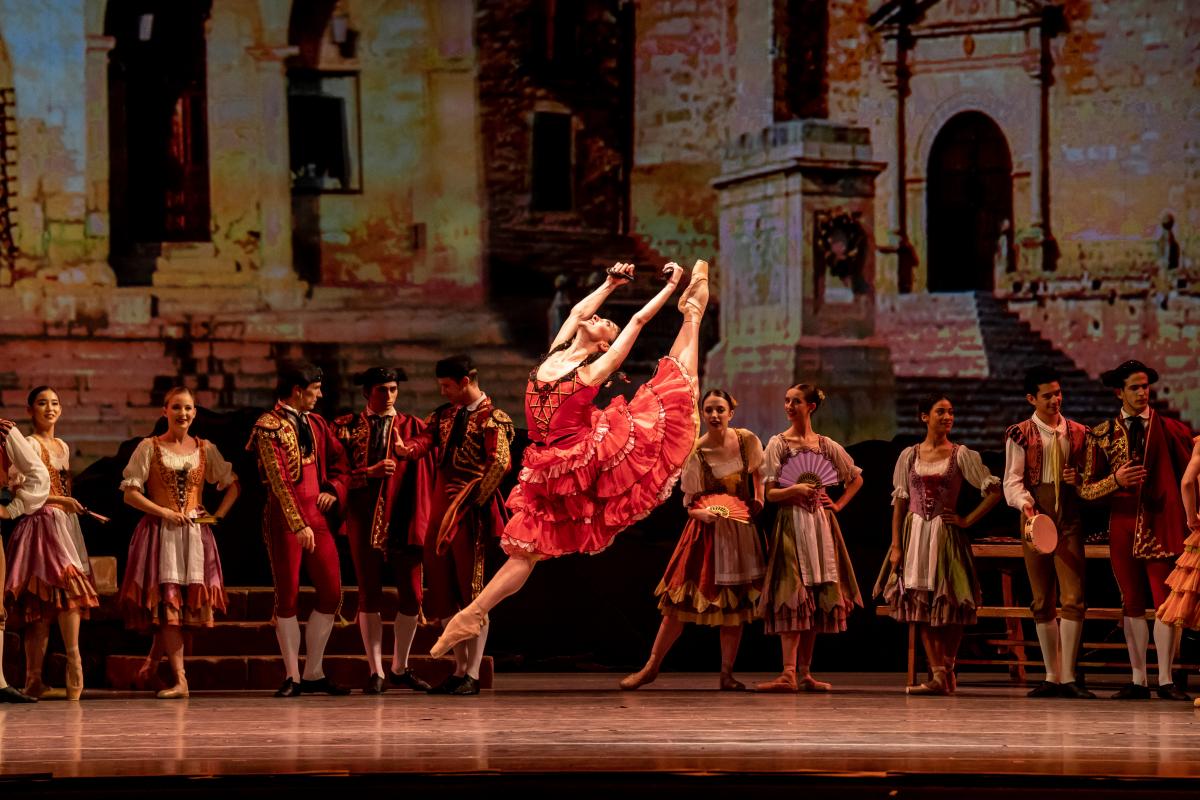 It's always a joy to me to watch the Joffrey's incredibly talented and hard-working dancers.  The most amazing part of it – all of the featured dancers have mastered multiple parts.  That means, for example, the dancer playing Don Quixote I mention today will probably not be playing him tomorrow – or the next day.  Casting information is available at www.joffrey.org/season-and-tickets/2021-2022-season/don-quixote/casting/.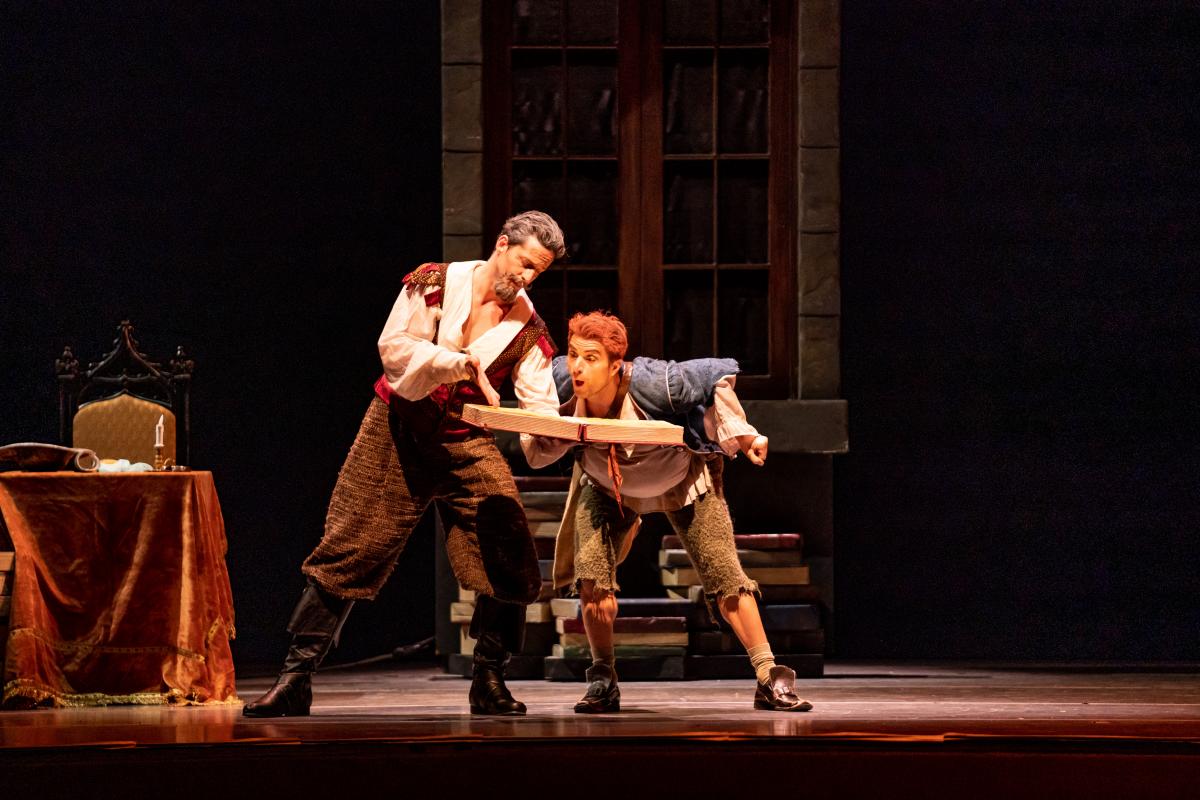 The curtain opens on a bedroom where Don Quixote (Miguel Angel Blanco) is getting a shave.  After the barber leaves, Don Quixote settles back on his bed with a book of chivalry.  He dreams of being a knight slaying monsters and in love with a beautiful maiden.  While he's sleeping, Sancho Panza (Derrick Agnoletti) runs in carrying a stolen ham.  He crawls under the table to hide from the housekeeper (Lauren Bemisderfer), who wakes Don Quixote searching.  Sancho emerges, only to be caught by Don Quixote, who drafts him into the role of squire.  Sancho helps him don 'armor', sword and stake.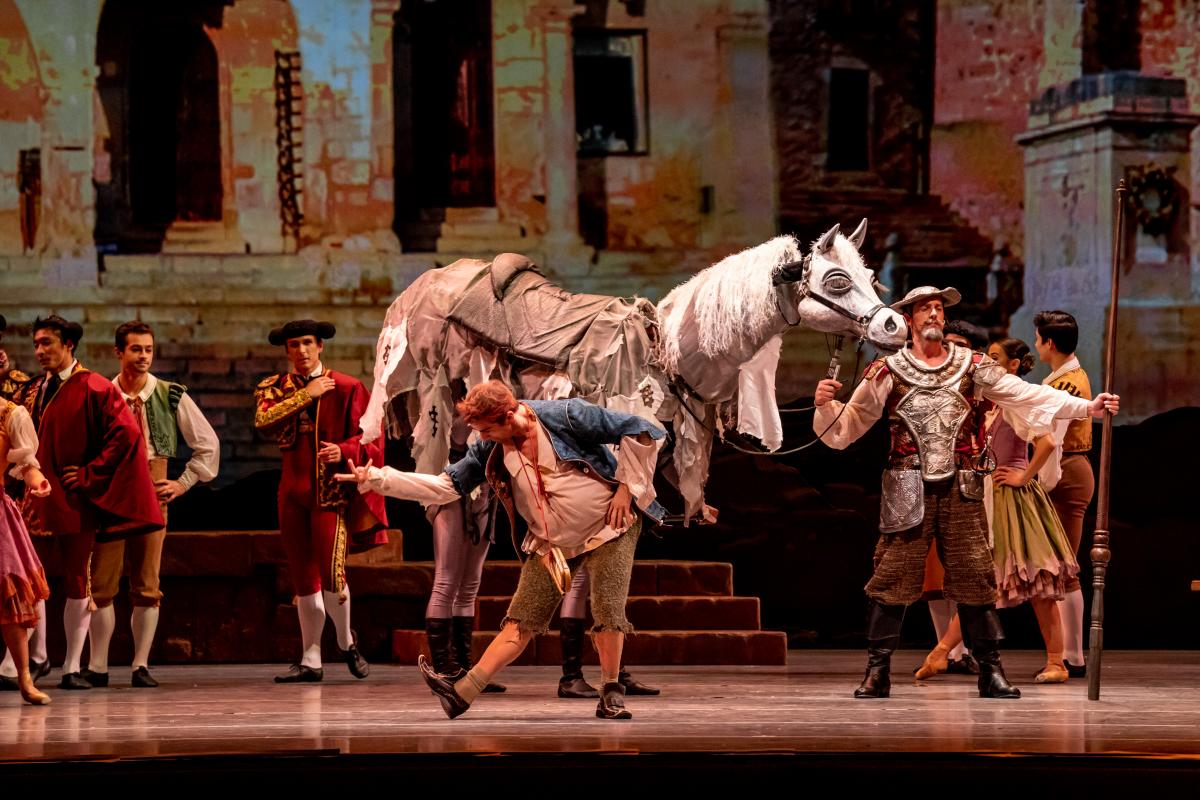 Together with Don Quixote's long-suffering horse, Rocinante (Andre McGregor II and Davide Oldano), they set off in search of adventure.  By the way, the horse is a life-sized animated puppet designed by Cynthia Von Orthal of Vonorthal Puppets.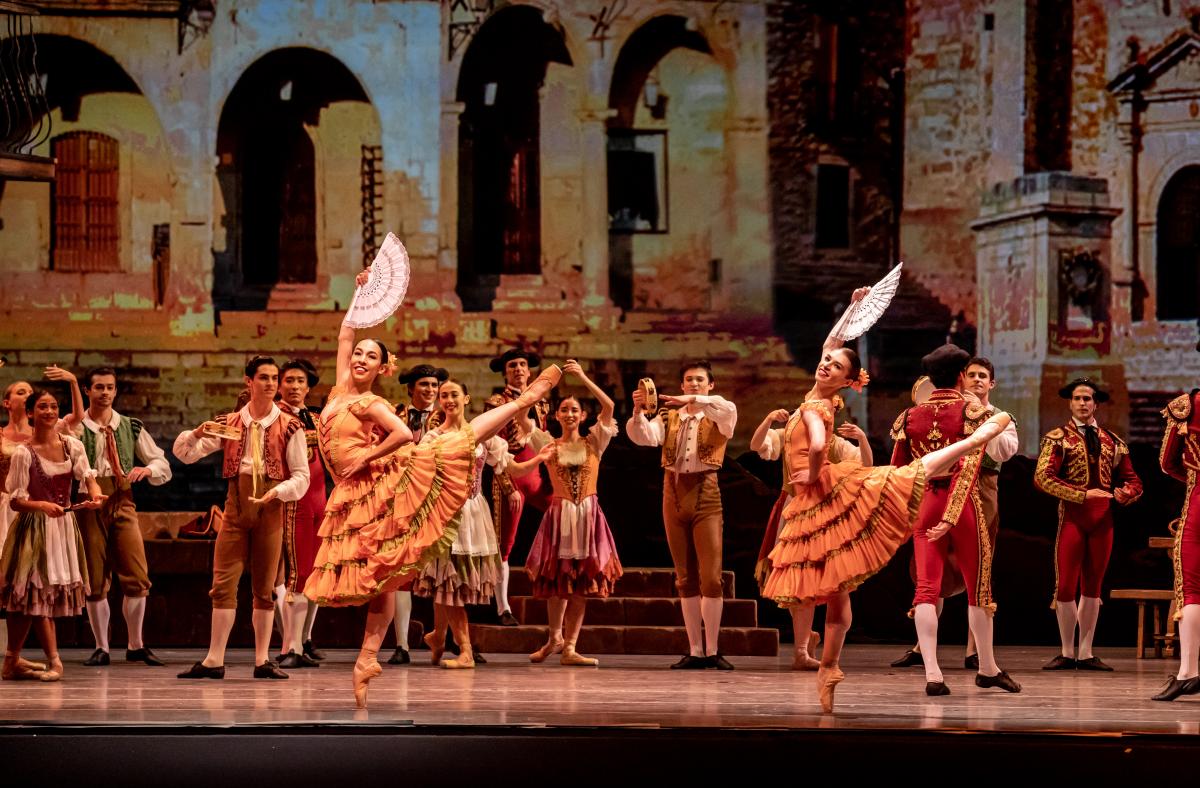 It's a busy day in the town plaza (set by Jack Mehler) where Kitri (Victoria Jaiani), in a red dress and her two best friends, (Amanda Assucena, Valeria Chaykina), in orange, enjoy the day.  When Basilio (Dylan Gutierrez), the barber, shows up, Kitri joins him, at least until her father Lorenzo (Raúl Casasola), the inn keeper, drags her away.  Lorenzo has plans for her, a marriage to a wealthy fop, Gamache (Fernando Duarte), but Kitri rejects him.  Basilio and Kitri dance a breathtaking pas de deux.  In one breathless move, he lifts her over his head and walks from one side of the stage to another.  I was in awe!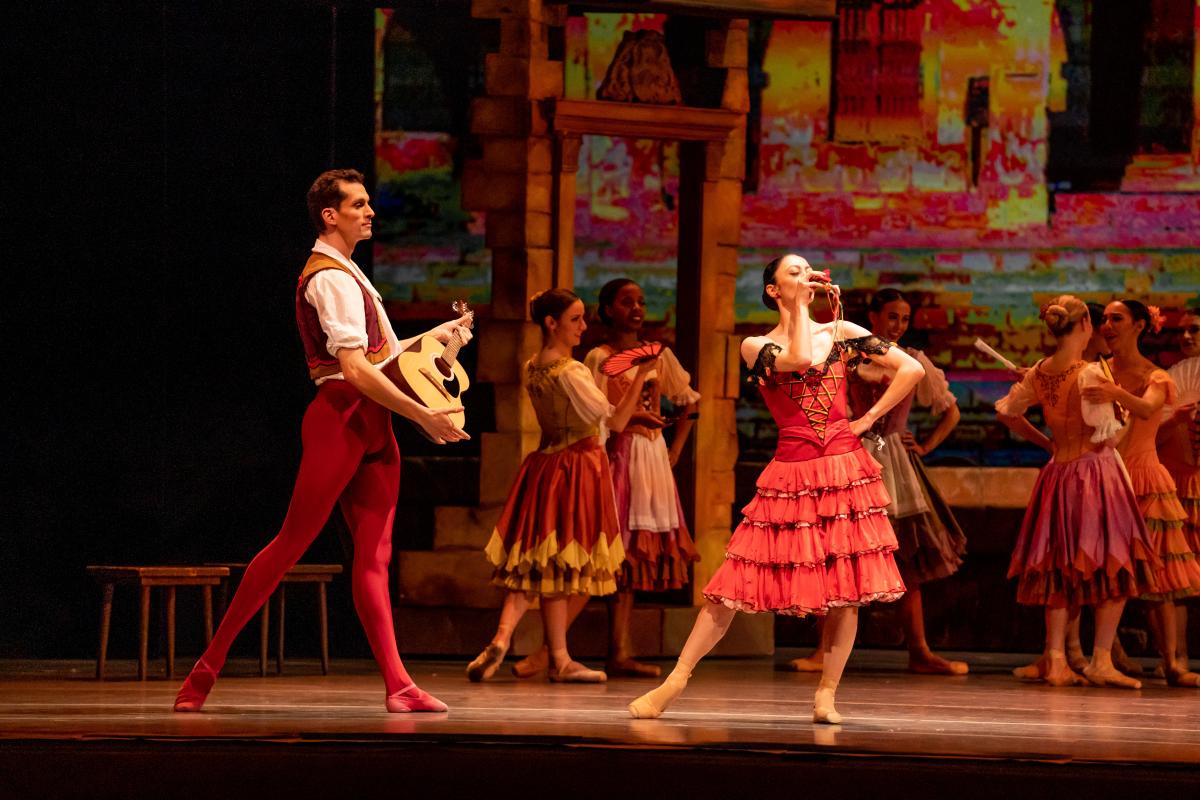 Mercedes (Brooke Linford), a beautiful street dancer in a red and black flamenco dress, entertains the crowd waiting for the famous toreador, Espada (Stefan Goncalvez) and his companion toreadors (Yoshihisa Arai, Edson Barbosa, Jonathan Dole, Graham Maverick, Aaron Renteria, Alberto Velazquez).  Flourishing their capes, the toreadors show their strength and agility.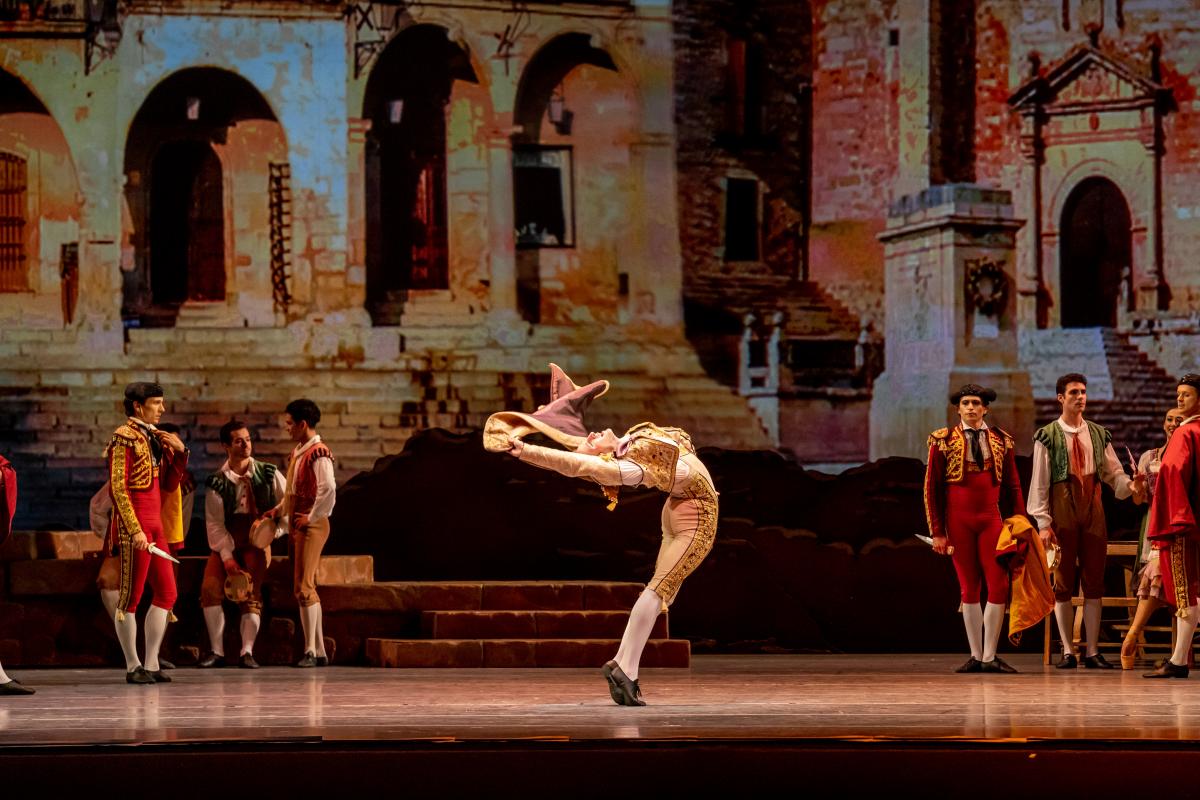 Loved the townspeople/Seguidillas' dance with tambourine accents.  They are: Nicole Ciapponi, Dara Holmes, Yumi Kanazawa, Princess Reid, Julia Rust, Chloé Sherman, Olivia Tang-Mifsud, Lauren Bemisderfer, Chloe Capulong, Audrey Nelson, Sophia Shahani, Brian Bennett, José Pablo Castro Cuevas, Maxwell Dawe, Derek Drilon, Blake Kessler, Hyuma Kiyosawa, Xavier Núñez, Valentino Moneglia Zamora, Davide Oldano.  The Vegetable Cart Vendor was played by Will Giannuzzi, the Tavern Keeper by Maxwell Dawe. 
Camping outside town, Don Quixote glimpses a windmill.  That night he dreams of windmills with evil monsters drifting by.  I'd wondered how the set designer would handle the infamous windmills.  Using animated projections (designed by Wendall Harrington and programmed by Paul Vershbow) was a terrific solution.  In a dream-like sequence, Don Quixote passed the windmills, tilting at the demons floating past.  When he got too close to a blade, he flew into the sky – a flying feat created by Flying by Foy.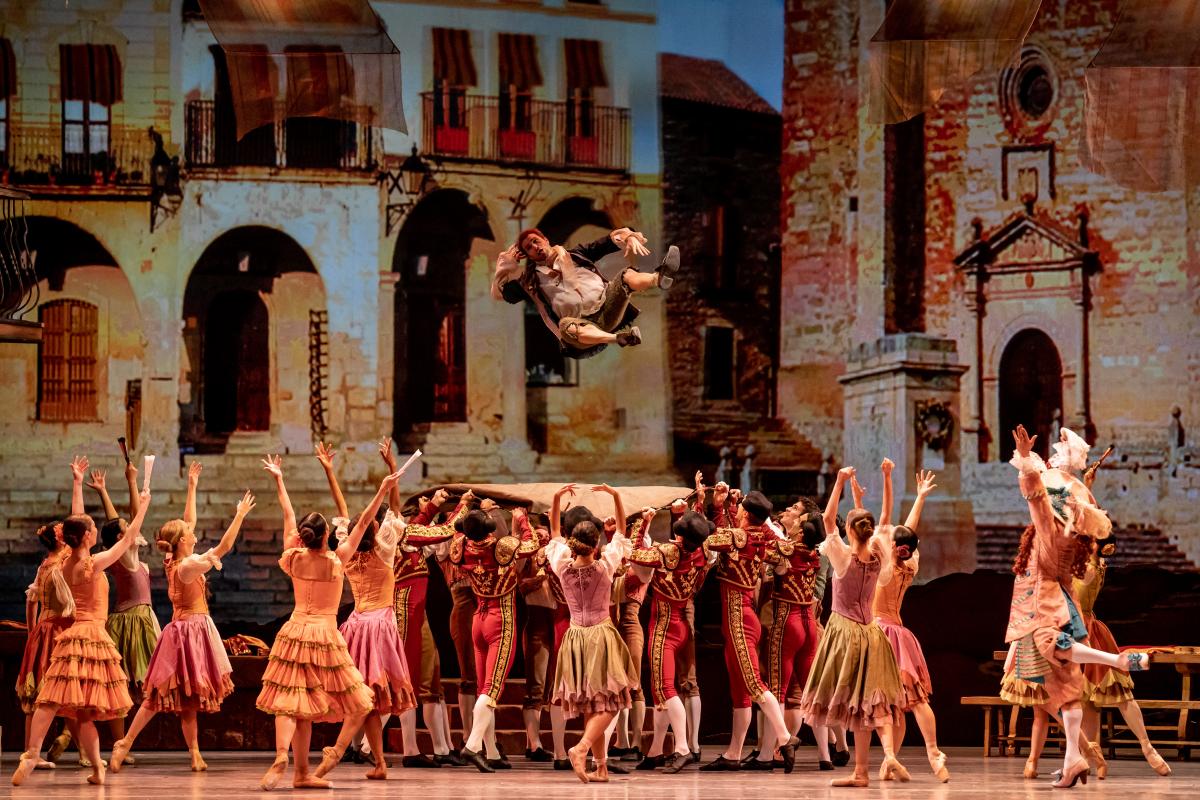 Back home in his bed, the Housekeeper gives Don Quixote and elixir for his fever.  In his dreams Amore (Miu Tanaka), leads him to another world where the Dryad Queen (Gayeon Jung) and the Dryads (Valeria Chaykina, Nicole Ciapponi, Lucia Connolly, Dara Holmes, Yumi Kanazawa, Brooke Linford, Princess Reid, Julia Rust, Chloé Sherman, Olivia Tang-Mifsud, Lauren Bemisderfer, Chloe Capulong, Audrey Nelson, Pilar Ortega and Sophia Shahani) dance. 
Eventually Basilio and Kitri return to the village, where Lorenzo is determined to marry her off.  With Don Quixote's assistance, Lorenzo eventually gives in and Basilio and Kitri are wed.  Bridesmaids are Lucia Connolly, Yumi Kanazawa, Princess Reid and Miu Tanaka.  The wedding pas de deux is magnificent.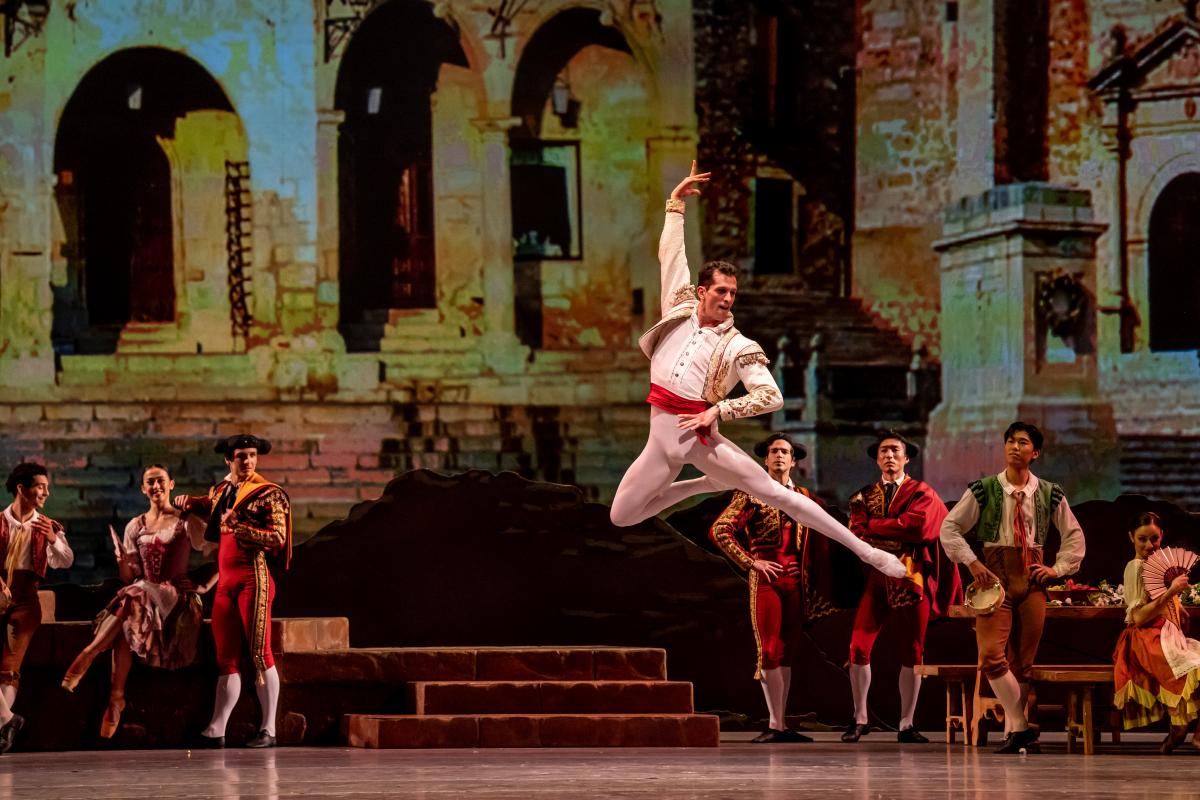 Note: Guests must show proof of vaccination before entering the theater.  Guests are required to wear masks while inside the building. 
Don Quixote runs through June 12th at Lyric Opera House, 20 North Upper Wacker Drive, Chicago.  Closest parking option is the Poetry Garage, 201 W. Madison.  $12 evening and weekend parking available on performance dates through Joffrey website.  Running time is about 2 hours with a 20-minute intermission. 
Remaining performances are Thursday, June 9th at 7:30 pm; Friday, June 10th at 7:30 pm; Saturday, June 11th at 2:00 pm & 7:30 pm; and Sunday June 12th at 2:00 pm.  Single tickets start at $35.  FYI (312) 386-8905 or www.joffrey.org.