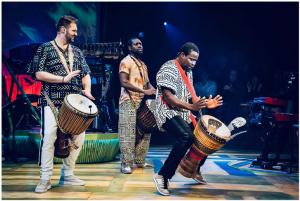 Seating at the Apollo Theater is tiered.  When you walk in and look up, you'll see a drum, a djembe, in every seat.  It's pretty awesome, but kind of noisy, as everyone seemed to want to try the drum, which is really heavy.  Pre-show music featured a song called "Rhythm Is Gonna Get You" while interesting factoids were projected above the stage.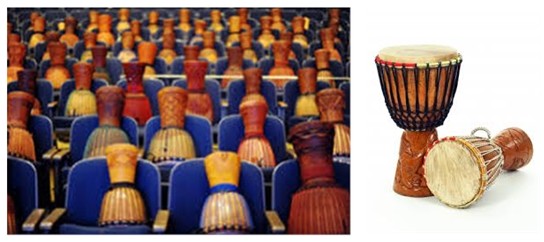 I had my djembe sitting on the floor between my knees, which turned out to be the wrong position.  When the musicians came on stage, Narrator Ben Hope explained that if you want good sound, you have to use your knees to hold it off the floor. 
After the musicians, Patrick Donley (Keyboard, MD), Evan Salvacion Levine (Bass), Jeffrey M. Swanson (Guitar) and Clif Wallace (Percussion), took their places, Ben Hope and Fodé Lavia Camara, a master drummer from Guinea, started to play their djembes, accompanied by the band.  Rashada Dawan made a dramatic entrance, singing while coming down the stairs.  Finally, Abou Sylla made his dramatic entrance, drumming all the way down the stairs.  During the performance, he also played the Balafon. 
The performance is all about the djembe, which originated as a communication device in West Africa.  Dawan sang several songs in the original African language while the English translations were projected above.  After that, Hope started teaching the audience how to drum.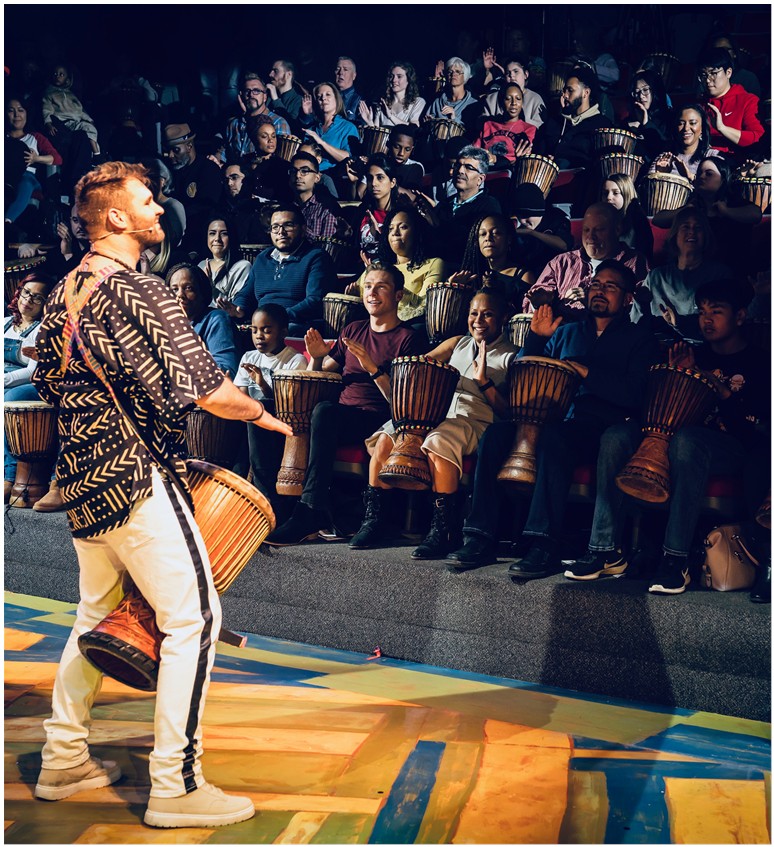 By the way, he warned us to remove our rings because they might get broken or damage the drum.  He started with the basics – where and how to hit the drum.   
When West Africans were sold into slavery, they took the djembe with them.  Some ships went to South America, ending up in Brazil, where it evolved into the samba sound.  In North America, although the drums were forbidden, the rhythms continued, using both hands and feet. 
After the Civil War, African-American music continued to evolve, but syncopation moved the sound into the popular consciousness with Scott Joplin's ragtime, swing and jazz.  Dawan glammed up with a sparkly black dress, and sang a rock and roll medley. 
After dividing the audience in half, Hope had us communicating with drum beats, which we eventually did to music.  Finally, after dividing the audience into groups, and teaching each group a slightly different rhythm, the band played "Rhythm Is Gonna Get You" while we continued to play our different rhythms.  Awesome!!!
"Djembe!" runs through June 2nd at the Apollo Theater, 2540 N. Lincoln, Chicago.  Parking is available next to the theater (under the El) but it is pricey ($20).  Running time is 90 minutes, no intermission.  Performances are Tuesdays at 7:30 pm; Wednesdays at 2:00 and 7:30 pm; Thursdays and Fridays at 7:30 pm; Saturdays at 2:00 and 8:00 pm; and Sundays at 2:00 pm.  Tickets range from $39-$69.  FYI (773) 935-6100, www.djembetheshow.com or www.ticketmaster.com.