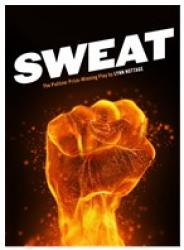 **** Recommended **** Sweat is the first production in the Bold Series at the newly renovated Copley Theater inside North Island Center, across the street from the Paramount Theatre, Aurora.  The new Copley is a 165 seat, state-of-the-art space.  Before the show, my friend Nancy and I had a delicious dinner at Amy Morton's newest restaurant, Stolp Island Social, next door to the Paramount at 5 E. Galena Blvd.  Altogether, we had a wonderful evening.  4 Spotlights
I said this the when I reviewed the Goodman Theatre's production of Sweat, and I'll say it again.  Sweat is a difficult play for me to review.  Been there, done that, got the T-shirt.  Lynn Nottage has written a gripping drama about ordinary people whose livelihood is dependent on one factory.  When management decides to make changes, things get ugly.  Given my own experiences, I think the language used and the emotions expressed are remarkably true to life.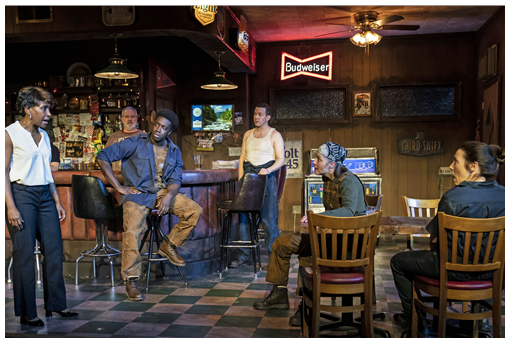 Losing your job is like losing your life.  It doesn't matter whether you're totally invested in your career, as my husband was when his company went bankrupt or you're working in a dead-end job which is the difference between paying your bills and starvation.  The feelings are the same.  Everyone goes through disbelief, denial, anger, outrage, all the stages of grief.  Everyone has to figure out what to do with those emotions.  Sometimes all that anger finds the wrong outlet.
A young white man with tattoos on his forehead is meeting his parole officer for the first time.  He's defiantly throwing some attitude until Evan (Bryant Hayes) tells him the facts of life on parole.  When he leaves, a young black man sits down.  This one is nervous, clutching a bible, clearly trying to put his life back together.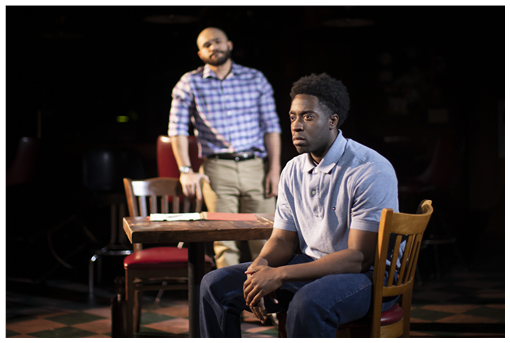 In a local bar, three best friends, Cynthia (Shariba Rivers), Jessie (Tiffany Bedwell) and Tracey (Linda Gillum), are celebrating a birthday in a local bar managed by Stan (Randy Steinmeyer).  They all work at the plant – the town's major employer – and have shared everything over the years.  Although is on the short list for promotion to supervisor, they vow that nothing will get in the way of their friendship.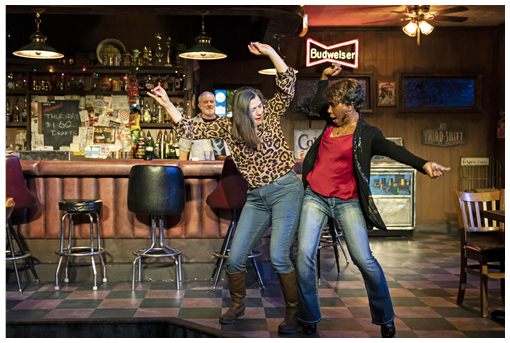 Cynthia's son Chris (Emmanuel K. Jackson) and Tracey's son Jason (Gage Wallace), best friends, are new-ish at the plant.  Chris is saving his money for college; Jason just bought a motorcycle.  Oscar (Jordan Anthony Arredondo), who works part-time in the bar, has been trying to get hired at the plant for a long time. 
Cynthia's ex-husband, Brucie (Joshua L. Green) shows up one day,wanting to get back together.  Since he's an alcoholic who also takes drugs, she kicks him to the curb, figuratively speaking.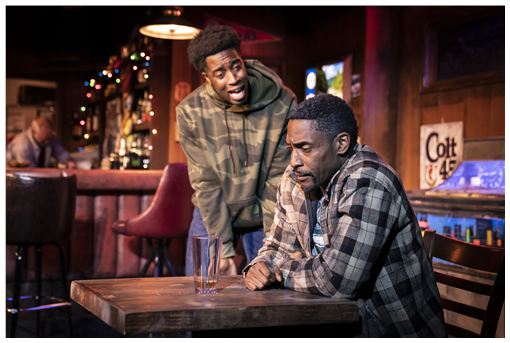 When Cynthia gets the promotion, her friends seem to change.  When rumors about the plant closing start to fly, they become suspicious about her loyalties.  Although she's lowest on the supervisory totem pole, they expected her to stop the layoffs and blame her when the company locks them out.
While the union members walk the picket line, the company hires new workers at a lower rate of pay.  Against Stan's advice, Oscar gets a job.  When he comes into the bar to pick up his final paycheck, tragedy strikes.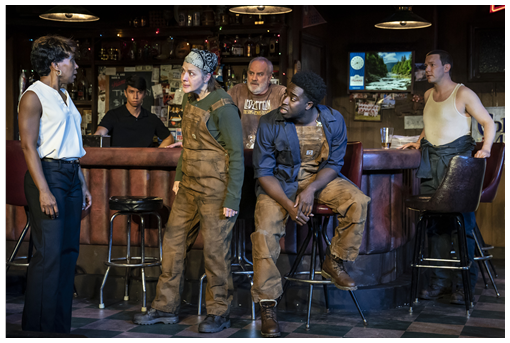 Note: Guests must show proof of vaccination with photo ID before entering the theater.  Guests are required to wear masks while inside the building.
Sweat runs through April 24th in the Copley Theatre, North Island Center, 8 E. Galena Blvd., Aurora.  Plenty of street parking is available.  Running time is 2 hours, 25 minutes, with an intermission.  Performances are Wednesdays at 1:30 & 7:00 pm, Thursdays at 7:00 pm; Fridays at 8:00 pm, Saturdays at 2:00 and 8:00 pm, Sundays at 1:00 and 5:30 pm.  Tickets range from $67-$74.  Sweat is suggested for ages 16 and up, FYI (630) 895-6666 or www.paramountaurora.com.