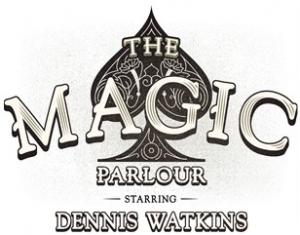 Acclaimed third-generation magician and mind reader Dennis Watkins announced today that Dennis Watkins' The Magic Parlour, Chicago's longest-running magic show with 1,400 performances to more than 50,000 guests, will kick off its tenth year at Chicago's iconic Palmer House Hilton (17 E Monroe St) with ten events and activations over the course of the year, a special New Year's Eve performance, ticket packages and more. 
To begin its year-long tenth anniversary celebration this holiday season, The Magic Parlour has partnered with Adoption Center of Illinois (ACI) to donate a portion of ticket sales to the organization through the end of the year. The first of ten activations to celebrate ten years, the partnership with ACI reflects Watkins' commitment to family, from the magical inspiration drawn from his grandfather to his own family, which has been touched by the magic of adoption through ACI. 
"With a growing team and a one-year-old son, going dark wasn't an option when the pandemic forced The Magic Parlour to close on March 14 of 2020. So, we found a way to keep working.  On April 15th, I performed my first-ever virtual magic show," said Watkins. "Since then, my team has executed nearly 600 live, virtual shows for audiences spanning the globe. Show after show, as I watched communities come together for an hour of joy and wonder during a time of forced separation, I was reminded of the service that magic and mystery really delivers. Today, I've returned to in-person performances with a renewed sense of purpose and an immense amount of gratitude that our parlor magic show can continue serving audiences after 10 years. My son is now two and a half. The time we've spent together over the last twenty months has been the most magical time in my life. In the spirit of gratitude, I have chosen to partner with the Adoption Center of Illinois to help families come together this holiday season." 
In addition, The Magic Parlour will celebrate its tenth anniversary and ring in 2022 with a special New Year's Eve performance on December 31. Following the 7:00 p.m. performance, its 9:30 p.m. show will conclude with a reception, anniversary cake and champagne toast at midnight. Pricing for the 7:00 p.m. show is $89, while pricing for the 9:30 p.m. show is $109 and includes the reception, cake and toast. As always, tickets to all performances include beer, wine and soft drink selections. 
For guests traveling from out of town or looking for the perfect holiday staycation, The Magic Parlour invites guests to step into the iconic Palmer House Hilton to enjoy the romance of Chicago's most glamorous hotel. Starting at $268, the Chicago Date Night package includes two classic cocktails at the Lockwood Lobby Bar, followed by two tickets to Dennis Watkins' The Magic Parlour with beer, wine and soft drinks in the showroom. The evening concludes with upgraded overnight accommodations for two at the Palmer House.   
Additionally, as a way to say "Thank You" to first responders for their service during these unprecedented times and beyond, Watkins invites those who serve to receive $30 off the full premium VIP package at The Magic Parlour, which includes a ticket to the show, a ticket to the intimate, up-close Encore Room experience after the show and, as always, complimentary wine, beer and soft drinks during the performance. 
Dennis Watkins' The Magic Parlour offers an intimate performance atmosphere with a limited capacity of 40 guests per show. All Magic Parlour staff are fully vaccinated, and the performance team will operate in accordance with the health and safety guidelines recommended by the City of Chicago and the CDC. The Magic Parlour does ask that all guests provide proof of vaccination or a negative test upon arrival and remain masked when not actively eating or drinking, in accordance with local mask mandates.   
Tickets to Dennis Watkins' The Magic Parlour are currently on-sale through April 30, 2022 and can be purchased online  at www.themagicparlourchicago.com or by calling 312-300-6803. Tickets include beer, wine and soft drink selections. Performances take place on Fridays at 7 p.m. and 9:30 p.m. and Saturdays at 4 p.m., 7 p.m. and 9:30 p.m.  
About Dennis Watkins' The Magic Parlour 
The Magic Parlour is an intimate evening of classic magic and mind-reading featuring the work of third-generation magician Dennis Watkins. Guests to this intimate, magic-packed evening gather at Potter's in the Palmer House lobby before Watkins personally escorts them to the performance space. Once inside, the audience participates in much of the performance as Watkins wows the room with classic sleight of hand, unbelievable mind-reading and magical wisdom passed down from his grandfather. 
Since opening at the Palmer House on New Year's Eve of 2011, Dennis Watkins' The Magic Parlour has enjoyed phenomenal success and unimagined growth. Offering an intimate experience with only 40 guests per show, The Magic Parlour has entertained over 45,000 guests in its decade-long run. Additionally, it has hosted more than 1,300 ticketed audiences and dozens of private groups, facilitated three truly magical wedding proposals, and has been featured in two books (Chicago Magic: A History of Stagecraft and Spectacle and 100 Things to do in Chicago Before You Die).