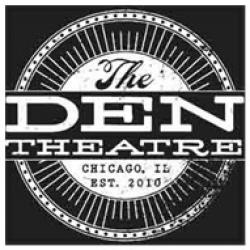 The Den Theatre (1331 N. Milwaukee Ave.) announced today it will welcome back audiences for live performances this fall. The line-up at Wicker Park's premier multi-theatre venue currently includes stand-up comedians Erik Griffin (October 8 – 9, 2021) and Maria Bamford (October 14 – 17, 2021), along with comedian Jacqueline Novak's off-Broadway hit GET ON YOUR KNEES all performed on The Heath Mainstage.
Additional theatre and comedy performances will be announced shortly, including productions from companies new to The Den and 2021-22 seasons from The Den's four resident companies – Broken Nose Theatre, First Floor Theater, Haven and The New Coordinates (formerly The New Colony). Bar and food service will also resume during performances. Tickets for all performance go on sale Friday, July 9, 2021 online only at thedentheatre.com.
The Den Owner and Artistic Director Ryan Martin comments, "We are thrilled to finally welcome audiences back to The Den. Safety will remain a top priority as we all continue to navigate the COVID-19 pandemic. We will only proceed with performances on the current schedule if Illinois and Chicago remain in Phase 5, which allows us to safely operate at full capacity. To ensure the safety of our staff, patrons and performers, The Den will adhere to all safety protocols mandated by federal, state and City health officials."
Martin adds, "I also want to express my gratitude to those without whom we would not have survived the pandemic: my business partner and co-owner Carol Cohen, Chicago theatre philanthropists Michael and Mona Heath, building owners The Lim Family and The Den management team."
Performance Schedule
October 8 – 9, 2021 - Erik Griffin 
Curtain times: Friday and Saturday at 8 pm
Ticket prices: $20 general admission ($15 obstructed view); $25 VIP mezzanine table seating with cocktail service; $30 VIP up front table seating with cocktail service.
October 14 – 17, 2021 - Maria Bamford 
Curtain times: Thursday at 8 pm; Friday at 7 pm & 9 pm; Saturday at 7 pm & 9 pm; Sunday at 7 pm.
Ticket prices: $35 general admission ($25 obstructed view); $45 VIP mezzanine table seating with cocktail service; $55 VIP up front table seating with cocktail service.
November 4 – 7, 2021
Jacqueline Novak: Get on Your Knees
Curtain times: Thursday at 7 pm; Friday at 7 pm & 9:30 pm; Sat 7 pm & 9:30 pm; Sun at 4 pm
Ticket prices: $35 general admission ($25 obstructed view); $39 VIP mezzanine table seating with cocktail service; $49 VIP up front table seating with cocktail service.
About the Performers
A towering force in comedy, Erik Griffin is an American actor, comedian, writer and podcaster. He is best known for his work as the mustachioed Montez Walker on the hit Comedy Central series Workaholics, as well as his series regular role in Showtime's I'm Dying Up Here, executive produced by Jim Carrey. He recently filmed the ABC pilot Bucktown opposite Nicole Richie and the feature film Mr. Russo, written and directed by Ray Romano. Griffin was featured in the global Netflix film Murder Mystery alongside Adam Sandler, as well as The Sleepover for Netflix, Laurie Collyer's Furlough and the independent feature films Mayfield's Game and Guest House with Mike Castle, Aimee Teegarden and Pauly Shore. Griffin can also be seen in the box office hit Mike & Dave Need Wedding Dates.
A veteran stand-up headliner, Griffin performs in venues across the world, but most often can be seen at The Comedy Store in Los Angeles, CA. Griffin's comedy is immortalized on his debut comedy album, Technical Foul: Volume One, his Comedy Central special The Half Hour, in addition to his two hour-long comedy specials titled The Ugly Truth and Amerikan Warrior, which are available to stream NOW on Amazon and Showtime respectively. You can also catch your weekly dose of Griffin on his hit new podcast Riffin' with Griffin.
Maria Bamford is revered for her deeply personal and experimental comedy about mental illness. She starred in the surreal, semi-autobiographical Netflix comedy series Lady Dynamite, about a comedian who suffers a nervous breakdown, and is the star of three unconventional hour-long stand-up specials: Weakness is the Brand, Old Baby and Maria Bamford, the special, special, special! Maria was the first female comic to have two half-hour Comedy Central Presents specials and starred alongside Patton Oswalt, Zach Galifianakis and Brian Posehn in the Comedy Central series The Comedians of Comedy and Netflix's Comedians of Comedy: The Movie. She also created and starred in the cult hit web series The Maria Bamford Show, in which she plays all the characters.
Maria is often recognized for her prolific voiceover work, including characters on Big Mouth, BoJack Horseman, Summer Camp Island, Adventure Time, Talking Tom and Friends, Bob's Burgers, Legend of Korra, Puss in Boots, CatDog and PBS's Emmy-winning series Word Girl. She also stars as Tilly Mulch in Team Coco's scripted podcast Frontier Tween. Maria played DeBrie Bardeaux on Netflix's Arrested Development and recurred on the ABC hit series Fresh off the Boat. She recently appeared in season 2 of Freeform's comedy Everything Gonna Be Okay. She is the 2014 winner of the American Comedy Award for Best Club Comic. Maria's late night appearances include Conan, The Tonight Show, The Late Show with Stephen Colbert and Late Night with Seth Meyers.
Comedian Jacqueline Novak's GET ON YOUR KNEES is an unexpectedly philosophical and high-brow show about blow jobs that's part feminist outcry, part coming-of-age tale of triumph. Recognized by the Times on "Best Theater of 2019" and "Best Comedy of 2019" lists, the show has been extended four times in New York City and earned Jacqueline a Drama Desk nomination for Outstanding Solo Performance. Ira Glass calls it a "nearly Talmudic dissection of a subject. Really funny and just really like nothing else." "Critic's Pick! Brilliant on the absurdity of having and being a thinking, feeling, desiring body. Shrewd, explicit, though not exactly raunchy, this is the funniest show about Cartesian dualism you will see all year!" – The New York Times
About The Den Theatre
Artistic Director Ryan Martin opened The Den in 2010 in the Wicker Park neighborhood with a single theatre space. Now celebrating its tenth year, The Den is a multi-level live entertainment venue that boasts seven intimate and unique theaters ranging from 50 – 300 seats, plus a convertible cabaret space. The first floor houses The Den's Haven Lounge – a full-service coffee shop and bar where neighbors, audiences and like-minded culture hounds gather to drink, eat, talk, read, watch, think, listen and live. Currently, The Den is home to four resident theatre companies including Broken Nose Theatre, First Floor Theater, Haven and The New Coordinates (formerly The New Colony). Hundreds of other companies and artists from Chicago and beyond have called The Den home – from national names to local stars, The Den consistently plays host to a lineup of exciting and diverse talent. As a building created for interdisciplinary arts, The Den has accommodated a wide variety of programming, including plays, musicals, film screenings, live music, dance, improv and stand-up comedy, seminars and speaking engagements. For additional information, visit www.thedentheatre.com.