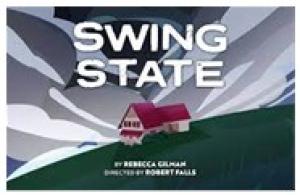 **** Recommended **** Swing State is one of those plays that stay with you for a long time.  Ordinary people, ordinary place, ordinary lives – or are they?  My attention was riveted on this deeply moving story and yes, I shed a few tears along the way.  As the story unfolded, it felt kind of like watching a train hurtling toward that inevitable wreck.  4 Spotlights
When I researched playwright Rebecca Gilman, I learned that she's the Goodman's most produced contemporary playwright.  I remember I was blown away by her play Luna Gayle a few years ago.  Swing State makes ten Goodman productions, six with Robert Falls directing.  
Kudos to Set Designer Todd Rosenthal for the warm, welcoming farm kitchen set.   There were so many authentic touches, even down to  the graduated set of mixing bowls that I have in my cabinets.  
Swing State is set somewhere in Wisconsin in the summer of 2021.  Peg (Mary Beth Fisher) lost her husband about a year ago.  She lives alone in the farmhouse they loved on the edge of a virgin prairie.  She's independent, prickly and very alone except for a young man named Ryan (Bubba Weller).  She treats him a lot like a son, even keeping dinner warm for him when he works late. 
Out driving one day, Peg and her late husband happened upon this pristine piece of prairie and stopped in to meet the owners.  When they decided to retire, Peg and Bill made an offer, bought the land and lived there until he passed away.  Now, she tells Ryan. she's made out her will and that she's leaving 48 acres of land to the prairie society, which is bound to tick off her farming neighbors who she's positive they're spraying toxic chemicals toward her prairie.  She's leaving the rest – the house, the barn and three acres of land – to him. 
Looking for a spade, Peg discovers that some of her husband's tools are missing so she called the sheriff to report it.  First Sheriff Kris (Kirsten Fitzgerald) insults Peg by offering to take those 48 acres off her hands, then she zeroes in on Ryan as a suspect, pursuing the so-called theft in spite of Peg's refusal to press charges, even picking him up for questioning.
New Deputy Dani (Anne E. Thompson) is the Sheriff's niece, but she really likes the job and thinks she could be good at it.  She even listens when Peg suggests an interviewing technique.  One day, she and Ryan have an intense conversation which ultimately leads to a confrontation and an inevitable conclusion. 
Note:  Masks are encouraged but not required. 
Swing State runs through November 13th in the Owen Theatre at the Goodman Theatre,170 N. Dearborn, Chicago.  Most reasonable parking option for the Goodman is the Government Center garage on Lake between LaSalle and Dearborn, online advance payment at www.interparkonline.com/goodmantheatre. 
Running time is 1 hour, 45 minutes, no intermission.  Performances are Thursday at 7:30 pm; Friday at 8:00 pm; Saturday at 2:00 and 8:00 pm; and Sunday at 2:00 pm, with additional performances Tuesday, November 8th at 7:30 pm and Thursday, November 10th at 2:00 pm.  Tickets $20-$80.  FYI (312) 443-3800 or www.goodmantheatre.org/SwingState.