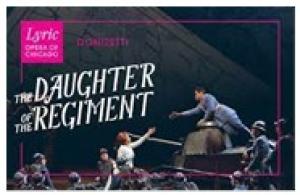 ****HIGHLY RECOMMENDED****   It has been 50 years since Lyric Opera of Chicago has presented a production of "The Daughter of the Regiment." That's much too long a span of time to deprive local audiences the pure joy of witnessing Gaetano Donizetti's 1840 bel canto comedic opera. Under the faultless work of original director Laurent Pelly (revived here by Christian Rath) this charming, new-to-Chicago production simply shines with a stellar cast that delivers all of the laughs -- of which there are many -- hits all of the high notes plus delivers it all with pure heart to make for a splendid experience in the opera house.  4 BIG SPOTLIGHTS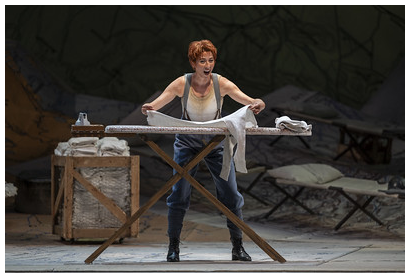 Making her highly-anticipated and long-awaited Lyric debut in the title role is soprano Lisette Oropesa as Marie. The role is perfectly suited to Oropesa's innate naiveté and puckish demeanor. You can't help but hold back a smile as you watch Oropesa stomp around the massive stage -- wearing combat boots, nonetheless -- and muttering under her breath after being reprimanded by her stern protector. The character of Marie was abandoned on a battlefield while only a baby and adopted by the soldiers within France's 21st Regiment. Thus, she is considered a surrogate daughter to all of these soldiers and, now that she has reached maturity, it has been decreed that she must marry someone within the corps. The only problem with that scenario is that Marie has fallen in love with a Tyrolean peasant named Tonio.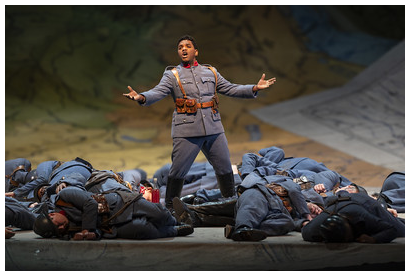 Tonio (the majestic tenor Lawrence Brownlee) simply adores Marie and cannot imagine living without her. In order to spend more time in Marie's presence, he decides to enlist in the regiment. The role of Tonio has become famous for one extremely demanding aria in Act I. "Ah! mes amis" is quite well known and features eight or nine high Cs that the tenor must hit. Brownlee succeeds gloriously as he mesmerizes an adoring crowd and even treated the opening night audience to a much appreciated encore of the aria. Hopefully he will do the same at the performance that you attend.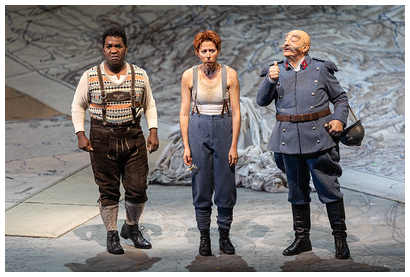 Marie's foster-father Sulpice is sung by the legendary Italian baritone Alessandro Corbelli. Having recently sung the role at Covent Garden, Paris and the Metropolitan Opera, Corbelli gives a highly nuanced and gleefully endearing performance as Sulpice. You can just feel his complicated love for Maria pouring out of him. Look for Corbelli as he returns to Lyric Opera's stage in "Cinderella" in January 2024.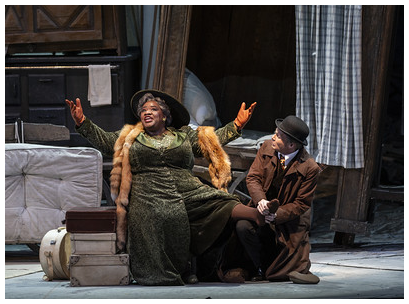 Mezzo-soprano Ronnita Miller is the Marquise de Berkenfield, an aristocrat who finds herself caught behind the front line of conflict. She asks Sulpice to guide her to safety and, in the process, reveals some secrets about Marie's parentage. Miller is quite jolly in the role, especially in Act II as she tries to convert Marie from a simple canteen girl who does the laundry for the soldiers into a proper lady trained in ballet and giving her singing lessons.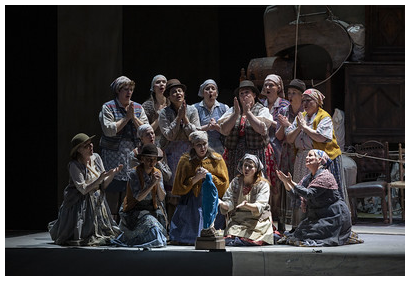 It is simply refreshing to see some diversity on the podium of Lyric Opera this season. Italian conductor Speranza Scappucci, in her Lyric debut, conducts with brimming passion and authority.
Don't miss your chance to see this darling "Daughter."  Let's hope that you don't have to wait another 50 years to get an opportunity once again.
___________________________________________________________
"The Daughter of the Regiment" continues until November 25, 2023
Lyric Opera of Chicago is located at 20 North Wacker Drive, Chicago, IL
Remaining performances are:
November 16 at 2:00 PM
November 19 at 2:00 PM
November 22 at 2:00 PM
November 25 at 7:30 PM
Tickets: Please visit www.lyricopera.org/daughter or call 312-827-5600
Running time is approximately 2 hours and 45 minutes with one intermission