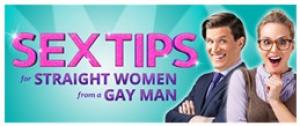 *** Recommended *** Date night?  You and your honey might want to take in Sex Tips for Straight Women from a Gay Man at the Greenhouse.  The title says it all – and the tips include lots and lots of over the top jokes, sexual innuendos, physical comedy, and involuntary/voluntary audience participation.  This show is hilarious.  I laughed, laughed, and laughed some more.  A word of warning: if you're at all uptight about sex, this is NOT the show for you.  Everyone else, hurry and get your tickets.  3 Spotlights
A certain university has a popular lecture series, Rendezvous with Alternative Authors of the Modern Era (RAAME), moderated by Professor Marilyn Von Wyndenschmear.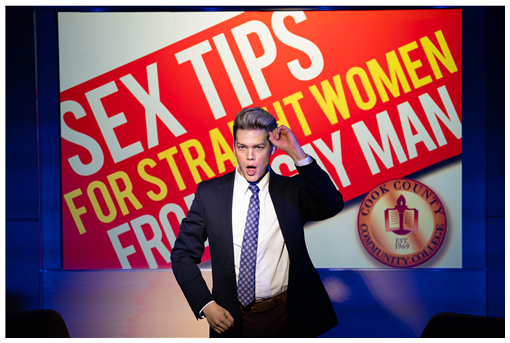 On this particular night, Professor Wyndenschmear is announced, but she doesn't make her entrance.  When the announcer repeats her name, a rather dowdy young woman runs onstage to announce that the Professor has died suddenly and on the Dean's recommendation, Senior Teaching Associate Robyn (Emma Jo Boyden) is to take her place.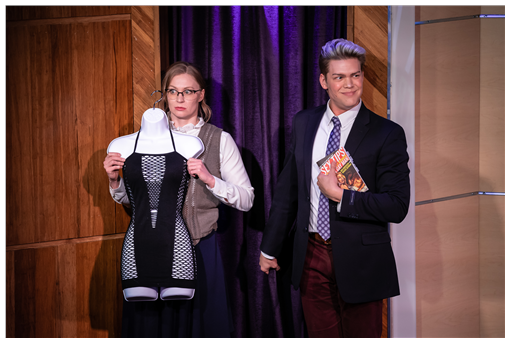 As Robyn begins her welcome speech, she talks about the lecture series, using the acronym RAAME to snickers from her audience.  Awkwardly, she introduces tonight's speaker, Dan Anderson (Adam Fane), author of the 1997 best seller and cult hit, Sex Tips for Straight Women from a Gay Man.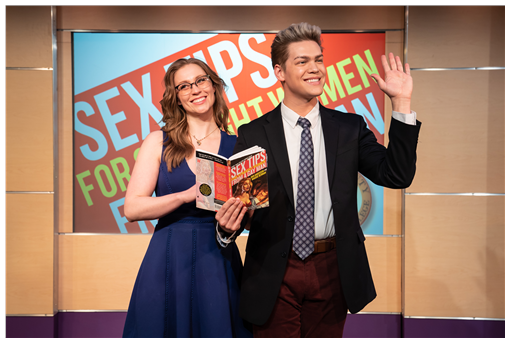 Dan bounces out on stage, then proceeds to swan around, tossing his hair and striking poses to music and video cues – which he brought along!  Although Robyn tries to keep to the format – reading short passages for discussion – Dan has another agenda – making the very uptight Robyn relax and enjoy.  He conveniently brought several outfits, each sexier than the last.  After sending Robyn off to change into a little navy blue dress, the innuendos begin.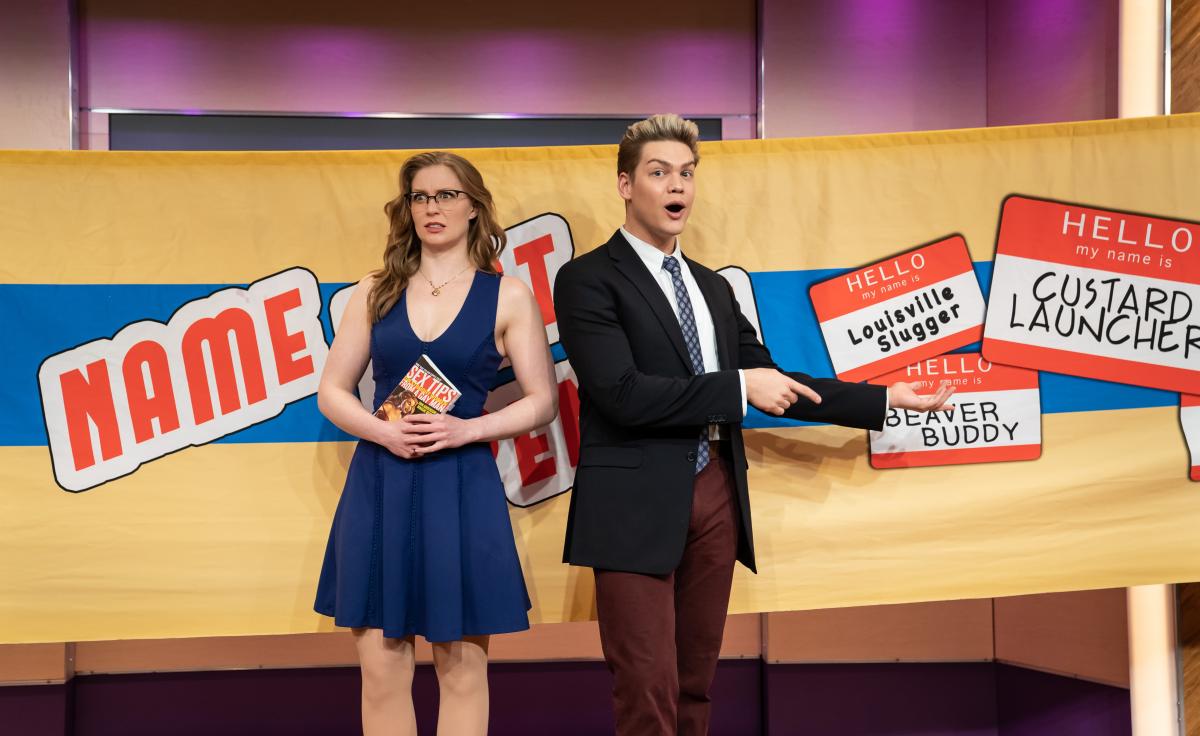 Dan's lighting/tech/gofer guy, Stefan (Bradley Allen Meyer), handles the lighting cues, the sound effects, all the props, physical comedy AND the straight man jokes.  I think that Stefan, with his deadpan face and pseudo Eastern European accent, is the reason this show works so well.  When Dan needs a tech cue or a prop, he calls on Stefan.  When Dan needs a butt for his jokes, Stefan obliges.  When Dan needs a male model, Stefan strips down.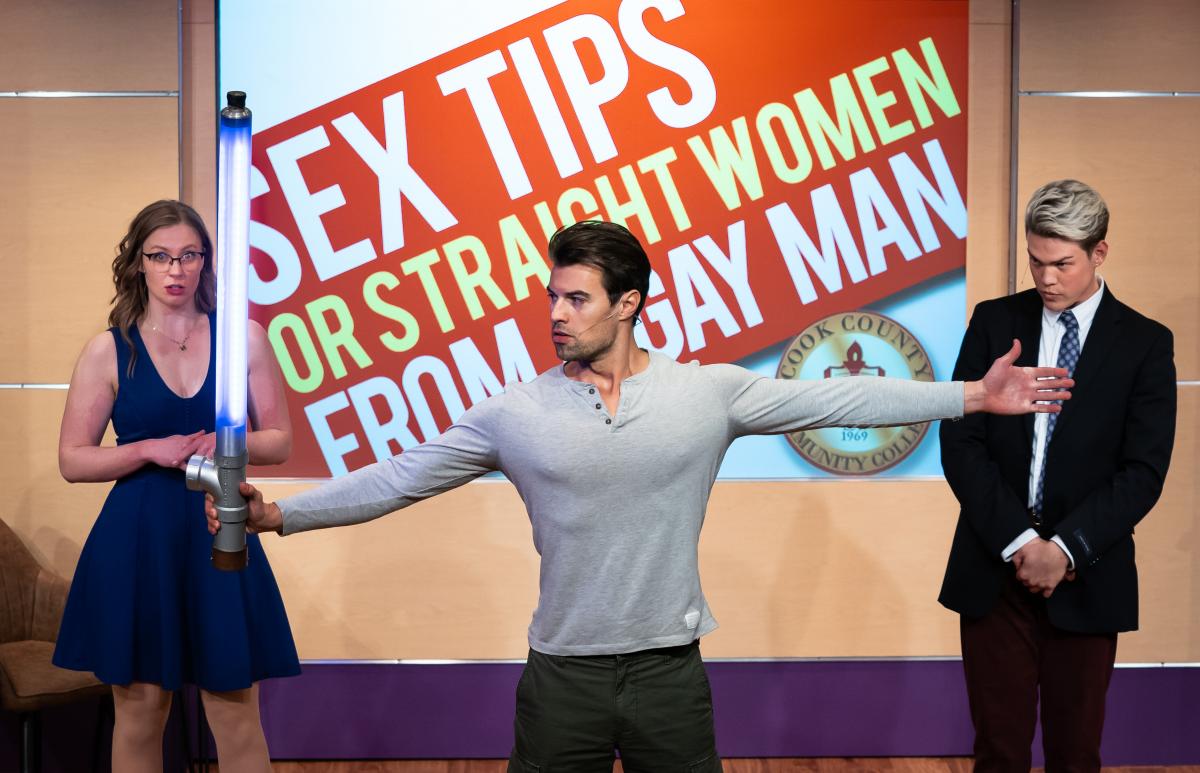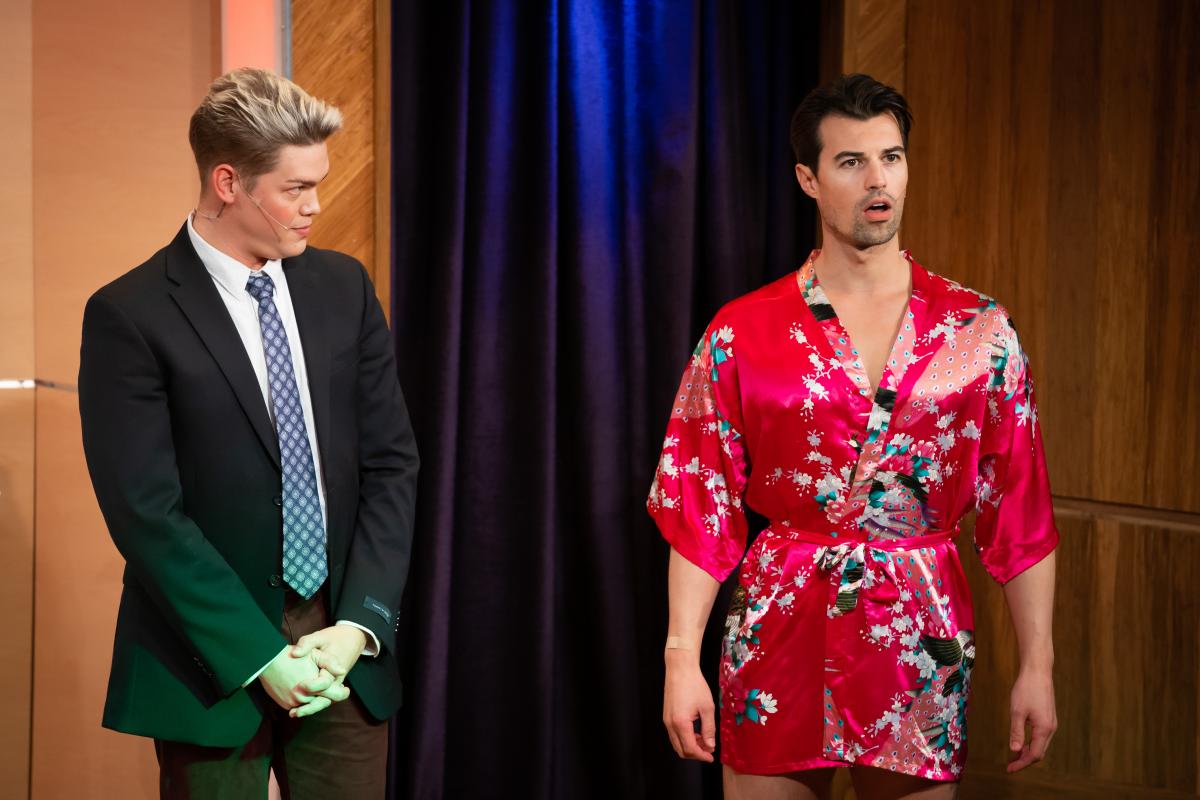 When Robyn returns to the stage, her hair is down and the little blue dress reveals a bit of cleavage.  Dan tells her to keep the sexy glasses!  She struggles to keep Dan on topic, while he indulges in ever more outrageous jokes and stunts.  Dan invites various audience members onstage to help illustrate his suggestions for better sex, with hilarious results.  He even instructs the audience in proper 'stroking' techniques.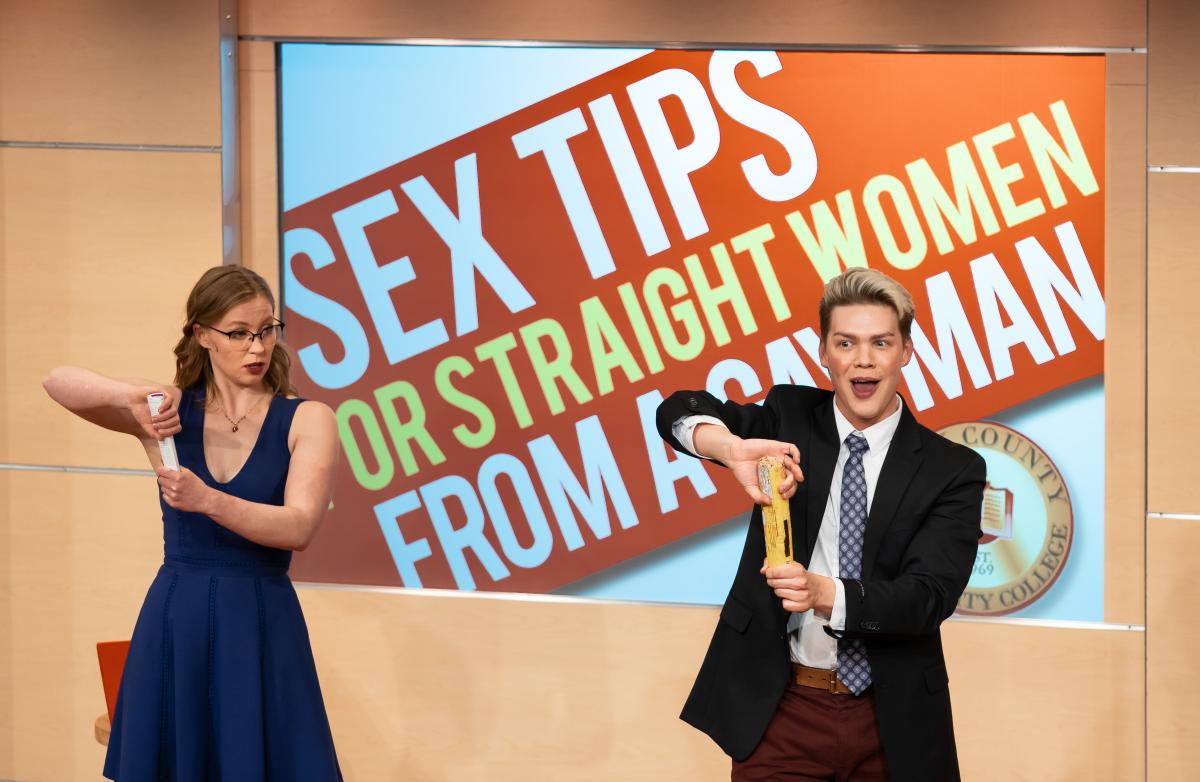 Meanwhile, the repressed Robyn is clearly interested in stoic Stefan, and the feeling seems to be mutual.  Dan gleefully encourages them with even more innuendos.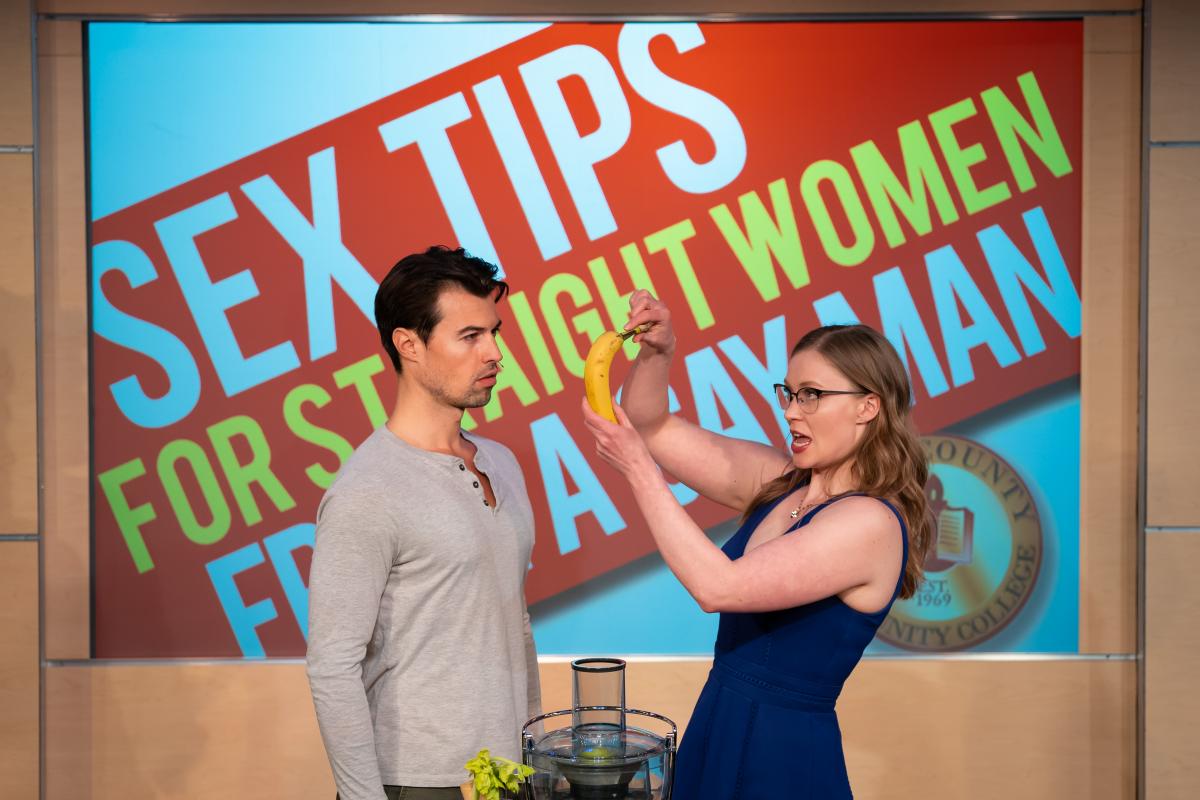 Playwright Matt Murphy based Sex Tips for Straight Women from a Gay Man on the book by Dan Anderson and Maggie Berman.  The comedy, directed by Tim Drucker, is well suited to the smaller stage and intimate atmosphere of the Greenhouse.  Luke Cantarella's set is simple yet versatile.  Tilly Grimes' costumes range from conservative and/or dowdy to sexy and/or revealing, especially for Stefan's spaceman strip.  Kudos to the wizards on the tech crew – Brock Alter, Video Design; Brian Tovar, Lighting Design; and Randy Blair, Projection/Sound Design – who really made this work.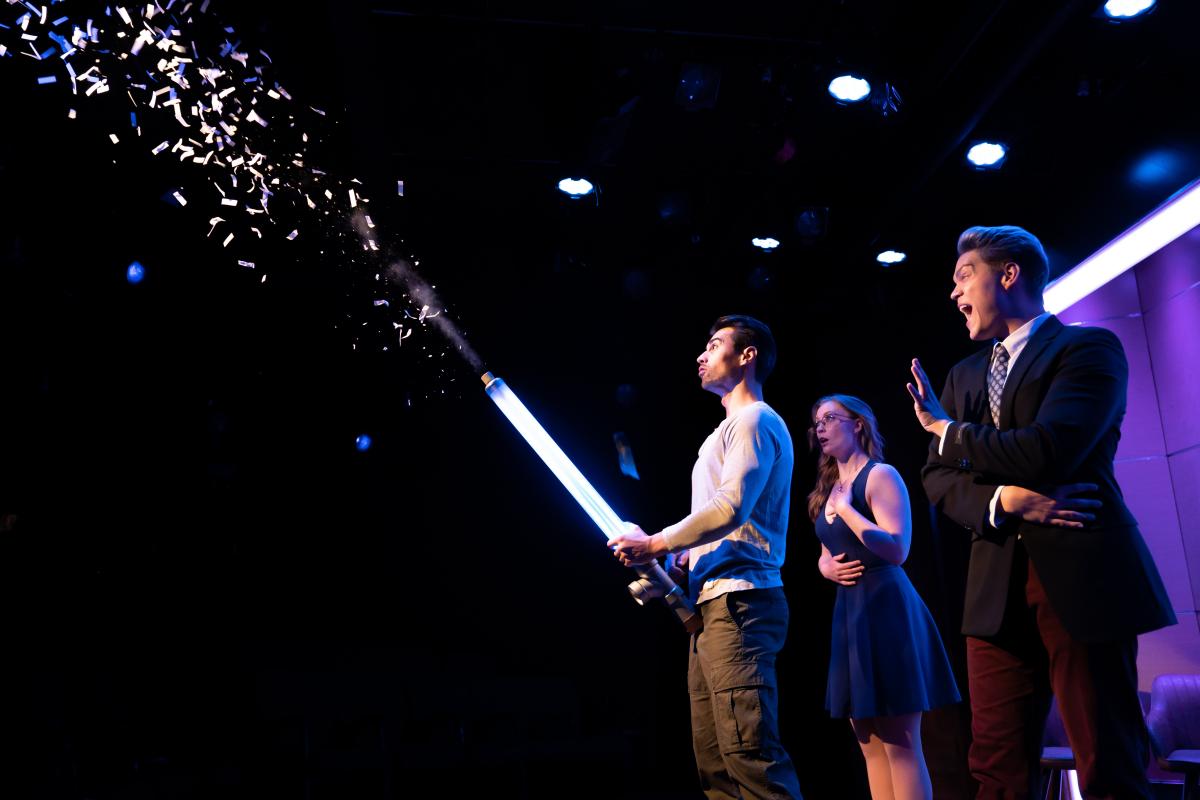 Note: Guests must show proof of vaccination with photo ID before entering the theater.  Guests are required to wear masks while inside the building.
Sex Tips for Straight Women from a Gay Man runs through July 2nd at the Greenhouse Theater Center, 2257 N. Lincoln Avenue, Chicago.  Discounted parking is available at the Lincoln Commons Garage one block north with a validated parking ticket (get validation at the box office). 
Running time is 1 hour, 15 minutes, no intermission.  Recommend for 21 and older.  
Performances are Thursdays through Saturdays at 8:00 pm.  Tickets range from   $49.95-$79.95 plus processing fees.  FYI (773) 404-7336 or www.sextipsplay.com.