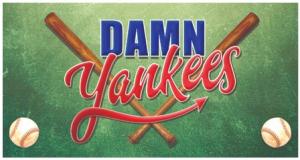 **** Recommended **** When spring is almost here, I start thinking about baseball, so I had a lot of fun watching Damn Yankees at the Marriott Theatre in Lincolnshire.  Since I'm a hereditary Cub fan, I totally share the sentiments of those hard-up Washington Senators who always finish behind those Damn Yankees!  Marriott's production is enthusiastic, energetic, and exceedingly well choreographed.  Once again, they've hit it out of the ballpark (lol)!  4 Spotlights
Damn Yankees is a musical retelling of the Faust legend, written by Richard Adler and Jerry Ross, the combo responsible for Pajama Game.  Damn Yankees premiered on Broadway in 1955, and ran for over 1,000 performances, and won seven Tony Awards, including Best Musical.  Bob Fosse was the original choreographer.  A 1994 Broadway revival won three Tony Awards.  The Marriott production is directed by James Vásquez, choreographed by Tyler Hanes. 
There are some well-known songs in this show, songs like (Gotta Have) Heart, Shoeless Joe from Hannibal, MO, Those Were the Good Old Days, A Little Brains, A Little Talent and of course, Whatever Lola Wants. 
Sean Fortunato absolutely stole the show with his portrayal of Mr. Applegate aka the Devil.  I loved the touch of evil and the mischievous glint in his eye as he winked at the audience.  He was suave and debonair in his red suit, as well as his other costumes, always in that same red and black.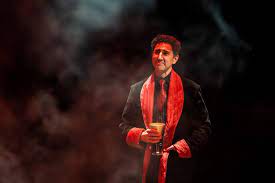 Joe Boyd (Ron E. Rains) is fanatic fan of the Washington Senators, meaning his long- suffering wife, Meg (Daniella Dalli), doesn't have his attention for Six Months Out of Every Year.  As Joe grouses about the Senators' need for a long-ball hitter, Mr. Applegate appears to offer him the chance to become that long-ball hitter.  Joe is willing but suspicious, so he asks for an 'out' clause.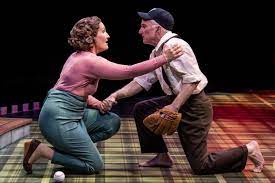 Mr. Applegate arranges a tryout with the Senators for Joe Hardy (Andrew Alstat). Using a little legerdemain, he convinces team owner, Mr. Welch (Jonah D. Winston) and manager, Van Buren (Lorenzo Rush, Jr.), that Joe is the guy the team needs.  An intrusive reporter, Gloria Thorpe (Erica Stephan), tries to find out more about Joe. 
The baseball team included Vernon (Brian Bandura) Rocky (Ben Broughton), Smokey (Dan Gold), Sohovic (Christopher Kale Jones), Bouley (Ron King), Henry (Sam Linda), Mickey (Garrett Lutz), Del (Thomas Ortiz) and Lowe (Sam Rohloff).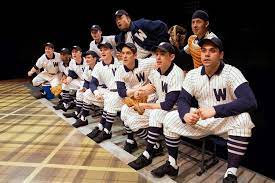 Meg's friends Doris (Lydia Burke) and Sister (Heidi Kettenring) try to cheer her up when Joe goes missing.  Meanwhile, Joe loves the team, but he misses Meg, so he becomes a boarder at her house. 
Mr. Applegate hates that, so he calls in Lola (Michelle Aravena), "the best homewrecker on his staff," with orders to do her stuff with Joe.  I was a teeny bit disappointed in this Lola, who showed a lot of flash but not a lot of seduction.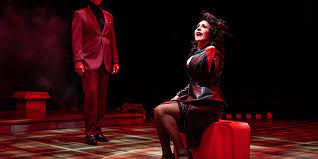 Also in the show: The Baseball Commissioner (Michael Kingston), the Postmaster (Brooke Henderson) and Miss Weston (Concetta Russo). 
Note: Guests are encouraged but not required to wear masks while inside the building.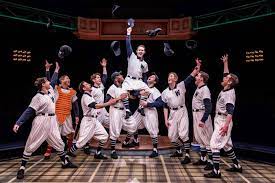 Damn Yankees runs through June 4th at the Marriott Theatre, 10 Marriot Drive, Lincolnshire.  Parking is free; valet parking is also available.  Running time is 2 hours, 40 minutes, with an intermission.  
Performances are Wednesdays at 1:00 & 7:30 pm; Thursdays at 7:30 pm; Fridays at 8:00 pm; Saturdays at 4:00 and 8:00 pm; Sundays at 1:00 and 5:00 pm with select Thursday 1:00 pm matinees.  There are a limited number of dinner-theatre packages available on Wednesdays and Thursdays.  Tickets range from $59-$64 excluding tax & handling fees.    FYI (847) 634-0200, www.ticketmaster.com or www.marriotttheatre.com.