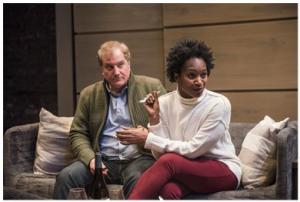 Parnell's play is loaded with ideas and enough food for thought to fill several other dramas, which is one of its major disadvantages. The script is peppered with plenty of pop references, including binge-watching several television series, adult and children's literature and motion pictures as well (two of the gay characters even joke about the possibility of having hot, steamy sex atop a washing machine just like Kate Winslet and Patrick Wilson did in the film, ironically titled, "Little Children"). But there are several tender moments and plenty of comedic jabs to keep you engaged.
Rob (Benjamin Sprunger), who is a therapist, and his partner Alan (Bruch Reed), a free-lance writer, are a married couple who have been together a long time but recently decided to raise a young daughter. In the first of seven scenes they are at a trendy new restaurant to meet another gay married couple whom they do not know very well but are hoping to develop a more solid relationship with, so that their daughter can have some "play time" with their two boys, one of whom is their daughter's own age.
Scott (Jos N. Banks) has a high-paying corporate job and is a bit of a conservative. His husband Jason (Shane Kenyon) is an artist, specifically an abstract painter. Both Rob and Alan find Jason to be dark and mysterious and are intrigued by him once the dinner has ended. Turns out Jason isn't all that perplexing, he's just a sex addict.
Alan's very close friend Michael (Keith Kupferer) is married to Serena (Lily Mojekwu). They also have two children and Serena is the alpha mother. Alan and Michael have taken their children to the playground when they run into a mutual friend, Julia (Rachel Sullivan), who is an actress in a very popular television program.
Things really begin to fall apart for the gay married couples when they decide to vacation on Fire Island for the weekend, with all of their children in tow. Seems trying to build sand castles on the beach is a difficult task when there is the loud, bass-pumping music of a circuit party going on right next door. It is here that Parnell makes a powerful statement about what exactly the identity of a gay man, particularly one who is married and a parent, has become. While wanting to cling to the carefree and hedonistic lifestyles of their youth, some of these men are bravely forging ahead into uncharted territory. It is difficult for them to define who they are as they move forward, constantly defying heteronormative constraints.
Sullivan is wonderfully abrasive as Julia in her only scene. She gets to throw some pretty sardonic punches at Alan and question just when all of the gay divorces will start making the headlines now that gay people have the right to marry.
Also very good are Sprunger, Banks and Mojekwu, although it may be easiest to sympathize with these characters because they are the only three who are staunchly faithful to their respective partners. In the evening's most intimate scene, the only one that takes place in Rob and Alan's bedroom, Sprunger is sensational. Only here do we get to see the bond that unites these two men and the fear and doubt that awaits them in the future. If only Parnell had included more of these emotional exchanges earlier to make his script stronger for it comes one hour and 45 minutes too late.
It is easy to see why About Face Theatre chose to present this prescient work as it certainly challenges its audience. Their core group of subscribers will be amused by these savvy characters and will be able to relate to most of them (Alan is working on a book about nightlife in New York in the 1980's and much of that loss infuses elements of this production). It will be very interesting to see what kind of response this play will receive from millennials.
------------------------------------------------------------------------------------------
"Dada Woof Papa Hot" runs through February 16, 2019 at Theater Wit, 1229 West Belmont Avenue, Chicago
Curtain Times: Thursdays, Fridays and Saturdays at 7:30 PM; Sundays at 3:00 PM.
Please note there will be an added performance on Saturday, February 16 at 3:00 PM.
Tickets: $20 to $38. Discounts available for groups of 10 or more. Tickets are currently available at aboutfacetheatre.com, by calling (773) 975-8150 or in person at Theater Wit Box Office.
Running time is approximately 1 hour and 55 minutes with no intermission.