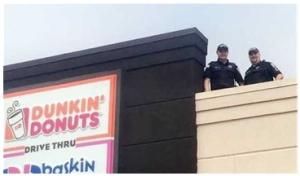 "Cop on a Rooftop" Raises Over $2,000 for Special Olympics
This past Friday, May 19th, Munster Police officers and members of our K-9 Unit spent the morning along with a number of neighboring law enforcement agencies collecting donations for Special Olympics at Dunkin Donuts in Munster.
We are pleased to announce that over $2,000 was raised to help support Special Olympics athletes. The Munster Police Department appreciates everyone who stopped by to visit with our officers or to provide donations.