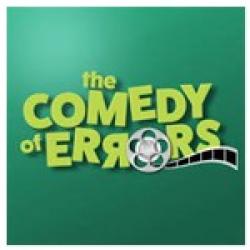 **** Highly Recommended **** Chicago Shakespeare's production of The Comedy of Errors is Barbara Gaines last gift to Chicago audiences – and it's a great one!  I can't think of anything I'd change. Gaines collaborated with Second City's Ron West to update and reprise their 2008 version – putting Shakespeare's shortest play literally inside another play.  The result is hilarious – with a ton of sight gags, slapstick and pratfalls.  Shakespeare lover or not, I think everyone will enjoy The Comedy of Errors!  A must-see!  4 BIG Spotlights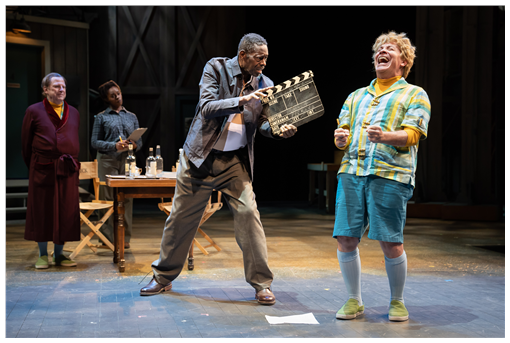 The opening scenes of The Comedy of Errors resemble a film, done in flickering black and white and sepia tones.  On a platform on one side of the stage, a condemned man explains his sad history – In an inn, his loving wife gave birth to twin boys (the babies literally pop out and shoot across the stage).  A maid also had twin boys (same pop and shoot), so he bought those babies to grow up with and serve their sons, the happy couple set sail for home, but the ship encountered a storm and split apart – tearing his wife and two of the babies away.
The Duke/second assistant camera, Monte (Bruce A. Young), exacts a fee of 1,000 gold marks from anyone visiting his bailiwick.  Egeon/Admiral Bernard Philpot (Greg Vinkler), a merchant from Syracuse who can't pay the fee, is sentenced to death.  Because Duke was moved by Egeon's sad story of lost wife and twin sons, he moved the execution back one day to give Egeon time to find someone who could/would pay his entry fee of 1,000 gold marks.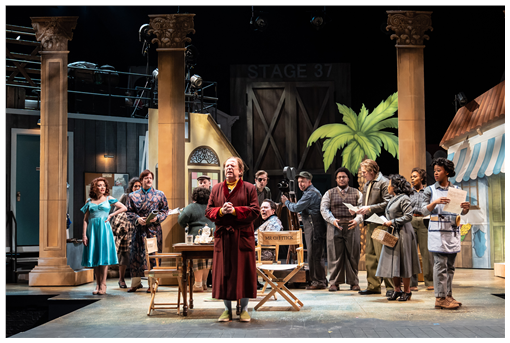 So - a British movie company is shooting The Comedy of Errors on a soundstage in London during the Blitz.  Backstage, Director Dudley Marsh/Dromio of Syracuse (Ross Lehman) is married to leading lady and sometime vamp, Veronica Marsh/Adriana (Susan Moniz), who is having an affair with her younger co-star, Emerson Furbelow who plays Antipholus of Syracuse (Robert Petkoff).  Alice Boggs (Melanie Brezill) plays Ariana's sister, Luciana. 
When Lord Brian Hallifax (Kevin Gudahl) – who has a very high opinion of himself – learns that American heartthrob and crooner, Major Phillip Sullivan (Dan Chameroy), will play Antipholus of Ephesus – a part he thinks should be his – AND he has to play Dromio of Ephesus, he's beside himself.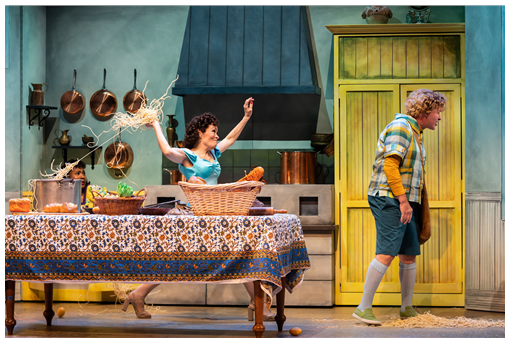 Back to the movie - Antipholus of Syracuse sent his servant, Dromio of Syracuse ahead to an inn with 1,000 marks in gold.  Just moments later, he meets Dromio of Long Island who has (obviously) not delivered any gold. 
Meanwhile, Adriana, the volatile wife of Antipholus of Long Island, and her sister, Luciana have dinner ready and awaiting the return of her husband.  When Dromio of Long Island, upset about the unfair beating he got from his master, gets home, he gets another beating from Adriana for not bringing his master home for dinner.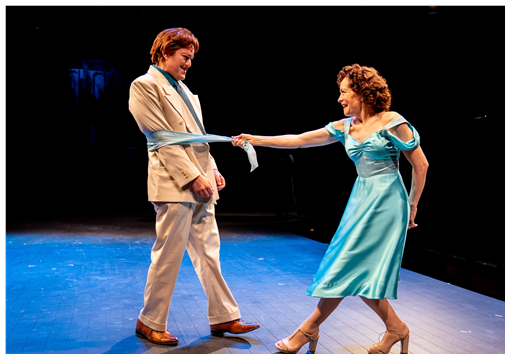 Antipholus of Long Island, out partying with his buddies, reminds Angelo/director of photography David Pickles (Breon Arzell) the gold merchant, that he'll pay for the gold chain he ordered when it's delivered.  Soon thereafter, Angelo does deliver the chain – to the wrong Antipholus.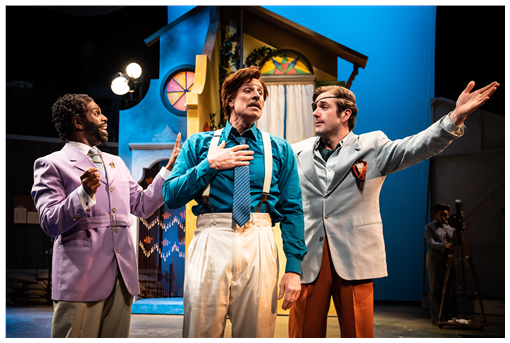 Eventually, the twins are in the same place at the same time and everything becomes clear. 
On this movie set, everyone has a part.  Eddie Philpot (Bill Larkin) plays Dr. Pinch.   First assistant director Priscilla (Maya Vinice Prentiss) is First Merchant; script supervisor Marian (Lillian Castillo) plays a Courtesan; Fanny (Adia Bell), make-up assistant is Messenger; and Doris (Ora Jones), Veronica's down-trodden assistant, becomes the Abbess.  Patch (Russell Mernagh) plays Balthazar while Cyril (Steve McDonagh) is Nell, who pursues Dromio.  Finally, assistant director Tom (Michael E. Martin) fills in as Gaoler/Officer.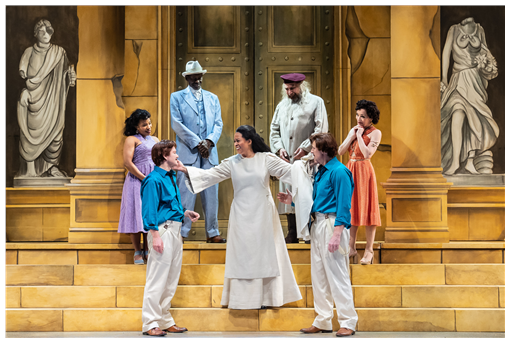 The action is frequently interrupted by air raid sirens but when Admiral Bernard Philpot drops in to shut down the production due to the dangers of the Blitz, quick talking Dudley Marsh persuades him to play the part of Egeon.  There's even a little singing for the troops! 
Note: Guests are encouraged but not required to wear masks while inside the building. 
The Comedy of Errors runs through April 23rd in the Courtyard Theatre at Chicago Shakespeare Theatre on Navy Pier, Chicago.  Parking in CST's designated area in the Navy Pier Garage is available at a 40% discount with validation from CST.  Running time is 2 hours, 40 minutes, including an intermission.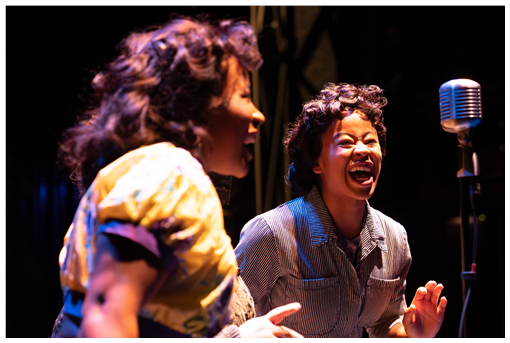 Performances are Wednesdays at 1:00 & 7:30 pm except there will be no performance Aril 19th; Thursdays & Fridays at 7:30 pm; Saturdays at 2:30 & 7:30 pm; and Sundays at 2:00 pm with additional performances on Tuesdays, April 4th & 11th at 7:30 pm and Thursday, April 13th at 1:00 pm.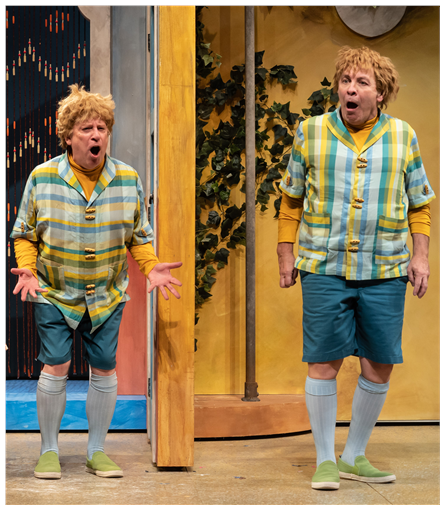 Accessible performances:
Audio-described Performance, Sunday, April 2nd at 2:00 pm
Open-captioned Performance, Wednesday, April 12th at 1:00 and & 7:30 pm;
ASL Duo-interpreted, Friday, April 14th at 7:30 pm; 
Projected Spanish Translation, Tuesday April 11th at 1:00 & 7:30 pm
Tickets range from $35-$92.  FYI (312) 595-5600 or www.chicagoshakes.com/qchristmas.