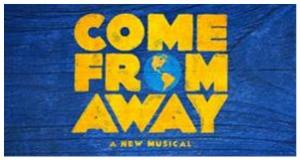 With a book, music and lyrics by Irene Sankoff and David Hein, this is an amazing 100 minutes of great story telling that will bring a tear to your eyes ( several times) but a smile on your face ( far more often) and all in all will create a lasting memory for every audience member.
Sharply directed by Christopher Ashley, the twelve actors in this piece create the townspeople of  Newfoundland as well as the myriad of flight passengers and crew who ended up making their homes in the local school and other locations. We learn of the town coming together to make sure that once the planes had been brought down, those on them would feel safe and secure as they learned of the tragedy that had taken place in Manhattan and Washington D.C.. For those of us who were glued to our TV sets on that memorable Tuesday and days thereafter, we will see some of the things that were unknown to us. We learn about the power of the people when they decide that it is time to help. We learn about the friendships that came out of those who were forced to live where they had never been before. We also learn about some of the lives that went on a different track after these events.
The music of this show is played by a band of  eight under the leadership of Cynthia Kortman Westphal, who herself is a dynamite musician. FYI when the curtain call is over ( they had a full standing ovation tonight and three full bows) the musicians put on a little 8 minutes of magical musical entertainment, you will not want to miss. So instead of running for your car or cab or bus, stay and watch these extremely talented people.
The cast is powerful and I am so glad to see two of my Chicago favorites in this cast. Harter Clingman, who many of us know from The Mercury Theatre among others and James Earl Jones II ( who has played every local venue in town and done almost every type of theater there is). They are joined by Kevin Carolan, Nick Duckart, Chamblee Ferguson, Becky Gulsvig, Christine Toy Johnson, Julie Johnson, Mega McGinnis, Andrew Samonsky,  Danielle K. Thomas and Emily Walton. These actors take on many roles as both the people of the town and those on the planes that were forced to come down and stay.
The musical numbers, for the most part, are not ones you will be singing around the house or as you drive home. They are a very important part of the story telling itself ( that is why I refer to this as a "Chamber Piece"). "Welcome To The Rock" which is the opening number will wake you up and prepare you for the 100 minutes you are about to experience.  "I Am Here", "Me and The Sky" and the powerful "Prayer" ( where we feel the entire religious world praying as one) are some of the songs that will have an impact on you even though you may not remember the actual words.
"On September 11th, 2001 the world stopped"  "On September 12th, their stories moved us all". Your chance to be a part of this memory takes place at The Cadillac Palace Theatre through August  19th with performances as follows:
Wednesdays  2 p.m. and 7:30 p.m.
Thursdays  7:30 p.m.
Fridays  7:30 p.m.
Saturdays  2 p.m and 8 p.m.
Sundays  2 p.m.  and at 7:30 p.m. on August 4th
Tickets range from $35-$105 and can be purchased at any of the Broadway In Chicago theater box offices, by calling the ticketline at 800-775-200 or online at www.BroadwayInChicago.com
The Cadillac Palace Theatre  is located at 151 West Randolph street
NOTE: we found a new little bistro just west of the theater, Francois Frankie, with a carousel bar and a great Old Fashioned. Lots of wines and some very tasty vittles 222 West Randolph  312-600-9659