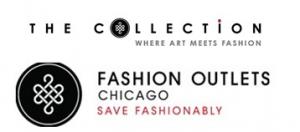 On June 29th, Fashion Outlets of Chicago announced a new rotation exhibition as part of THE COLLECTION: Where Art Meets Fashion, its multifaceted contemporary art program, featuring the first sculptural works of self-taught Chicago artist Kate Lewis. Opening today, Functional Art will fill THE COLLECTION's three rotating exhibition cases with vibrant three-dimensional works. The exhibition will remain on view through December 2021.   
Blending her signature geometric and architectural line work styles, Lewis uses patterns and illusions to create pieces that challenge the viewer's perspective, both figuratively and literally. A self-taught Chicago artist specializing in large-scale murals, Functional Art is Lewis' first foray into three-dimensional work using Styrofoam, plaster, latex paint and varnish.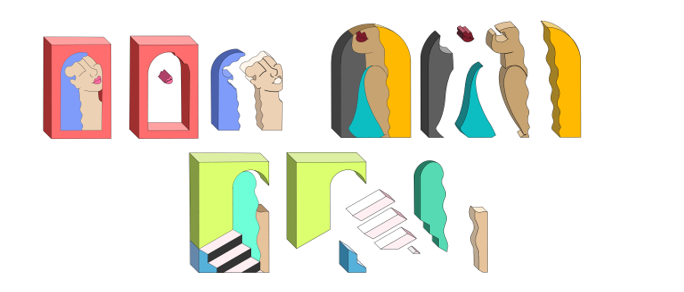 "Working in this new medium has been an entirely different experience from creating murals. Sitting inside the art while forming it stretches our brains in a way that excites us for future possibilities," said Lewis. "I'm incredibly excited to be featured in THE COLLECTION's rotating exhibition and can't wait to showcase the pieces in three dimensions throughout the space – the way they were designed to be experienced." 
Drawn to the look of chunky yet sleek Art Deco and Modern furniture styles, Lewis drew inspiration from the intriguing playfulness of the borderline impractical nature of the design. Thinking of an adult playground, Lewis designed the sculptures like a large children's puzzle that could be deconstructed and displayed as separate pieces. The pieces are a combination of hard-lined architecture and feminine
organic curvature to make three unique minimal Art Deco scenes.   
Characterized by bold colors, clean line work and architectural elements, Lewis' murals can be found across the United States, with the most notable being a 180-foot section along the Chicago Riverwalk, a mural within Wrigley Field and full building mural wraps in New Buffalo and Las Vegas. Lewis has also designed limited-edition releases with global brands including Jameson, Verizon, the Chicago Cubs and the Chicago Bulls.   
Functional Art   
Candle Holder, Styrofoam, plaster, latex paint, varnish  
Cup Holder, Styrofoam, plaster, latex paint, varnish   
Pencil Holder 3, Styrofoam, plaster, latex paint, varnish 
About THE COLLECTION: Where Art Meets Fashion 
THE COLLECTION: Where Art Meets Fashion is a multifaceted contemporary art program located within Macerich's Fashion Outlets of Chicago. Components of THE COLLECTION include 21 permanent commissions and a rotating exhibition series located throughout the common area of the shopping center. The public art program has invested in works by Daniel Arsham, Derrick Adams, Carlos Rolón Dzine, Jen Stark, Matthew Hoffman and many more. THE COLLECTION's rotating exhibitions feature work by a variety of artists displayed in glass cases located throughout Level Two of the shopping center. For more information, visit https://www.fashionoutletsofchicago.com/TheCollection. 
About Fashion Outlets of Chicago 
Fashion Outlets of Chicago is an award-winning 530,000 square-foot, two-level indoor shopping center that is home to more than 130 designer outlets, an impressive contemporary art collection known as THE COLLECTION and high-end amenities. The one-of-a-kind upscale outlet property that redefines and elevates the outlet shopping experience, is located at 5220 Fashion Outlets Way in Rosemont — minutes from O'Hare International Airport and Chicagoland's major highways. For more information,  visit www.fashionoutletsofchicago.com.