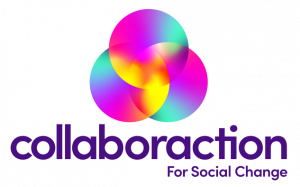 Celebrate the powerful change Collaboraction is creating through theater and social justice at The Utopian Ball, Collaboraction's annual gala, Saturday, October 23 at 6 p.m. at Venue West, 221 N. Paulina St. in Chicago.
Tickets, $250, are an investment in Collaboraction's work on the south and west sides of Chicago, its vibrant youth programming, and its mission to incite change and unite Chicago through art. To purchase tickets, visit collaboraction.org.
Collaboraction company member Sandra Delgado at the 2019 Utopian Ball.  Photo by Joel Maisonet
This year's Utopian Ball, hosted by LeeAnn Trotter of NBC Chicago, starts with Collaboraction's traditional opening Libation Ritual to unite everyone's hearts, minds and souls.
Next comes a cocktail hour and a seated, three-course meal including Grilled Beef Tenderloin with Bourbon and Molasses with a Tomato Relish. Vegan and gluten-free options include Oven Roasted Berber-Spiced Cauliflower Steak with Greek Vegan Yogurt Sauce and French Lentils. Dinner will be followed by a show stopping dessert - a White Chocolate Passionfruit Dome, decorated with Collaboraction's new logo.
The night includes a live performance by Collaboraction's The Light youth ensemble, accompanied by youth deejay CJ Da God. The Utopian Ball also means it's awards season at Collaboraction, and this year's 2021 Ourhaus Award will be given to Rhys Hunter and Edna Prieto for their sustaining support of Collaboraction's work over the past six years and championing Collaboraction's vision to change the artistic landscape of Chicago.
The company will also celebrate Matthew LaChappelle with the 2021 Artist Award for his creative work, voice and vision. LaChappelle, an independent young adult with Down syndrome, works frequently with Collaboraction, most recently writing and starring in his 2020 Peacebook virtual short, The Dance...Never Give Up.
Speaking of dance, that's exactly how The Utopian Ball will end, on the dance floor.
The Utopian Ball is chaired by Kelsey Malnati Howell, Executive Director, the Marc and Jeanne Malnati Family Foundation, and Collaboraction board member Dr. Marcus Robinson, Co-Director, Enrich Chicago.
Guests must show proof of Covid-19 vaccination or a negative Covid-19 test within 72 hours of the event to attend in-person. Mask requirements, regardless of vaccination status, will also be in place.
For more information, visit collaboraction.org, follow the company on Twitter, Facebook, Instagram or YouTube, or call (312) 226-9633.
Top: LeeAnn Trotter, NBC Chicago, emcee for Collaboraction's 2021 Utopian Ball.
Bottom, from left: Collaboraction's 2021 Ourhaus Award winners Rhys Hunter and Edna Prieto, and 2021 Artist Award honoree Matthew LaChappelle in a screenshot from his 2020 Peacebook virtual video, The Dance...Never Give Up.
Want to spark social change in Chicago and beyond? 
Become a CollaborActivist! Join the company's new member program that supports digital workshops and live programs, helps pay artists equitably, and provides a brave space for diverse voices who create transformative performances on critical social issues. CollaborActivists receive exclusive invitations to monthly social events (virtual and in-person), free or discounted tickets, special swag, and updates on Collaboraction's community impact. Become a CollaborActivist for as little as $1 a month at collaboraction.org/collaboractivist. 
About Collaboraction
Collaboraction, Chicago's theater for social change, collaborates with a diverse community of Chicagoans, artists and community activists to create original theatrical and virtual experiences that cultivate dialogue and action around the world's most critical social issues. Since the company's founding in 1996, Collaboraction has pushed artistic boundaries working with more than 4,000 artists to bring over 100 productions and events to more than 150,000 unique audience members, and has inspired measurable positive change on social justice in Chicago and beyond. Collaboraction's work includes Sketchbook, Peacebook, Crime Scene, Forgotten Future and Gender Breakdown. 
Collaboraction has been acknowledged for innovation and inclusivity by using theater as a tool for social change with numerous awards including, most recently, a 2020 Foster Innovation Award from Chicago's Department of Cultural Affairs and Special Events, the 2020 Multi-Racial Unity Award from the First Unitarian Church-Chicago, a 2018 Stand For the Arts Award from Comcast & OvationTV, and an Otto Award from New York's Castillo Theatre.
In August 2021, Collaboraction returned to live performances with The Light, a new ensemble of six high-achieving Chicago youth artists and activists who debuted as part of the Chicago Park District's Night Out in the Parks program. Visit collaboraction.org/the-lIght to see where The Light will perform next.
This fall, Collaboraction is presenting in-person performances with its annual Peacebook Festival, September 25 at Kennedy-King College in Englewood and October 2 at Kehrein Center for the Performing Arts in Austin.
On the digital front, Collaboraction's Together Network presents exclusive virtual content like Becoming, a live web show for anyone looking to be active anti-racists (first Tuesday of every month at 6 p.m. CT), and Crucial Connections, a live, interactive talk show that brings social justice warriors, artists and community residents together for crucial conversations (third Thursday of every month, 8 p.m. CT). Learn more at collaboraction.org/together-network.
Collaboraction continues to use the theater at Kennedy-King College in Englewood as its mainstage producing home. Meanwhile, the company has initiated a search for its next home for live performances, community building and video production, exploring Chicago neighborhoods historically overlooked like Englewood, Austin and Lawndale.
Collaboraction is supported by The Chicago Community Trust, the National Endowment for the Arts, Illinois Humanities, Paul M. Angell Foundation, Marc & Jeanne Malnati Family Foundation, Joseph & Bessie Feinberg Foundation, and the Illinois Arts Council, a state agency. Collaboraction is supported by a grant of U.S. Department of Treasury funds through the City of Chicago. The opinions, findings, conclusions and recommendations expressed at The Utopian Ball are those of the authors and do not necessarily reflect the views of the Department of Treasury or the City of Chicago.
For more, visit collaboraction.org.