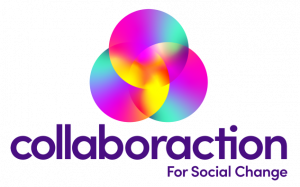 Collaboraction has opened submissions for The Light, a year-long, residency-like training program for youth "artivists" (artists+activists) in Chicago to illuminate community, connection, and social change through performance and design. 
Now in year two, The Light will recruit, cultivate and provide performance platforms, both live and digital, for two cohorts or "ensembles."
Just like last year, Collaboraction will select five youth Performance Activists, who will be paired with mentors to create and perform original solo works.
Collaboraction's first The Light ensemble of artist-activists, class of 2021-22 (from left): Ella Rae, Ava Lynn Trpeski, Kyra Pierce, Phallon Pierce, Marcus Jackson and Nate Buescher. Collaboraction is now accepting submissions for year two of The Light youth training program. Credit: Joel Maisonet
New this year, Collaboraction has expanded The Light to include a second cohort of Production Activists - five youth who will work alongside industry professionals in design and technical skills including light, sound, video, costumes, scenic design and stage management.
The submission deadline for both cohorts, Performance Activists and Production Activists, is Friday, May 20, 2022. To apply, go to collaboraction.org/submissions-the-light and fill out the appropriate submission form.
Applicants will be asked to submit a video sample, state their social justice focus and share how they seek to put that out into the world as an artist who wants to cultivate positive social change. For performers, Collaboraction is open to different styles including storytelling/theater, spoken word, dance or music. For the production/design team, all levels of experience and areas of interest are welcome. For both cohorts, Collaboraction is particularly interested in submissions from youth interested in art as healing, an umbrella theme for all of the company's programming coming out of the pandemic.
In July, Collaboraction will select a diverse group of ten youth artists. Both ensembles will work independently, with mentors, and collaboratively to conceive, design, rehearse and present five solo pieces under the umbrella title, The Light. These performances, presented in August at Hamilton Park in Englewood, Douglass Park in Lawndale, and Lafollette Park in Austin as part of the Chicago Park District's Night Out in the Parks, will be free and open to the public.
After the parks tour, The Light performers, with tech support from the youth production team, will each create a video of their work to be screened at Collaboraction in-person shows and events, on future episodes of the company's live monthly virtual talk show Crucial Connections, and shared on Collaboraction's TikTok, YouTube, Instagram and Facebook feeds.
Every youth selected for The Light will be paid $18 per hour for all rehearsal, production, performance and appearance time, per Collaboraction's Equitable Pay For All Policy. The Light performers and production/design team also will be booked for additional performances, appearances, collaborations, activations and training opportunities throughout the 2022-23 school year. 
The Light is partially supported by the Marc and Jeanne Malnati Family Foundation and Toyota Motors North America.
Meet Collaboraction's first The Light youth ensemble
In the summer of 2021, Collaboraction introduced its first The Light ensemble – six artist-activists brimming with exceptional skill, craft and important things to say: 
Nate Buescher, 14, an actor, singer and dancer, and a member of the Chicago Bulls' Kidz, from Lincoln Park High School, whose focus is celebrating our differences. Mentored by TehRay "HayWyre" Hale Jr.
Marcus Jackson, 18, a southside student and spoken word artist from Lindblom Academy, focusing on countering community apathy. Mentored by Willie Round.
Phallon and Kyra Pierce, 15, identical twins from Bolingbrook, dancer/athletes promoting a multicultural youth literacy platform. Mentored by Dana N. Anderson.
Ella Rae, 19, a singer/storyteller from Wicker Park, currently enrolled at Columbia College Chicago, who advocates for mental health awareness. Mentored by Joy Smith
Ava Lynn Trpeski, 16, a dancer from Crown Point, Indiana, whose focus is body positivity. Trpeski was mentored by Carolyn Hoerdemann.
Collaboraction returned to in-person performances in August 2021 introducing The Light with live shows in North Lawndale, Austin, and Englewood. Watch their performances, paired with Q&A, on Collaboraction's 2021 Light Ensemble YouTube Artist Spotlight YouTube playlist. 
Speaking about their experience, Phallon and Kyra Pierce, aka The Pierce Twins, said "The Light has helped us grow as artists and connect with other teens. We are not only artivists learning and working together, we are truly friends! Being able to participate in this program and the support of Collaboraction provided opportunities for us to perform and spread our message on a bigger scale."
On March 21, Collaboraction paved the way for the Pierce Twins to spread their message on a bigger scale when the Chicago Bulls and United Airlines honored them at a court-side ceremony with their Chicago Stands Up Award, which recognizes Chicago youth making a positive impact. Collaboraction introduced the Bulls to the Pierce Twins' talents and activism and nominated the girls for the award.
Meet Phallon and Kyra Pierce - The Light: Artist Spotlight
In addition to being amazing dancers, the Pierce Twins were recognized for their advocacy work on Illinois House HB3254, aka, "The Prince Twins Law," which will mandate all K-12 schools in Illinois to include diverse authors of all backgrounds into their reading curriculum. The bill, introduced by State Representative La Shawn K. Ford, has already passed the Illinois House and awaits Senate action. For more, visit thepiercetwins.com/legislation/
(left, from left) Collaboraction Executive Director Saudia Davis, The Light's Phallon and Kyra Pierce, with Collaboraction Artistic Director Anthony Moseley after (right) the twins received the Chicago Shows Up Award from the Chicago Bulls and United Airlines at United Center on March 21, 2022. Watch the ceremony on the United Center Jumbotron:
Fellow The Light ensemble member Ava Lynn Trpeski agreed, "Being a part of The Light made a huge impact on me as an artist and activist. The Light helped me think more about my own experiences and grow with my social justice platform. My amazing mentor, Carolyn Hoerdemann, has given me so many new ways of thinking, and working. Working with everyone, I have learned and expanded my own knowledge of other social justice platforms. I have made incredible friends that I know will last a lifetime because of our shared passion for change."
"Being a part of The Light  has motivated me to persevere through any challenge I may face in life, whether that be within my career as an artist or in general," said Ella Rae. "It has helped me to discover how important social justice is, and how to spread important messages like mental health awareness with the world, through music."
Want to spark social change in Chicago and beyond? Become a CollaborActivist! 
Join the company's new member program that supports digital workshops and live programs, helps pay artists equitably, and provides a brave space for diverse voices who create transformative performances on critical social issues. CollaborActivists receive exclusive invitations to monthly social events (virtual and in-person), free or discounted tickets, special swag, and updates on Collaboraction's community impact. Become a CollaborActivist for as little as $1 a month at collaboraction.org/collaboractivist.
About Collaboraction: Changing the map and removing barriers within the theater industry
Collaboraction is an ethno-diverse social justice organization that uses theater and performance to incite social change on Chicago's most critical issues. Collaboraction is a 24-year-old company that produces live and digital performances, anti-racism workshops, and youth programs that incite change and grow equity in Chicago.
Since its founding in 1996, Collaboraction has pushed artistic boundaries working with more than 4,000 artists to bring over 100 productions and events to more than 150,000 unique audience members, and has inspired measurable positive change on social justice in Chicago and beyond. Collaboraction's work includes Sketchbook, Peacebook, Crime Scene, Forgotten Future and Gender Breakdown. 
In addition to live performances, community building and video production, the company centers and presents its work in Chicago neighborhoods historically overlooked like Englewood, Austin and Lawndale.
Live, virtual programs that began during the pandemic and continue online include Becoming, a live web show, RSVP only, for anyone looking to be active anti-racists (first Tuesday of every month at 7 p.m. CT), and Crucial Connections, a live, interactive talk show that brings social justice warriors, artists and community residents together for crucial conversations (third Thursday of every month, 7 p.m. CT).
Collaboraction has been acknowledged for innovation and inclusivity by using theater as a tool for social change with numerous awards including, most recently, a 2020 Foster Innovation Award from Chicago's Department of Cultural Affairs and Special Events, the 2020 Multi-Racial Unity Award from the First Unitarian Church-Chicago, a 2018 Stand For the Arts Award from Comcast & OvationTV, and an Otto Award from New York's Castillo Theatre.
Collaboraction is supported by The Chicago Community Trust, the National Endowment for the Arts, Illinois Humanities, Paul M. Angell Foundation, Marc and Jeanne Malnati Family Foundation, Joseph and Bessie Feinberg Foundation, the Bayless Family Foundation, Spreading Hearts, AV Chicago, and the Illinois Arts Council, a state agency. Collaboraction is supported by a grant of U.S. Department of Treasury funds through the City of Chicago. (The opinions, findings, conclusions and recommendations expressed by Collaboraction are those of the authors and do not necessarily reflect the views of the Department of Treasury or the City of Chicago.)
For more information, visit collaboraction.org, or follow the company on Twitter, Facebook, Instagram, TikTok or YouTube.