It took 24 years and surviving a pandemic, but Collaboraction, Chicago's theater for social change, announced today its 25th anniversary benefit party, Moonset Sunrise, a "full moon affair" designed to celebrate the company's 24 trips around the sun, to announce and raise funds for Collaboraction's 25th season, and to officially introduce the company's future vision as a hybrid live and digital company.
Join Collaboraction live and in-person on the night of the next full moon, Thursday, June 24 from 6 to 10 p.m., at Rockwell on the River, 3057 N. Rockwell, as the moon rises over the Chicago River and becomes the glorious backdrop for Collaboraction's 25-year revelry.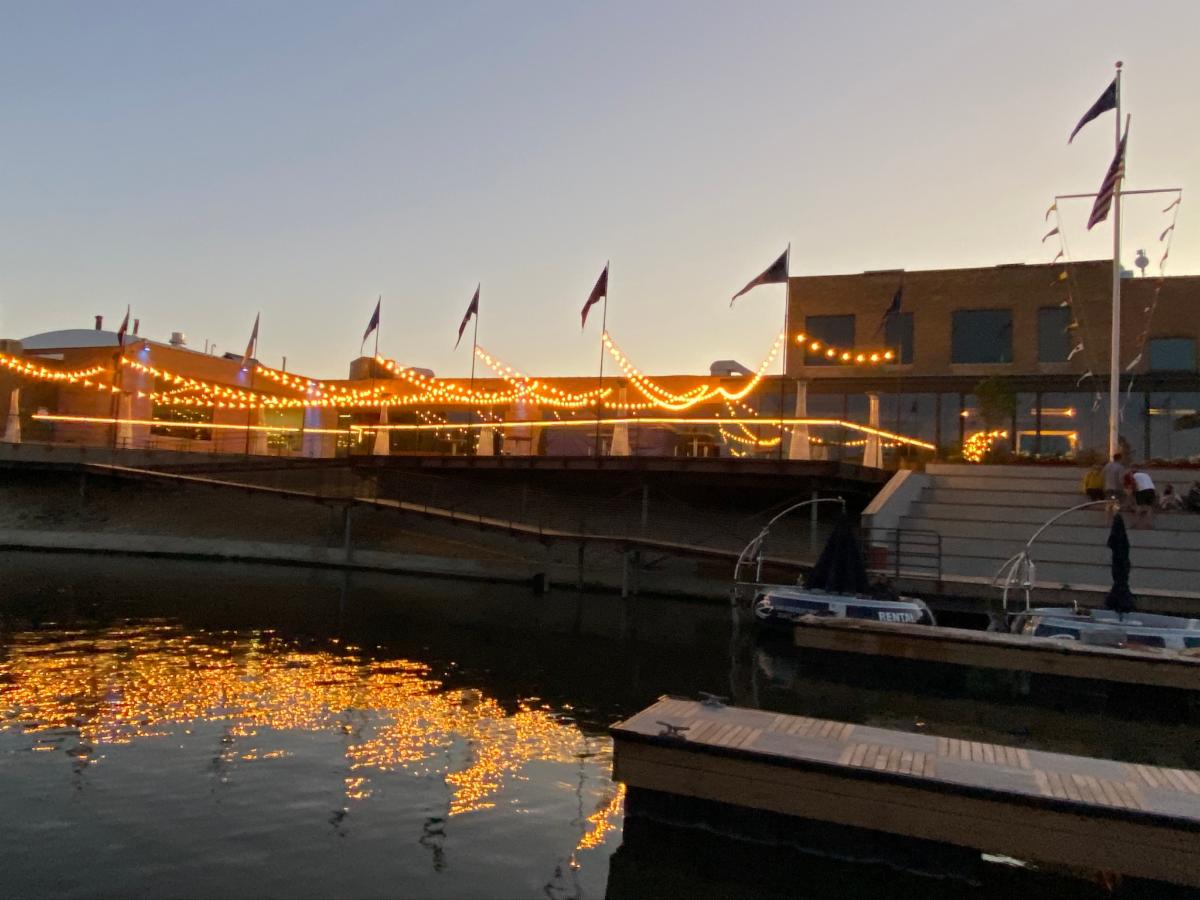 Rockwell on the River, 3057 N. Rockwell in Chicago's Avondale community, is the setting for Collaboraction's Moonset Sunrise on June 24.
Moonset Sunrise includes outdoor dining, beverages, dancing and live music, plus immersive, interactive moments of peace and love, nostalgic time travel back to seminal productions from Collaboraction's past, screenings of all-new digital premieres, rituals and revelations about the company's next 25 years, all with an incredible view of the rising moon.
"Moonset Sunrise will embody how Collaboraction uses theater to engage with Chicago's most critical social issues, celebrate how far the company has come and honor the people who have sustained us," said Collaboraction Artistic Director Anthony Moseley.
"We look forward to offering a glimpse at the larger Truth, Healing, and Reconciliation work that we have started to undertake this past year. We are excited to reunite around the campfire in person with our community to witness, interact with, and release parts of our past that hold us back, namely racism, systemic oppression, and violence, and to create communal space for new manifestations of joy, love and prosperity in our collective future."
Tickets to Moonset Sunrise are $150.
Or, attend Moonset Sunrise in-person for FREE by signing up for a CollaborActivist Membership at a $25/month or above level.
Or, attend Moonset Sunrise virtually for FREE via livestream by signing up for a CollaborActivist Membership at any level, starting at $1/month.
Go to collaboraction.org to purchase tickets and/or a membership, learn the latest updates about the evening's line-up, or to view the venue's social distancing policies.
The company's new CollaborActivist Membership Program offers graduated rewards for monthly donations ranging from $1 to $200 including discounted ticket, free, limited-edition merchandise, opportunities to connect with others in the community, and exclusive updates on Collaboraction's mission, work and impact.
Most importantly, monthly support at any level will support Collaboraction's digital workshops and live programs, pay artists equitably, and provide platforms for diverse artists who create transformative performances on critical social issues in Chicago and beyond.
For more information, visit collaboraction.org, follow the company on Twitter, Facebook,  Instagram or YouTube, or call the Collaboraction box office, (312) 226-9633.
About Collaboraction
Collaboraction, Chicago's theater for social change, collaborates with a diverse community of Chicagoans, artists and community activists to create original theatrical and virtual experiences that cultivate dialogue and action around the world's most critical social issues.
Collaboraction's Together Network presents exclusive virtual content like Becoming, a live web show for all people looking to be active anti-racists (first Tuesday of every month at 6 p.m. CT), and Crucial Connections, a live, interactive talk show that brings social justice warriors, artists and community residents together for crucial conversations (third Thursday of every month, 8 p.m. CT). Learn more at collaboraction.org/together-network.
After 10 years at the Flat Iron Arts Building in Wicker Park, Collaboraction has moved to AV Chicago in Chicago's South Loop and has been focused this past 14 months on producing high-end virtual theater, live, interactive talk shows and online special events. All productions have adhered to Collaboraction's six-point pandemic safety protocols, and all artists and staff have been paid equitably per Collaboration's new Equity Pay for All policy instituted last July.
As soon as it's safe to present in-person performances again, Collaboraction will continue to use the theater at Kennedy-King College in Englewood as its mainstage producing home. Meanwhile, Collaboraction has initiated a search for its next home for live performances, community building and video production, exploring Chicago neighborhoods historically overlooked like Englewood, Austin and Lawndale.
Since its founding in 1996, Collaboraction has pushed artistic boundaries working with more than 3,000 artists to bring more than 60 productions and events to over 150,000 audience members. Collaboraction partnered with the Chicago Park District's Night Out in the Parks program for five straight years cultivating relationships and theater in Englewood, Austin and Hermosa through its Crime Scene, PEACEBOOK and Encounter tours. Other memorable productions include Collaboraction's 2019 enhanced co-production of Sandra Delgado's La Havana Madrid with Teatro Vista, Forgotten Future: The Education Project by Sarah Moeller, This is Not a Cure for Cancer by Anthony Moseley and Sarah Illiatovich-Goldman, Gender Breakdown by Dani Bryant and Erica Barnes, Dark Play (or stories for boys) by Carlos Murillo, the Chicago premiere of 1001 by Jason Grote and the annual SKETCHBOOK Festival for 15 years.
Collaboraction has been acknowledged for innovation and inclusivity by using theater as a tool for social change with numerous awards including, most recently, a 2020 Foster Innovation Award from Chicago's Department of Cultural Affairs and Special Events (DCASE), the 2020 Multi-Racial Unity Award from the First Unitarian Church - Chicago, a 2018 Stand For the Arts Award from Comcast, and an Otto Award from New York's Castillo Theatre.
Collaboraction is supported by The Chicago Community Trust, The Joyce Foundation, The Field Foundation, the National Endowment for the Arts, the Wicker Park & Bucktown SSA #33 Chamber of Commerce, and the Illinois Arts Council, a state agency. This project is partially supported by a CityArts Grant from the City of Chicago Department of Cultural Affairs & Special Events with funds provided by the National Endowment for the Arts as part of the Coronavirus Aid, Relief, and Economic Security (CARES) Act.
For more information, visit collaboraction.org.