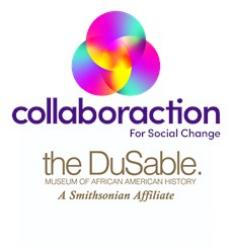 Collaboraction and The DuSable Museum of African American History are partnering to present a theatrical reading of Trial in the Delta: The Murder of Emmett Till, a new adaption of the trial transcript of the State of Mississippi vs. Milam and Bryant, the men who were found not guilty of murdering Emmett Till.
Collaboraction company members and playwriting duo G. Riley Mills and Willie Round co-adapted Trial in the Delta, drawing for the first time from the trial's actual courtroom transcripts, which disappeared (or were buried) for 50 years. Trial in the Delta also will be staged as an immersive reenactment of that rural Mississippi courtroom, with the audience and actors co-mingled in the theater. As a result, Trial in the Delta promises to be a new, more authentic account of one of the most monumental injustices of the U.S. legal system in the 20th century.  
Trial in the Delta: The Murder of Emmett Till is directed by Collaboraction company members Anthony Moseley and Dana N. Anderson. It will be presented one night only, Saturday, February 26 at 7 p.m. at The DuSable Museum of African American History, 740 E. 56th Place in Chicago's Washington Park neighborhood. The performance will be filmed with multiple cameras for a corresponding video project.
Tickets, on sale now at collaboraction.org, are $45 for general admission, $25 for CollaborActivists and DuSable Museum members, and $15 for youth, educators, seniors, artists, activists and low income (be prepared to demonstrate eligibility onsite with business card, survey information, etc).
Trial in the Delta runs two hours and will be followed by a Crucial Conversation with the audience. This event is recommended for ages 12 and up. For more information, visit collaboraction.org, follow the company on Twitter, Facebook, Instagram or YouTube, or call (312) 226-9633.
Note: Covid-19 safety precautions will be in effect per city and state mandates. For the DuSable Museum's full Covid safety policy, along with tips for directions and parking, visit dusablemuseum.org/visitor. 
Trial in the Delta: The Murder of Emmett Till - Behind the scenes
Emmett Till (via Wikimedia)
The murder of 14-year-old Emmett Till in 1955 brought national attention to the racial violence and injustice prevalent in the deep south. While on a trip from his hometown, Chicago, to visit relatives in Money, Mississippi, Till went to the Bryant store with his cousins, and may have whistled at Carolyn Bryant, a white woman. Her husband, Roy Bryant, and brother-in-law, J.W. Milam, kidnapped and brutally murdered Till, dumping his body in the Tallahatchie River. The newspaper coverage and murder trial galvanized a generation of young African Americans to join the Civil Rights Movement out of fear that such an incident could happen to friends, family, or even themselves.
Trial in the Delta plays like a reenactment of the actual court proceedings that played out in Sumner, Mississippi in 1955. Key characters, based on real life, include presiding judge Curtis Swango, defense attorney J. J. Breeland, district attorney Gerald Chatham, and, of course, J.W. Milam and Roy Bryant, the two men who were found not guilty of murdering Emmett Till, but later admitted to the heinous crime. Actors portraying witnesses for the defense and prosecution, including Emmett Till's mother, Mamie Till-Bradley and other family members, will be seated among the audience, bringing the courtroom action to vivid life in a documentary-style setting.
The longstanding disappearance of the transcript and most of the courthouse documentation is one of the great mysteries of a case that helped galvanize the civil rights movement and continues to garner worldwide attention a half-century later. Its absence would be more than a historical curiosity. It could also hamstring efforts to further prosecute the case. In 2005, a copy of the transcript surfaced and made its way to the F.B.I and led to reopening the case. Hopes, however, were dashed when the Department of Justice closed the case again without bringing justice.
"There are many plays about Emmett Till, but they are fictions created out of horrid facts that only guess at the actual language. This production is the first known public theatrical exploration of the transcript. When audiences experience how everything actually went down in that Mississippi courtroom, the impact is even more disturbing," said Collaboraction Artistic Director Anthony Moseley. 
"Trial in the Delta allows contemporary audiences to experience this flagrant and historic racial injustice of our legal system," said Perri Irmer, President and CEO, The DuSable Museum of African American History, "Placed in the context of today's much-publicized trials against Black men, this new work also illuminates ways in which history repeats itself."
The creative team for Trial in the Delta: The Murder of Emmett Till includes Anthony Moseley, G. Riley Mills and Willie Round, co-creators; Carla Stillwell, producer; G. Riley Mills and Willie Round, co-producers and writers; Anthony Moseley and Dana N. Anderson, directors; Clair Simon and Simon Casting, casting director; and Ruben Echoles, design. The cast is TBA.
This presentation of Trial in the Delta: The Murder of Emmett Till is made possible in part thanks to generous support from Rotary Club of Naperville, Pinnacle Performance Company and Monahan Law Group, LLC. This initial reading will be further developed for a full production of Trial in the Delta in the winter/spring of 2023. 
About The DuSable Museum of African American History
The DuSable Museum of African American History is the oldest independent black history museum in the nation. Our mission is to promote understanding and inspire appreciation of the achievements, contributions and experiences of African Americans through exhibits, programs and activities that illustrate African and African American history, culture and art. The DuSable Museum is a Smithsonian Institution Affiliate. For more information on the Museum and its programs, please call (773) 947-0600 or visit dusablemuseum.org. The DuSable Museum of African American History gratefully acknowledges the Chicago Park District's partnership.
About Collaboraction: Changing the map and removing barriers within the theater industry
Collaboraction, a social justice theater company that creates original theatrical and virtual experiences to incite change and grow equity in Chicago, collaborates with a diverse community of Chicagoans, artists and activists to cultivate dialogue and action around the world's most critical social issues.
Since the company's founding in 1996, Collaboraction has pushed artistic boundaries working with more than 4,000 artists to bring over 100 productions and events to more than 150,000 unique audience members, and has inspired measurable positive change on social justice in Chicago and beyond. Collaboraction's work includes Sketchbook, Peacebook, Crime Scene, Forgotten Future and Gender Breakdown. 
Collaboraction is supported by The Chicago Community Trust, the National Endowment for the Arts, Illinois Humanities, Paul M. Angell Foundation, Marc & Jeanne Malnati Family Foundation, Joseph & Bessie Feinberg Foundation, the Bayless Family Foundation, Spreading Hearts, AV Chicago, and the Illinois Arts Council, a state agency. Collaboraction is supported by a grant of U.S. Department of Treasury funds through the City of Chicago. (The opinions, findings, conclusions and recommendations expressed by Collaboraction are those of the authors and do not necessarily reflect the views of the Department of Treasury or the City of Chicago.) 
Want to spark social change in Chicago and beyond? 
Become a CollaborActivist! Join the company's new member program that supports digital workshops and live programs, helps pay artists equitably, and provides a brave space for diverse voices who create transformative performances on critical social issues. CollaborActivists receive exclusive invitations to monthly social events (virtual and in-person), free or discounted tickets, special swag, and updates on Collaboraction's community impact. Become a CollaborActivist for as little as $1 a month at collaboraction.org/collaboractivist. 
Biographies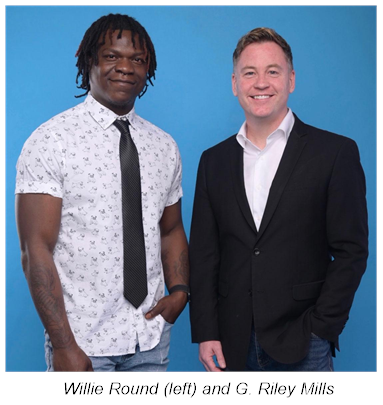 G. Riley Mills and Willie Round (co-creators, co-producers and writers; both he/him) are a creative team with collaborations that span various mediums, including film, theater and music. Their acclaimed play Lift Every Voice was published by Dramatic Publishing and has been produced at schools and theaters across the country. Their play Broke Down Drone was first produced by Collaboraction at Kennedy-King College (directed by J. Nicole Brooks), and a subsequent virtual production was produced by Fehinty African Theatre Ensemble. In 2021, Broke Down Drone enjoyed a sold-out Off-Broadway run at the Chain Theatre in New York City under the direction of Anthony Moseley. The film version of Broke Down Drone is currently in pre-production and will be directed by award-winning filmmaker Marquis Simmons. Mills and Round continue to be actively involved in mentoring youth from underserved communities in Chicago. 
Anthony Moseley (co-director, he/him) has been the Artistic Director of Collaboraction since 1999, using theater as a tool of knowledge, empathy, dialogue and action. Through this work, Moseley has commissioned and collaborated with thousands of artists to build a more equitable future for Chicago through projects including Sketchbook Festival, Peacebook, Encounter and The Light youth theater festival. As a writer/director he created Crime Scene: a Chicago Anthology and its four sequels, This is Not a Cure For Cancer, Connected and A Blue Island in the Red Sea. Since the pandemic, Moseley has led Collaboraction's push to create over 70 pieces of digital programming including directing Oh Colonizers by Carla Stillwell, Encounter Englewood and producing and co-hosting Becoming and Crucial Connections on Collaboraction's Together Network. In 2018, Collaboraction was honored with a Comcast/Ovation Stand for the Arts Award and an Otto Award for "ground-breaking political theater" and in 2019 Collaboraction won a Multi-racial Unity Award. Moseley is co- directing Trial in the Delta: The Murder of Emmett Till with Dana N. Anderson.
Dana N. Anderson (co-director, she/her) ​​is a Chicago-based performing artist, writer and producer. Her experience spans on-camera, stage, voiceover and dance. She is dedicated to creating and performing in work that sparks dialogue and action for the betterment of society. In early 2018 Anderson wrote and performed her first theater production, Soul in Suburbia, a short stage play about Chicagoland as seen through the lens of a black family settling in 1980s suburbia. Produced by Chicago's Theater for Social Change, Collaboraction, the play made such a buzz that she was invited to develop the short into a full-length show for the company's 2019 season. Alongside her artistic endeavors, Anderson is the founder and president of Concrete Runway, Inc.a boutique multicultural media and talent relations agency. On March 30, 2021, Anderson released her debut poetry ensemble, the book "Cries From Quarantine: Poems About Love" and its spoken word companion album "CFQ: The Gallery Remixes" available on all online bookstores and digital streaming platforms. The album is in collaboration with musical artists from her global creative collective, PNTGLLRYNTWRK. danananderson.com