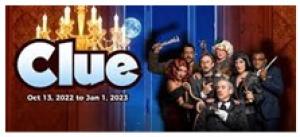 **** Highly Recommended **** Mercury Theatre's production of Clue: Murder, Madness, Mystery and Mayhem is pure entertainment – and absolutely hilarious!  Although it's based on the popular board game, Clue is less a mystery and more a farce.  Like most farces, it features rapid dialogue, ridiculous situations, mistaken identities, pratfalls, multiple doors, sliding walls, and of course, the characters all have pseudonyms, assigned by their unknown host.  If you're looking for some fun and laughter on your evening out, then Clue is the play for you!  4 Spotlights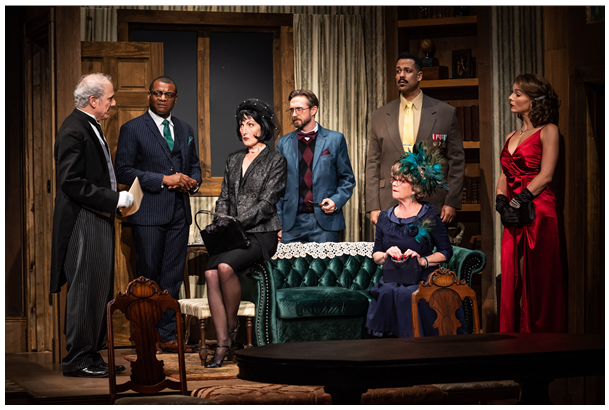 Clue was adapted from the screenplay by Jonathan Lynn, written by Sandy Rustin, with additional material by Hunter Foster and Eric Price. 
It's a dark and stormy night at a mysterious mansion – and let me insert kudos right here.  Scenic Designer Bob Knuth, Lighting Designer G. "Max" Maxin IV, and Properties Designer Jonathan Berg-Johnson managed, using sliding walls, projections and moveable set pieces, to create a nine-room mansion on the Mercury's tiny stage.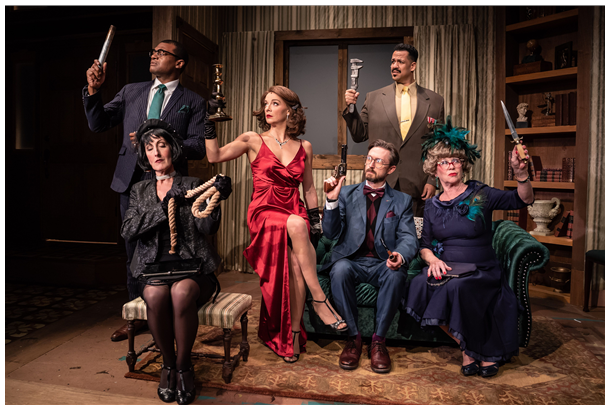 Without a doubt, the key character in this farce is Wadsworth (Mark David Kaplan), the butler.  On that dark and stormy night, with guests expected, he and Yvette (Tiffany T. Taylor), the maid, have the house ready, while Cook (Honey West) is preparing a delicious meal.  Over the course of an evening, Wadsworth directs the guests from the study to the lounge, to the dining room, to the conservatory, and so on.  He gives them their instructions, distributes the weapons and keeps the keys.  He even recreates the entire evening – complete with pratfalls and sound effects.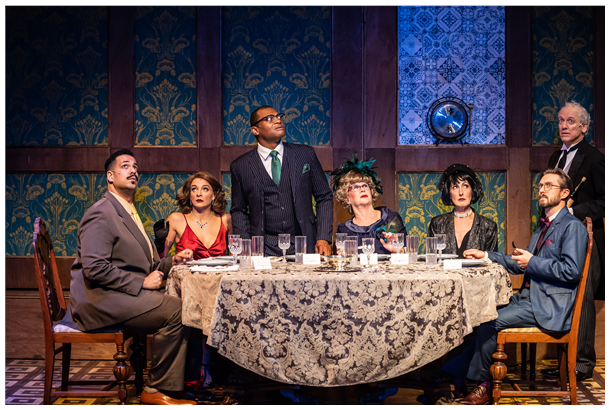 The guests:
Professor Plum (Andrew Jessop), full of his own importance, demands an explanation but Wadsworth bundles him into the study before he can say another word.  The alluring Miss Scarlett, in a truly slinky red gown, arrives at the same time as Colonel Mustard (Jonah Winston) who was kind enough to give her a ride when her car broke down at the end of the drive.  She and the blustery Colonel join Professor Plum in the study. 
Mrs. White (McKinley Carter), an enigma vaguely reminiscent of a secret agent, enters with a flourish of her evening cape, revealing a white lining to her all black outfit.  Self-important Mrs. Peacock (Nancy Wagner), wearing an elaborate hat adorned with peacock feathers and a black outfit edged in peacock blue, is indignant because she has more important things to do.   The final guest, Mr. Green (Kelvin Roston, Jr.), acts like he's afraid of his shadow.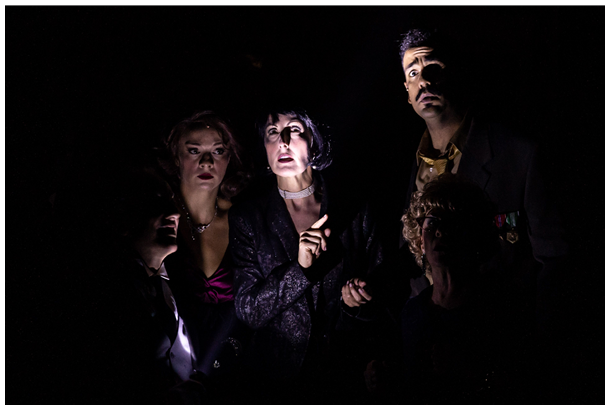 Once everyone has gathered, Wadsworth leads them all from the study to the lounge, where he explains that they were invited because all being blackmailed.  Reactions to his announcement were mixed - some denied it all, some were angry, some were defensive, Miss Scarlett bragged about it.  Wadsworth distributed a candlestick, a lead pipe, a wrench, a revolver, a rope and a dagger to the guests before leading them to the dining room for dinner.
When their host, Mr. Boddy (Patrick Byrnes) turns up dead, they have to figure out who killed him, rushing through the house from room to room, through a secret passage or two, all together or in pairs.  As they search, they find Cook in the kitchen with a dagger in her back.  An unwitting motorist (Byrnes) who needed a phone is murdered in the lounge.  Yvette is found dead, then a Cop (Andrew McNaughton) who came to the door investigating a car blocking the road.  Even the Singing Telegram Girl (Honey West) gets shot. 
There's not much of a plot, but who cares?  Clue was non-stop fun, 90 minutes of sheer hilarity.  Who can forget Miss Scarlett with a glass at her ear, listening through a door, and the other suspects trying to do the same – and Colonel Mustard with his glass on the wrong ear.  Or how about a chandelier crashing to the floor in slo-mo, then Yvette cranking it up again.  Or how about Miss Scarlett and the Professor dancing with the very dead Mr. Boddy and Cook when the Cop checked in.  Check it out, you'll be laughing too. 
Note:  Guests are encouraged but not required to wear masks while inside the building. 
Clue runs through January 1st at the Mercury Theater, 3745 N. Southport, Chicago.  Parking is a challenge in this neighborhood, so I suggest using one of the parking apps.  Running time is approximately 90 minutes, no intermission.  Performances are Wednesday through Friday at 8:00 pm, Saturday at 3:00 & 8:00 pm, Sunday at 1:00 & 5:00 pm.  Tickets range from $35-$85.  FYI www.mercurytheaterchicago.com.