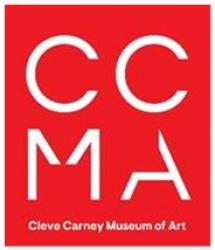 The Cleve Carney Museum of Art (CCMA), located at 425 Fawell Blvd. on the College of DuPage campus, will open the 2022-2023 season with a solo exhibition of works by Chicago-based multimedia artist Erin Washington. Washington's exquisitely detailed paintings of hands, faces and objects, as well as humorous sculptures will be on view from Sept. 10 – Nov. 20, 2022 in the exhibition titled: I Think We're Alone Now. Her multilayered works consisting of ambiguous scientific diagrams, art historical references, Post-it notes, studio debris, mythological figures and self-deprecating jokes, call into question perception, vulnerability and permanence. 
"The Cleve Carney Museum of Art continues to present the work of important contemporary artists and are thrilled to have Erin Washington present a solo exhibition of thoughtful, humorous and surprising works to kick off the 2022-2023 season," says Cleve Carney Museum of Art Chief Curator Justin Witte. "Washington's distinctive works fits in with our goals of bringing diverse mediums and themes to the Museum."
Light Handed, 2020,. Acrylic, chalk, high-polymer film lead, book titled How to Know People by Their Hands and nitrile gloves on panel. Photo by Erin Washington.
Washington incorporates ephemeral and porous materials in her work to address states of fragility and ambiguity. Her pieces often include mixed-media such as pomegranate seeds, moss, lemon juice, saw dust, sugar, chalk, wax paper and tea. Washington combines these materials with oil paint or acrylic on a panel or canvas and adds notes to herself and phrases that strike her as interesting, poetic or absurd, adding to the layered effect. While studying medicine in college, Washington retained information by drawing scientific diagrams, which inform her present artwork.  "Presenting in and around the city of Chicago, which I now call my home, brings my artistic career full circle," says Washington. "As historical art heavily influences my work, I am honored to present my first solo show at the Cleve Carney Museum of Art."
About Washington
Washington is currently a lecturer in the Painting and Drawing Department at the School of the Art Institute of Chicago, where she received her MFA in 2011. Notable solo exhibitions have been held at such venues as The Riverside Art Center, Riverside Illinois and Johalla Projects, Chicago.  Her work has also been included in group exhibitions at such spaces as Zolla Lieberman Gallery, Chicago; Julius Caesar, Chicago; and Columbia University in New York.
Related Programming
• September 15: Reception and artist talk at the CCMA, 6 – 8 p.m.
• September 22: Curator tour and discussion led by CCMA's Art Chief Curator Justin Witte at 1 p.m. and 5 p.m. at the CCMA
For more information about the CCMA's 2022-2023 season visit TheCCMA.org.
CCMA Hours
The CCMA is open Wednesday – Sunday, 11 a.m. – 5 p.m., and one hour prior to and during the intermission for performances in the Belushi Performance Hall. Admission is free and open to the public.
About the Cleve Carney Museum of Art (CCMA)
The late Cleve Carney provided a significant legacy gift to establish the Cleve Carney Art Gallery at College of DuPage. The gallery opened in February 2014 with its inaugural exhibition, "Selections from Cleve Carney's Art Collection." In fall 2020, the gallery was expanded to a 2,500 square-foot museum. The Cleve Carney Museum of Art opened June 2021 with the highly anticipated "Frida Kahlo: Timeless" exhibition. The CCMA will cap the 2022-23 season with "Warhol: Featuring the Andy Warhol Portfolios - A Life in Pop / Works from the Bank of America Collection" on loan through Bank of America's Art in our Communities® program June 3 – Sept. 10, 2023. Funding for CCMA is provided by the Cleve Carney Endowment Fund, which supports vital programming including artist engagement opportunities for community members and students, gallery exhibitions, artist commissions, new acquisitions and other teaching and learning tools that foster cultural enrichment in our community. More information can be found at www.TheCCMA.org and on social media @CleveCarneyMuseumofArt.