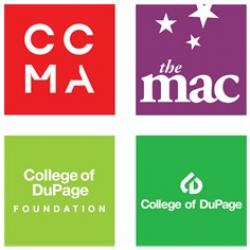 The Cleve Carney Museum of Art (CCMA) and the McAninch Arts Center (MAC) at the College of DuPage (COD) will honor the birthday of iconic Mexican painter Frida Kahlo in two unique ways this summer, on the occasion of the landmark Frida Kahlo: Timeless exhibition, the most comprehensive presentation of Kahlo's work displayed in the Chicago area in over 40 years. Beginning Monday, July 5, a new piece of digital artwork celebrating Kahlo will be projected onto the 2.5-acre river-façade of theMART as part of Art on theMART's Summer Series, and will remain on display through September 16, with all projections shown nightly at 9 and 9:30 p.m.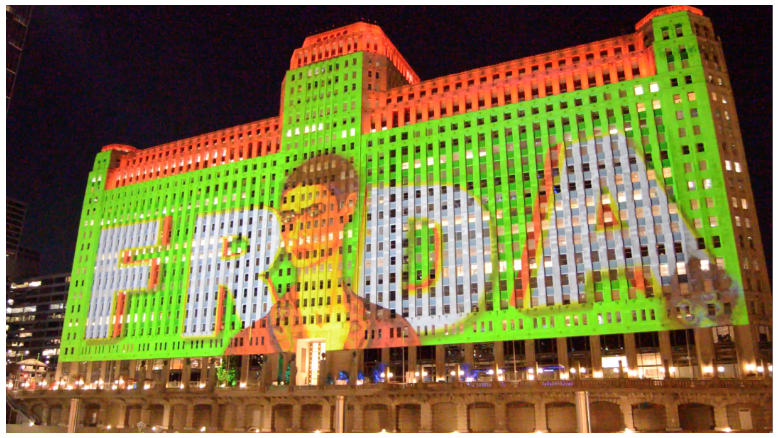 Animated by illustrator and international projection-mapping artist and former COD professor George Berlin of Glen Ellyn, the piece will feature several of Kahlo's most recognizable works including Self Portrait with Small Monkey (1945) and Self Portrait in a Velvet Dress (1926). In addition, the projections will be accompanied by one of the most popular Mexican contemporary classical orchestral compositions "Danzón No. 2," by Mexican composer Arturo Márquez and performed and recorded by New Philharmonic conducted by Kirk Muspratt. The College of DuPage Foundation will host a fundraising group dinner and bus trip to see the Art on theMART projections on August 17, 2021.
In addition, CCMA and the MAC will celebrate Frida Kahlo's 114th birthday Tuesday, July 6 with a joyous outdoor celebration from 10 a.m.-2 p.m. The day of activities will feature live music by Mariachi Monumental de México; a special appearance by Miss Mexican Heritage 2021; vendors selling Mexican wares; food by Santa Fe Restaurant; strolling Frida Kahlo look-alikes; face painting, printmaking and more. Attendees, who will receive a complimentary packet of marigold seeds from Ball Horticultural, are welcome to dress in Frida-inspired clothing, flower crowns and accessories and encouraged to bring a non-perishable food item to benefit the Glen Ellyn Food Pantry & COD Student Fuel Pantry. Access to the event is available with purchase of a ticket to view Frida Kahlo: Timeless on that date. 
"The response to Frida Kahlo: Timeless since the landmark exhibition opened has been absolutely phenomenal, with more than 35,000 tickets sold already. We are elated to be able to celebrate her legacy in such a monumental way in partnership with Art on theMART," said Frida Kahlo: Timeless Executive Director and McAninch Arts Center Director Diana Martinez. "In addition, we will once again celebrate Frida's birthday with a lively celebration in the beautiful garden area of our exhibition."
The month of Frida's birthday will also kick off a special ticket offer. In an effort to make this landmark exhibition accessible to as many visitors as possible "Frida's Birthday Special" will offer $10 Timed Entry Tickets after 2pm, Monday through Thursday. Visit www.theccma.org/ticket-information for more.
Frida Kahlo: Timeless (through Sept. 6, 2021) presents a 26-piece collection of original works by Frida Kahlo on loan from the Museo Dolores Olmedo, featuring an array of oil paintings and works on paper spanning the life of Kahlo, a Mexican artist foundational to the 20th century art historical canon. Best known for self-portraits highlighting themes of identity, politics, sexuality and death, Kahlo channeled her childhood and personal struggles into her art and became an iconic figure and symbol of female empowerment, individual courage and Mexican pride. The exhibition is on view 10 a.m.-6 p.m. Friday through Wednesday and 10 a.m.-9 p.m.
Art on theMART can best be experienced for free from the jetty section of the Chicago Riverwalk on Wacker Drive between Wells Street and Franklin Street, where accompanying audio is also available. Current social distancing practices, based on recommendations from the City of Chicago and the State of Illinois, must be observed by all Art on theMART visitors. For more information, visit www.artonthemart.com. 
About Frida Kahlo: Timeless
The exhibition, on view June 5 to Sept. 6, 2021, will be the largest Frida Kahlo exhibition in the Chicago area in more than 40 years, and is hosted by the Cleve Carney Museum of Art (CCMA) and the McAninch Arts Center (MAC) at the College of DuPage (COD). It will feature a 26-piece collection on loan from the Museo Dolores Olmedo as well as a multimedia timeline, 100+ photographic images from the artist's life, a family-friendly children's area and a Frida Kahlo inspired garden designed by Ball Horticultural Company, enabling museum-goers of all ages to grasp an understanding of Kahlo's life and work through a variety of contexts. The exhibition and related programming are organized by Frida Kahlo: Timeless Executive Director Diana Martinez (Director of the McAninch Arts Center) in collaboration with Justin Witte, Frida Kahlo: Timeless Curator (CCMA Curator). For more information, visit www.Frida2021.org and on social media @CleveCarneyMuseumofArt.   
The exhibition is presented by Bank of America and made possible by the support of Ball Horticultural Company, Wight & Company, Nicor, AeroMexico, The National Endowment for the Arts, DuPage Foundation, Illinois Office of Tourism, Illinois Department of Commerce & Economic Opportunity, and the College of DuPage Foundation.
About the Cleve Carney Museum of Art
The late Cleve Carney provided a significant legacy gift to establish the Cleve Carney Art Gallery at College of DuPage. The gallery opened in February 2014 with its inaugural exhibition Selections from Cleve Carney's Art Collection. In fall 2020, the gallery was expanded to a 2,500 square-foot museum. The Cleve Carney Museum of Art is scheduled to open in the summer 2021 with the highly anticipated Frida Kahlo: Timeless exhibition. The museum will maintain the standards set by the American Alliance of Museums. More information can be found at www.TheCCMA.org and on social media @CleveCarneyMuseumofArt.  
About the MAC
The McAninch Arts Center at College of DuPage is located at 425 Fawell Blvd., 25 miles west of Chicago near I-88 and I-355. It houses three indoor performance spaces (the 780-seat proscenium Belushi Performance Hall; the 236-seat soft-thrust Playhouse Theatre; and the versatile black box Studio Theatre), the outdoor Lakeside Pavilion, plus the Cleve Carney Museum of Art and classrooms for the college's academic programming. The MAC has presented theater, music, dance and visual art to more than 1.5 million people since its opening in 1986 and typically welcomes more than 100,000 patrons from the greater Chicago area to more than 230 performances each season.
The mission of the MAC is to foster enlightened educational and performance opportunities, which encourage artistic expression, establish a lasting relationship between people and art, and enrich the cultural vitality of the community. Visit www.AtTheMAC.org or www.facebook.com/AtTheMAC for more information.
About Art on theMART
Art on theMART is the largest permanent digital art projection in the world, projecting contemporary artwork across the 2.5-acre river-façade of theMART. This expansive permanent piece of public art continues Chicago's legacy of providing both residents and visitors with exceptional art that is both free and accessible to all. Projections are visible to the public from Wacker Drive and along the Chicago Riverwalk.
The program content rotates seasonally and is selected with the assistance and expertise of the Curatorial Advisory Board. The City of Chicago and theMART work in partnership to manage and curate the projected artwork over the course of a 30-year agreement. Privately funded by Vornado Realty Trust, owner of theMART, Art on theMART marks the first time a projection of its size and scope is completely dedicated to digital art with no branding, sponsorship credits or messaging. The permanent projection system illuminates theMART with 34 state-of-the-art projectors totaling almost one million lumens. For more information, visit www.artonthemart.com.
About theMART
theMART (formerly The Merchandise Mart), located in the center of the sought-after River North submarket, is interwoven into the fabric of Chicago as an innovator in business, technology, culture, art, media and more. As the largest privately owned commercial building in the United States, it is also one of the world's leading commercial buildings, wholesale design centers and the preeminent international business location in Chicago. Encompassing 4.2 million gross square feet, theMART spans two city blocks, rises 25 stories, and is visited by an average of 30,000 people each business day and nearly 10 million people annually. Offering continuous innovation and creativity from leading manufacturers and design forward showrooms, theMART serves as the home to Chicago's most creative and technologically innovative companies including Motorola Mobility, 1871, Yelp, PayPal and MATTER, as well as Fortune 500 companies ConAgra, Allstate, Kellogg, Beam Suntory and Grainger. For more information, visit http://themart.com.