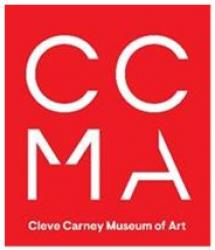 The Cleve Carney Museum of Art (CCMA), located at 425 Fawell Blvd. on the College of DuPage campus, presents: Ayanah Moor: I Wish I Could Be You More Often, Feb. 10 – April 10, 2022. Moor is an artist whose work explores Blackness, gender, desire and language. I Wish I Could Be You More Often will be Moor's first exhibition at CCMA.
"Ayanah Moor is one of the most compelling painters working in Chicago at this moment," says CCMA curator Justin Witte. "Her dynamic works stem from her immense skill and her defiant focus on highlighting love and beauty in all of their complexity. It is an honor to present these works."
For I Wish I Could Be You More Often, Moor will be exhibiting a collection of new paintings. Moor's work will be hung against a backdrop of images, colors and patterns that reflect the overlapping histories and representations that inform her practice. The backdrop is composed of wall graphics, domestic objects and custom lighting elements.
Ayanah Moor, Cherry Starburst Original Fruit Chewz, 2020, 48"W x 60"H x 1.5"D
Acrylic, ink wash, graphite, vintage magazine pages and crayon on wood panel
Says Moor, "The poetics of Blackness and queerness are centered in my approach to painting. I often utilize representations of Black women and femmes from advertising and portraiture to locate readings of desire, myth, love, and fear. Through a process of abstraction, I explore the legibility of Blackness. What makes Blackness renderable, and by extension, what are its boundaries? My visual field includes collage as an armature of which painting navigates, contrasts, or interrupts. I am intrigued by the tension between printed matter and painterly strokes, pools, and fields of color. I view Black folks' historic and contemporary expressions of love as resistance. As an act of liberation, my artwork creates meaning from an exploration of form, color, and image."
Ayanah Moor: I Wish I Could Be You More Often may be viewed from 11 a.m. to 5 p.m., Wednesdays through Sundays, Feb. 10 - April 10. The exhibition may also be viewed one hour prior and during intermission for MAC touring performances in the Belushi Performance Hall. Admission is free and open to the public, however reserved timed tickets are required. For more information, visit www.TheCCMA.org.
Related Special Events
The CCMA is presenting two related events in support of the exhibition, both of which are free and open to the public. Reservations are required.
Artist Talk 
1 p.m., Thursday, Feb. 17
Ayanah Moor will be giving a tour and artist talk in the museum.
Reception and Artist Discussion 
3-5 p.m., Saturday, March 5
Join Moor as we celebrate her first exhibition at the Cleve Carney Museum of Art and participate in a discussion of her work. The discussion will be led by Dr. Sampada Aranke, Assistant Professor in the Department of Art History, Theory and Criticism at the School of the Art Institute of Chicago.
About Ayanah Moor
Ayanah Moor (b. 1973, Norfolk, VA) lives and works in Chicago. She earned her MFA in 1998 from Tyler School of Art, Temple University, and her BFA in 1995 from Virginia Commonwealth University. Her artwork is in the collections of the DePaul Art Museum and Museum of Contemporary Photography (Chicago); Soho House (London, UK); Agency of Unrealized Projects (e-flux.com); the David L. Lawrence Convention Center (Pittsburgh, PA) and several private collections.
Moor's recent exhibitions include: t/here or t/here at Intermission Museum of Art + Stand4 Gallery (Brooklyn, NY); Direct Message: Art, Language, and Power, Museum of Contemporary Art Chicago (IL); Echoes: Reframing Collage, Museum of Contemporary Photography (Chicago, IL); 4 Queens, Test Site Projects (Las Vegas, NV); and in scenes of Universal Pictures' 2021 film, Candyman, directed by Nia DaCosta and produced by Jordan Peele. Her painting, Free To Be Myself, appears as the album art for Ben Lamar Gay's recent release album, Open Arms to Open Us (International Anthem), 2021. Moor has also been featured in Astria Suparak and Brett Kashmere's INCITE: Journal of Experimental Media, Sports Issue (2017); Nicole Fleetwood's book, Troubling Vision: Performance, Visuality, and Blackness (2011); and Terry E. Smith's book, What Is Contemporary Art? (2009). Through her paintings, prints, drawings and performances, Moor operates within a visual field where notions of Blackness and gender identity take shape.
About the Cleve Carney Museum of Art
The late Cleve Carney provided a significant legacy gift to establish the Cleve Carney Art Gallery at College of DuPage. The gallery opened in February 2014 with its inaugural exhibition, Selections from Cleve Carney's Art Collection. In fall 2020, the gallery was expanded to a 2,500 square-foot museum. The Cleve Carney Museum of Art opened June 2021 with the highly anticipated Frida Kahlo: Timeless exhibition. The museum will maintain the standards set by the American Alliance of Museums. More information can be found at www.TheCCMA.org and on social media @CleveCarneyMuseumofArt.
Funding is provided by the Cleve Carney Endowment Fund, which supports vital programming including artist engagement opportunities for community members and students, gallery exhibitions, artist commissions, new acquisitions and other teaching and learning tools that foster cultural enrichment in our community. For more information visit www.TheCCMA.org.
CCMA COVID-19 Exhibition Attendance Protocols
CCMA values the safety and health of the audience, staff and artists, and is following the CDC, state and local health department safety guidelines for exhibition attendance.
Policies include:
Masks that cover both the nose and mouth are required for everyone over the age of 2.
Tickets are scanned touchless upon arrival.
Hand-sanitizing stations are available at entrances.
If a patron is not feeling well, has a fever, has been exposed to anyone symptomatic for COVID-19, or has recently been tested and waiting results, they are requested to postpone their visit for another day and contact the Box Office to reschedule.
CCMA/MAC New COVID-19 Protocols for Seated Events Beginning Jan. 1, 2022
Masking is required for all attendees. Masks should cover both the nose and mouth.
Proof of COVID-19 Vaccination OR Negative Test (regardless of age) is required.
For details on accepted tests and more information on COVID-19 protocols, please visit https://www.atthemac.org/covid-19-update/.
Support for the McAninch Arts Center is provided in part by the G. Carl Ball Family Foundation; DoubleTree by Hilton Lisle/Naperville; Arts Midwest; The National Endowment for the Arts; the Illinois Arts Council, a state agency; WDCB 90.9 FM and the College of DuPage Foundation. 
Established as a 501(c)(3) not-for-profit charitable organization in 1967, the College of DuPage Foundation raises monetary and in-kind gifts to increase access to education and to enhance cultural opportunities for the surrounding community. For more information about the College of DuPage Foundation, visit www.foundation.cod.edu or call 630.942.2462.  
The 2021-2022 MAC Season celebrates the memory of Joan Frank, for a lifetime of service, thanks to the support of family and friends. Programs at the MAC are partially supported through a grant from the Illinois Arts Council Agency.