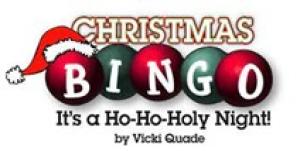 Christmas Bingo: It's a Ho-Ho-Holy Night reopens at Greenhouse Theater Center for the 2022 holiday season.
November 25th through January 1st
Show times are Fridays and Saturdays at 8 p.m., Sundays at 2 p.m.
Nuns4Fun Entertainment is pleased to bring back its hit holiday comedy, Christmas Bingo: It's a Ho-Ho-Holy Night, at the Greenhouse Theater Center, 2257 N. Lincoln Ave., Chicago.
Written by Vicki Quade, co-creator of the hit comedy, Late Nite Catechism, this comedy game show has audience members learning fun facts about the Christmas holiday, and recreating a goofy and hilarious Annunciation, featuring members from the audience. Angel wings have never looked so good! Plus, you get to play bingo!
The play, produced by Nuns4Fun Entertainment, features the talents of Vicki Quade, Kathleen Puls Andrade, and Rose Guccione, sharing the role of the Mrs. Mary Margaret O'Brien, a former nun running the Archdiocese bingo fundraising department.
In this interactive comedy, audience members play bingo while also answering questions about Christmas traditions, the origin of St. Nick, where do candy canes come from, miracles in the Bible, and a clever re-creation of the Annunciation, complete with audience members in angel wings and halos.
The Chicago Tribune's theater critic, Chris Jones, selected CHRISTMAS BINGO as an off-beat show to see.
CHRISTMAS BINGO will run for six weeks throughout the holiday season, starting Friday, November 25, through Saturday, December 31. 
Late Nite Catechism remains on the schedule, 5 p.m. Saturdays.
https://www.greenhousetheater.org/
Call the box office at 773-404-7336. And laugh your sins off!