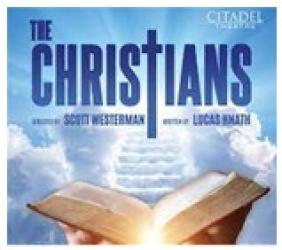 I hesitated to see this Citadel Theatre production called "The Christians', thinking this might be a subtle effort to proselytize this Jewish critic.  Reviews, however, were strong  so I finally caught the last night of the run and am I glad I did!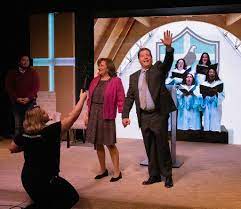 This dramatic play was really a character study of Pastor Paul who took his micro store front church to the mega church level. He preached the Gospel to the literal letter of the Bible. Once, however, the church's mortgage was paid off, a new Pastor Paul emerged.
He suddenly reversed his Christian mainstream thinking.  The traditional Christian thinking is that sinners go to hell but the Pastor suddenly was preaching that there was no hell and that even the worse, sinners go to heaven.  This antagonized his fellow Pastors, his congregation  and even his own wife.  They all left Pastor Paul's church. His own wife even called it quits.  Why would he do this and destroy everything it took him years to build?
Was this Paul's master plan?  Did he intentionally want to destroy his church after he had paid it off?  Did he suddenly decide he wanted to see if his congregants would blindly follow his new thinking?     Maybe he just wanted to cash out his real estate and find a new life. Maybe he just plain snapped.  Paul's behavior causes the church to crumble and the loss of friends, congregants and wife.  As this comes to a head, there are symbolic fire frantic graphics and sound that, ironically, seem to deliver Paul into the very thing he denied…hell! This inconclusive ending becomes the perfect topic of discussion.  My wife and I went back and forth, all the way home.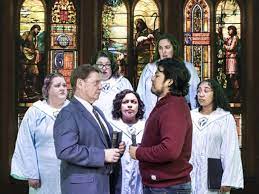 What really made this production work so well was the high-tech visual effects.  The sets were all digitally created but looked so real it was scary.  There was a church choir that sang and reacted to what the characters were saying.  Were they there or recorded?  I am, not sure The Pastor's wife faded from their bedroom while Pastor Paul was addressing her.  Was she really in there or was she pre-recorded?  The scenes flowed from church, to sitting room to bedroom.   I was not sure what was in real time and what was not.  Then the symbolic 'fire and fury' ending really conveyed the drama of  the whole story.
My hat is off to the bold technical undertaking by this small neighborhood theater.  While I wondered at times, "was it real or was it Memorex" (remember that commercial from the 70's?), this high level production and superb acting are definitely real.  Scott Phelps was amazing as Pastor Paul. Ellen Phelps, as Elizabeth, the Pastors wife, while quiet for most of the play, punctuated just what a terrible thing
her husband had done.  That piece of acting got my attention.  Scott Westerman's direction pulls this technical marvel off and get kudos from this critic.    
I would say that this is highly recommended and go see it but, "The Christians" is over.  Based, however, on this as well as the quality of all the other Citadel productions, don't miss their next one, "Airness", plying April 21 to May 21.   I, for one, will be there opening night.  "The Christians" was a lesson learned about preconceived opinions.
Citadel Theatre is in Lake Forest, IL.  Go to their website www.citadeltheatre.org for more information.