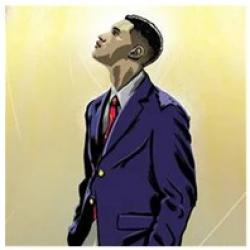 ★★★★★ I understand the difficulty of a person not knowing exactly where he fits in. Often the family has advised of their expectations as has their school counselor. But what if he is confused? In "Choir Boy" written by Tarell Alvin McCraney, we have a story that takes place at a prep school for boys. This particular school, the Charles R. Drew Prep School for Boys is committed to building strong and ethical Black men. The play does focus primarily on Pharus ( played to perfection by Tyler Hardwick, making his Steppenwolf debut). Pharus ( pronounced "Ferris") is a singer and has worked his way up the ladder to be the Choir leader for his senior year. This is the highest honor he can bring to his family.
During the one-hour-forty-five minutes ( no intermission), we get to meet his fellow choir members and roommate, his new teacher ,Mr. Pendleton (Chicago favorite William Dick, who is the only white teacher that we see at this school)  and the headmaster ( played to perfection by Le Shawn Banks) .
The others in his choir are Bobby ( Gilbert Domally) who it turns out is related to the headmaster and must watch what he does or be out, Junior (Samuel B. Jackson , a wonderful singer), David ( Richard Davis who has his own little secret) and AJ ( deftly handled by Sheldon D. Brown) Pharus' roommate.
The story takes us into the lives of each of the students and deals with their relationships with each other. Can Pharus be the  leader he wants to be? Can he conform to the rules and regulations that are being  asked of him in order to reach the goals that he has set for himself. Each of these students has a back story and they do entwine during the course of the story. Be prepared! The story does deal with homosexuality  and there is full frontal nudity. There is also use of the "N" word. During the "coming of age" we learn that many of our young men have secrets, but I will not give anything away. The puzzle pieces fit perfectly!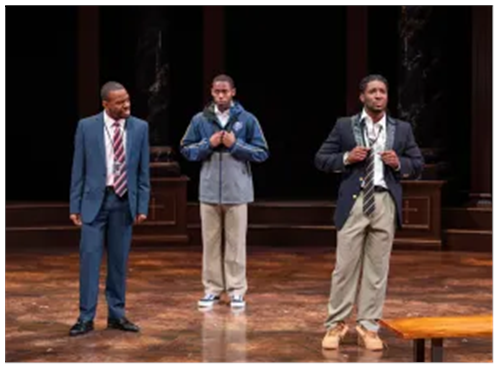 This is another in a series of "coming of age" stories that we have been witness to over the last few months. This one also deals with gender, race, class and identity. Our main character is torn between who he is, what he wants, what is expected of him and if he can reach the lofty goals that have been set.
For most of us in the audience, watching the story unveil was unique in that many of us never think about a private prep school for Black men. This is something that would probably never cross our minds. The young actors playing these students are all new to Steppenwolf Theatre, making their debuts and all are highly capable as actors and singers. Smoothly directed by Kent Gash on a set by Arnel Sancianco that truly moves the play with very little lost time, this is a show that cannot have an intermission. Breaking the flow of the action anywhere would take the audience out of the picture and not allow the entire story to make sense.
On the tech side, the lighting ((Jason Lynch) and sound (Pornchanok Kanchanabanca) are perfect. The choreography (Byron Easley) and fight/intimacy choreography (Greg Geffard & Courtney Abbot) add something special to the story. I was
 amazed at how the shower scenes worked with actual running water and the costumes (Kara Harmon) were very prep school.
There were some scenes that might be hard for some people to take in, but our world has matured to a point where we need to accept that things that take place in this play do take place in real life. They told us up front that there was nudity, so don't be shocked when they remove their towels. If this is going to bother you, perhaps this is not the play for you. If you are open minded to what transpires in this world, you will find yourself savoring every minute of the solid performances that are on the stage at Steppenwolf! I see Jeff Awards for this one!
"Choir Boy" will continue at Steppenwolf Theatre thru July 24th with performances as follows:
Tuesdays  8 p.m.
Wednesdays  8 p.m.
Thursdays  8 p.m.
Fridays  8 p.m.
Saturdays  3 p.m. and 8 p.m.
Sundays 3 p.m. and  8 p.m.
Tickets range from $20 and are available at the box office 1650 N. Halsted Avenue, by calling 312-335-1650
or online at www.steppenwolf.org
To see what others are saying, visit www.theatreinchicago.com, go to Review Round-Up and click at "Choir Boy"