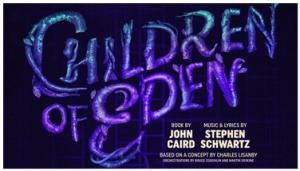 CHILDREN OF EDEN is now accepting video submissions for a variety of tracks. Both non-equity and equity members are encouraged to submit video submissions by August, 12, 2022, to ctfcasting@gmail.com. All genders, ages (18+), and ethnicities are encouraged to submit. Youth Ensemble auditions will be announced at a later date.
Dates of production are to be finalized; however, general required availability would be September and October of 2023. The email subject line for submissions should read as follows: "First Name Last Name: Union Status" (e.g. John Smith: Non-Union; or Jane Doe: AEA).
Email should include headshot, resume, and a video link. Video submissions should be a 16 bar cut showcasing range and vocal strength. Please note in the body of the email whether or not you will require Chicago or New York accommodations be provided, or both.
Freely based on the Biblical book of Genesis, Children of Eden, with book and score by John Caird (Les Mis, Nicholas Nickelby) and Stephen Schwartz (Wicked, Disney's Pocahontas), respectively, provides a unique telling of the story of creation through the epic of Noah and the flood. The concert production will be spearheaded by Derek Van Barham (Director), Nicholas Ranauro (Choreographer), and Kyle Hass (Artistic Producer). The production will be produced through a special arrangement between the Chicagoland Theatre Fund and Onesti Entertainment.