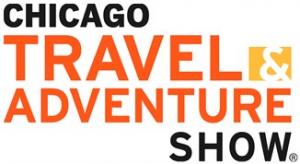 The Chicago Travel & Adventure Show today announced that its 17th edition will now take place February 19 and 20 at the Donald E. Stephens Convention Center (5555 N River Rd) due to the ongoing rise in COVID-19 cases.
The best place to plan, personalize and book a vacation, the Travel & Adventure Show gives guests the opportunity  to meet and gain valuable insight from the world's top travel experts, including Pauline Frommer, Andrew McCarthy and Peter Greenberg, as they present seminars and answer attendee questions over the course of the weekend. 
Featuring booths and displays from the world's top destinations, from the Dominican Republic to the Florida Keys, or from Pigeon Forge to Saint Lucia, the show brings together representatives and experts from across the globe to help attendees plan, personalize and book their next vacation while immersing themselves in a taste of local cultures.
The 2022 Chicago Travel and Adventure show will adhere to local health and safety protocols and will require all attendees age 5 or older to wear a mask and provide proof of full vaccination against COVID-19. There will also be limited touchpoints and ample hand sanitizer stations placed prominently throughout the venue.
Attendees can purchase single-day and two-day tickets online now for the discounted rate of $11/$18 or on-site for $15/$22. Children 16 and under are free and on-site tickets can be purchased with cash only.