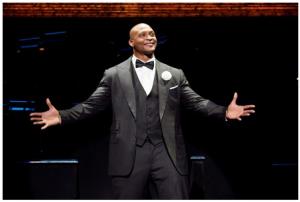 There's nothing new about sensational headlines or sensational crimes.  "Chicago" presents the story of two women who ran afoul of the justice system.  Velma Kelly (Lana Gordon), half of a famous Vaudeville sister act, came home from the store to find her lover in bed with her sister, so she killed them. 
Roxie Hart (Dylis Croman) shot her lover, Fred Casely (Andrew Eckert) because he was going to leave her.  Both in turn become media darlings.  By the way, Croman was also playing Roxie when the tour hit Chicago in 2016. 
In the jail, "Mama" Morton (Jennifer Fouché) takes extra good care of her girls – if they can pay!  Lawyer, extra food, laundry, whatever her girls needed.  She even made arrangements for Velma to go back on the Vaudeville circuit after she's acquitted – at least until Roxie started getting all the headlines. 
Velma's lawyer happens to be Chicago's slickest mouthpiece, Billy Flynn (Eddie George).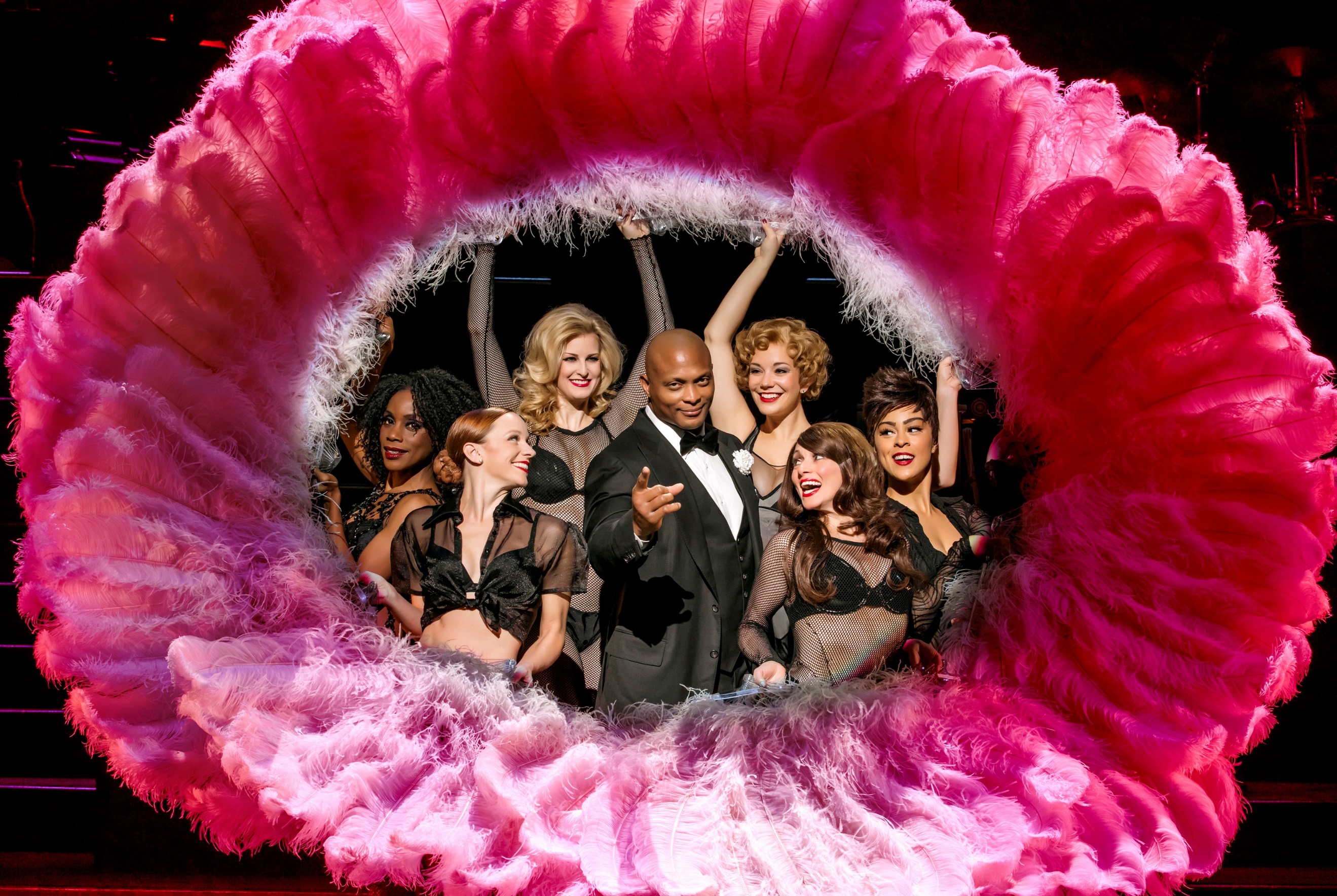 Billy agrees to represent Roxie if her husband Amos (Paul C. Vogt) – who becomes a sentimental audience favorite when he sings "Mr Cellophane" – can come up with $5,000.  I love the press conference in which Roxie is a marionette on Billy's knee.  Sob story reporter, Mary Sunshine (D. Ratell), buys into Roxie's con.
"Chicago" opens with the incredible "All That Jazz", performed by Velma and the ensemble.  By the way, Lana Gordon is a really good dancer – I almost gasped when I saw her high kicks.   The songs just get better and better as the show goes on, what with the "Cell Block Tango", "When You're Good to Mama", "Tap Dance", "Roxie", "Razzle Dazzle", "Funny Honey" and more.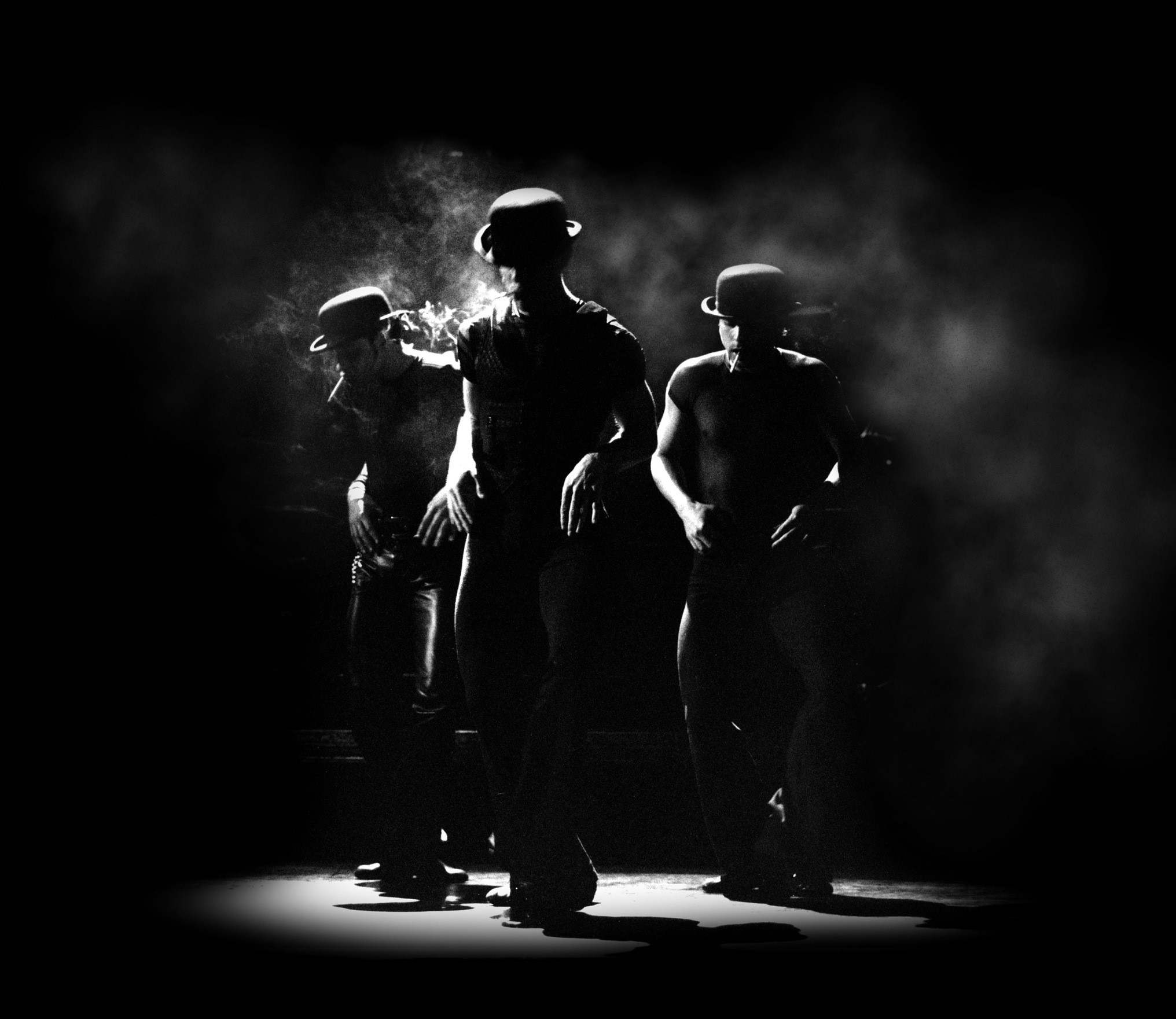 The 16-member ensemble, all wearing sexy black costumes, are incredibly talented.  Loved watching them dance!  The ensemble includes Taylor Collins, Lani Corson, Seth Danner, Kyle DuPree, Arian Keddell, Anthony LaGuardia, Alexa Jane Lowis, Deon Ridley, Evelyn Christina Tonn, Matthew Winnegge and Monica Woods,
I loved the minimalist set, too.  The orchestra is featured, center stage in a grandstand, actually part of the action.  One fun bit - when Roxie sees her name in headlines, she shares her joy – and her newspaper – with Orchestra Director Rob Bowman.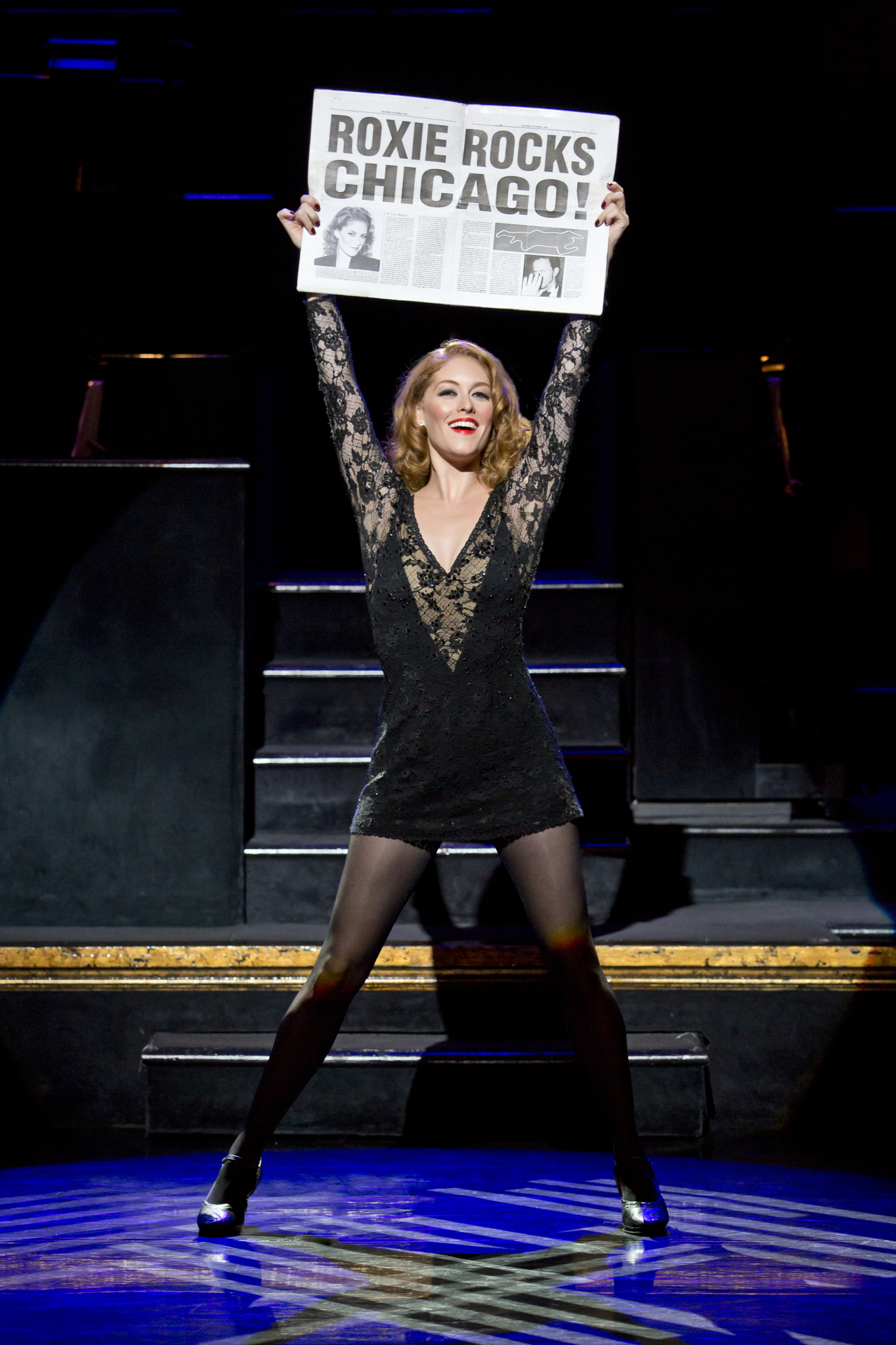 Before the show, my friend Helen and I met a lovely woman from Dayton.  She was here in Chicago to see her son, Seth Danner, who plays Harry the Prosecutor, in the show. 
"Chicago" runs through May 12th at the Cadillac Palace Theatre, 151 W. Randolph, Chicago.  The best-priced parking option for Cadillac Palace is the garage on the corner of Franklin and Lake which charges only $13.  Running time is 2 hours, 15 minutes with an intermission.  For remaining performance dates and times, visit www.broadwayinchicago.com.  Tickets range from $30-$95.  FYI (312) 977-1710, (800) 775-2000, www.broadwayinchicago.com or www.ticketmaster.com.