The Chicago Philharmonic is pleased to announce a first-ever collaboration with critically acclaimed multi-genre musical artist and social justice advocate Adrian Dunn for a performance of Redemption to be streamed exclusively via Harris Theatre's "HT Virtual Stage" from June 29 – August 27. Redemption is a new collection of spirituals and gospel songs that reimagine and modernize the genre's historical roots, celebrate African American history, and honor victims of systemic injustice across the country. To complement this event, a live, virtual discussion that explores the role of classical music in the era of Black Lives Matter will take place on June 18 at 10:30 a.m. CT. The 90-minute Redemption concert and virtual roundtable are both free of charge. More details are available at chicagophilharmonic.org.
"Each song in Redemption, written and arranged by Adrian Dunn, has a powerful message that takes the listener through a journey of the music of Black America," said Terell Johnson, Chicago Philharmonic's incoming Executive Director. "The title Redemption refers to Adrian's ideas of musical and social redemption, and each original work is dedicated to a victim of racism, creating not only a beautiful tribute, but a call to contemplate, through music, the America we hope to see."
Joining Adrian Dunn and the full Chicago Philharmonic orchestra onstage are the Adrian Dunn Singers, an all-black professional vocal ensemble established in 2018.  Also featured is young violin virtuoso Njioma Grevious, Juilliard student and 2016 White House performer, in Marcus Norris' Glory, a cinematic violin concerto at the crossroads of classical and hip hop. Redemption will also include an orchestral arrangement of the Black National Anthem, Lift Every Voice and Sing, arranged by Dunn and composer Dennis Atkinson Jr.
During the virtual roundtable discussion on June 18, prominent Chicago music leaders will discuss how music can serve as a catalyst for social justice. Panelists include Dunn, Chicago Youth Symphony Orchestra Executive Director Susan Lape, and Chicago Children's Choir Director of African Diasporic Music and Studies Lonnie Norwood. Moderating the discussion will be incoming Chicago Philharmonic Executive Director Terell Johnson, and opening remarks will be made by current Chicago Philharmonic Executive Director Donna Milanovich and Harris Theater CEO and President Lori Dimun.
Redemption was filmed at the Joan W. and Irving B. Harris Theater on June 5 and is the first of two Chicago Philharmonic concerts to be streamed through HT Virtual Stage. On June 25, Chicago Philharmonic and the Puerto Rican Arts Alliance will record San Juan to Chicago: Un Puente Musical. The joint concert will be available to stream for 60 days beginning August 17.
Redemption was made possible by the Harris Theater Creative Future Fund. Funding for Redemption is also provided by the National Endowment for the Arts and Allstate. 
ABOUT THE CHICAGO PHILHARMONIC SOCIETY
The Chicago Philharmonic Society is a collaboration of nearly 200 of the highest-level classical musicians performing in the Chicago metropolitan area. Governed under a groundbreaking structure of musician leadership, the Society presents concerts at venues throughout the Chicago area that cover the full spectrum of symphonic music. The Society's orchestra, known simply as the Chicago Philharmonic, has been called one of the country's finest symphonic orchestras, and its unique chamber music ensembles, which perform as Chicago Phil Chamber, draw from its vast pool of versatile musicians. The Society's community engagement programs connect Chicago-area youth to classical music by providing access to symphonic concerts, mentorship from Chicago Philharmonic musicians, and performance opportunities.
Founded 30 years ago, the Chicago Philharmonic is known for providing symphonic support to international and national touring companies in all music genres and served as the official orchestra of the Joffrey Ballet for eight years. The Chicago Philharmonic also continues its 25-year association with Ravinia Festival, is a resident company of the Harris Theater for Music and Dance, and performs at all the great concert halls of the Chicago and North Shore area, including Auditorium Theatre and Symphony Center. The Illinois Council of Orchestras has awarded the Chicago Philharmonic "Orchestra of the Year" (2018), "Programming of the Year" (2019), "Community Relations of the Year" (2019), "Executive Director of the Year" (2020), and "Conductor of the Year" (2021).
More information can be found at chicagophilharmonic.org.
ABOUT HARRIS THEATRE'S HT VIRTUAL STAGE
The HT Virtual Stage is a new way to experience the Harris, offering free on-demand music, dance, and conversation from artists here in Chicago and around the world. With new content premiering each week, the Virtual Stage features a mix of familiar favorites, archival performance recordings, and content created specifically for the virtual space. More information at harristheaterchicago.org.
ABOUT ADRIAN DUNN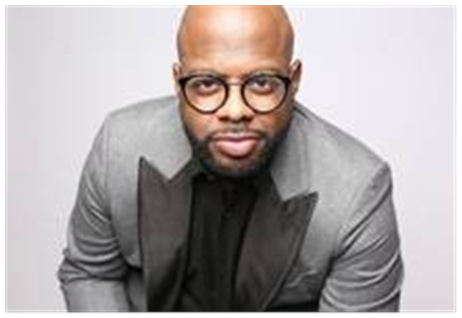 Adrian Dunn is an accomplished singer, composer, and producer. Dunn holds a Bachelor of Music and Master of Music degree from The Music Conservatory at Roosevelt University with additional musical studies in opera at The Sibelius Academy of Music in Finland. He has sung with the Chicago Symphony Chorus, Grant Park Symphony Chorus, and the Blossom Festival Chorus. He served as opera chorus master for Freedom Ride with Chicago Opera Theater, and opera chorus master for the premiere of The Harriet Tubman Opera: A long walk to freedom with the South Shore Opera Company of Chicago. As an active professional singer, producer, and songwriter, Dunn has had the privilege of working with gospel greats such as Tremaine Hawkins, Myron Butler, Melonie Daniels, Troy Bright, Lamar Campbell, Damien Sneed, Walt Whitman, Smokie Norful, Jonathan Nelson, and many more. He was awarded Album Producer of the Year for AME Live featuring the AME Church International Mass Choir from the Rhythm of Gospel Awards. Dunn is a MacArthur grant recipient for his original work Hopera: A Hip Hop Opera.
Dunn is the founder of the Black Music Matters advocacy organization & the founder of Black Music Experience TV, a streaming service dedicated to the contributions of Black Musicians in America. He is a voice faculty member and the Advisor for Racial Equity & Minority Student Success at Roosevelt University. More information about Mr. Dunn and his work can be found at www.AdrianDunn.com.
ABOUT NJIOMA GREVIOUS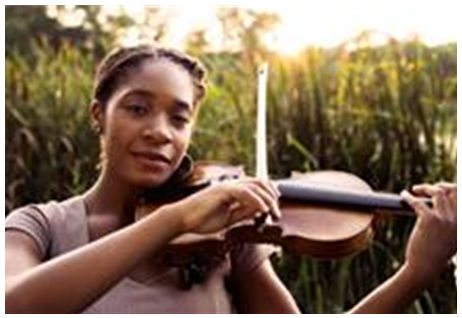 Violinist Njioma Grevious of Washington, DC, is an avid chamber, studio, and orchestral musician, studying with Ronald Copes at Juilliard. She won a Keston-Max Fellowship to study and perform with the London Symphony Orchestra in 2022. In 2018, she won First Prizes for Performance and Interpretation in the Prix Ravel chamber music competition in France. In 2019, along with her colleagues in the Abeo Quartet, she won the Silver Medal in the Fischoff International Chamber Music Competition. Grevious is a Jupiter Symphony chamber player and a member of the Montclair Orchestra. Grevious has been a concertmaster with the Juilliard Wind Orchestra and has performed on tour in Germany, the Czech Republic, The Netherlands, Spain, Argentina and more as a member of the Boston Philharmonic Youth Orchestra. She fondly remembers the special privilege of performing in a quartet for President Barack Obama and First Lady Michelle Obama at a prestigious White House State Dinner. She continues her outreach as a Juilliard Gluck fellow, performing in a variety of hospital settings for veterans and others suffering physically and mentally. Grevious also loves teaching composition and collaboration to elementary and middle school students, most from underserved and underrepresented communities, through the Opportunity Music Project in NYC.
ABOUT ADRIAN DUNN SINGERS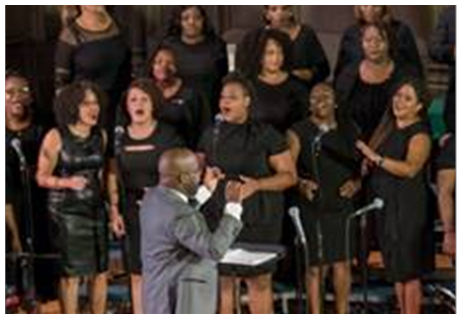 The Adrian Dunn Singers (ADS) is a group of fourteen professional singers of diverse musical backgrounds based in Chicago. Members of the group have received training at some of the top conservatories and Universities across the United States. ADS has performed at the Thomas Dorsey National Convention of Gospel Choirs and Choruses in Dallas, at The Spirituals Festival at Polk State University in Winter Haven, FL where they were a featured ensemble with Dr. Roland Carter. The group was included in the Art Institute of Chicago's "Prayer" exhibit by internationally renowned South African artist, James Webb.
In addition to performing for both Payne Theological Seminary's 2017 presidential inauguration and their 2018 commencement exercises, ADS was the vocal ensemble for internationally renowned Icelandic artists Jonsi and Alex in the Riceboy Sleeps 10th anniversary album tour in 2019. The group tours extensively from coast to coast, having made appearances in Orlando, FL; Washington, DC; Atlanta, GA; Cleveland, OH; Dallas and Los Angeles, CA. They made their National Cathedral debut in 2019 and made their Chicago Symphony Center and Wentz Hall debut in 2020 where they performed Joel Thompson's Seven Last Words of the Unarmed.
The Adrian Dunn Singers are featured along with the RIZE Orchestra on Redemption Live in Chicago (2019), a collection of ten spirituals and gospel songs dedicated to Black men and women murdered by police.