After a four-month, nationwide search, The Chicago Philharmonic Society's Board-appointed Search Committee has selected Terell M. Johnson as the new Executive Director of the Society, effective July 1st. Johnson steps into the leadership role on the heels of Donna Milanovich, who played a pivotal role in leading Chicago's premier contractual orchestra to musician-majority governance, which stands as a beacon for innovative orchestral structure.
"During my ten years with Chicago Philharmonic, I have had the honor of working alongside brilliant colleagues, artists, and community members," said Milanovich. "I can think of no better leader to move Chicago Philharmonic forward than Terell Johnson. His business acumen and love of the transformative power of music is sure to take Chicago Philharmonic to new heights."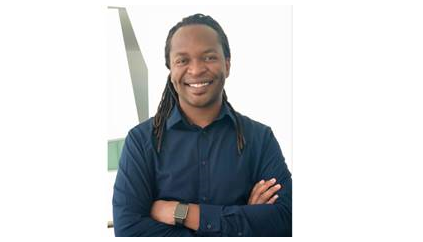 Terell M. Johnson received bachelor's and graduate degrees in music performance at the University of Central Florida and Florida State University in 2008 and 2010, respectively. After graduation, he taught clarinet and piano in Chicago, and worked in marketing roles for local organizations including the North Shore Concert Band and Chicago High School for the Arts.
In 2015, Johnson joined New World Symphony (NWS) as Audience Services and Marketing Manager and was promoted in quick succession over the next five years to Business Development Manager, Director of Business Development, and Interim Director of Community Engagement. In these roles, he has worked closely with other members of NWS staff, musicians, and trustees. In the past year, he was also nominated by a committee of board trustees, staff and Fellows to lead a cross-organizational effort in Equity, Diversity, and Inclusion, involving musicians, staff, and trustees.
In 2020, Johnson was honored with a Sphinx LEAD Fellowship, a two-year empowerment program for aspiring leaders of color in the arts. In addition to his qualifications to the role of Executive Director, the Search Committee noted Johnson's wonderful charisma, intelligence, and enthusiasm.
"I am so excited to be part of the Chicago Philharmonic family, an organization deeply committed to transforming diverse audiences with the beauty and power of great artistry," said Johnson. "To work with such a profound group of world-class musicians and leaders is a privilege beyond compare, and I look forward to continuing the incredible work that my predecessor Donna Milanovich has accomplished for the Chicago arts community."
During her decade of tenure as Chicago Philharmonic's Executive Director, coming to the position after a career as a performing musician, Donna Milanovich doubled the organization's self-presented symphonic concerts from four concerts in the season to eight (pre-Covid) in Chicago and the North Shore, established a six-concert chamber music series at City Winery Chicago, spearheaded the development of a free six-part interrelated community engagement program for aspiring music students, and significantly increased the number of high-profile contractual engagements with local and international organizations.
Under her leadership, the Society experienced exponential growth, with a budget increase of 600% from 2010-2020. Milanovich views Chicago Philharmonic as a catalyst for social change through music; she supported the organization's first DEI committee in 2018, introduced more musicians of color to leadership committee positions in 2020, and grew and diversified the musician-majority Board of Directors. In 2017, she managed the orchestra's trip with Joffrey Ballet to the Joyce Theater in Lincoln Center. In 2018, she planned and executed Chicago Philharmonic's first international music festival, with an exchange of music and musicians to and from Poland, culminating in a five-day Chicago festival of Polish music. Among her many other accomplishments, Milanovich has spearheaded the launch of Chicago Philharmonic's inaugural Fanfare Competition (2019), Composer in Residence program (2021), and guided the commissioning of works by Augusta Read Thomas and Jennifer Higdon.
"On behalf of the Board, I want to thank Donna Milanovich for her outstanding leadership over the past decade, which led to numerous awards and accolades for our orchestra, conductor, musicians, and staff," said Tom Manning, Chairman of the Board of Directors.  "I am also delighted to welcome Terell Johnson as our new Executive Director, and I look forward to witnessing his creativity and talent in the years ahead as we strive even further to realize the full potential of the Chicago Philharmonic."
ABOUT THE CHICAGO PHILHARMONIC SOCIETY
The Chicago Philharmonic Society is a collaboration of nearly 200 of the highest-level classical musicians performing in the Chicago metropolitan area. Governed under a groundbreaking structure of musician leadership, the Society presents concerts at venues throughout the Chicago area that cover the full spectrum of symphonic music. The Society's orchestra, known simply as the Chicago Philharmonic, has been called "one of the country's finest symphonic orchestras" (Chicago Tribune), and its unique chamber music ensembles, which perform as Chicago Phil Chamber, draw from its vast pool of versatile musicians.
The Society's community engagement programs connect Chicago-area youth to classical music by providing access to symphonic concerts, mentorship from Chicago Philharmonic musicians, and performance opportunities. Founded 30 years ago, the Chicago Philharmonic is known for providing symphonic support to international and national touring companies in all music genres and served as the official orchestra of the Joffrey Ballet for eight years. The Chicago Philharmonic also continues its 25-year association with Ravinia Festival, is a resident company of the Harris Theater for Music and Dance, and performs at all the great concert halls of the Chicago and North Shore area, including Auditorium Theatre and Symphony Center. The Illinois Council of Orchestras has awarded the Chicago Philharmonic "Orchestra of the Year" (2018), "Programming of the Year" (2019), "Community Relations of the Year" (2019), "Executive Director of the Year" (2020), and "Conductor of the Year" (2021).
ABOUT TERELL JOHNSON
Terell Johnson is a musician and emerging leader in the arts presently based in Miami, Florida. He is the Executive Director-elect for the Chicago Philharmonic Society and former Director of Business Development and Director of Community Engagement at the New World Symphony. During his time at New World Symphony he was  nominated to serve as the chair of Governance and Steering for the New World Symphony's Equity, Diversity, Inclusion and Belonging committee.  Before joining NWS in 2015, he maintained a rigorous schedule serving as Marketing Manager of the Northshore Concert Band; recruiter for the Chicago High School for the Arts; and freelancer in the Chicago area.
He is a native of Cape Coral, Florida and holds a master of music degree in clarinet performance from Florida State University and bachelor of music from University of Central Florida. He is a member of Sphinx LEAD (Leaders in Excellence, Arts & Diversity), a two-year leadership program designed to evolve the industry landscape by empowering the next generation of executive leaders. Terell's current interests include wrangling his two- and four-year-old boys, enjoying his wife's creative culinary exploits, and music composition.