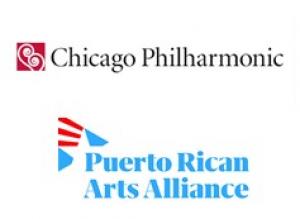 The Chicago Philharmonic is pleased to announce a first-ever collaboration with Puerto Rican Arts Alliance of Chicago for the performance San Juan to Chicago: Un Puente Musical to be streamed exclusively via Harris Theatre's "HT Virtual Stage" from August 17 – October 15, 2021. San Juan to Chicago is an extravaganza of music and musicians from Puerto Rico featuring Emeritus Puerto Rico Symphony Conductor Roselín Pabón leading the Chicago Philharmonic orchestra and vibrant Puerto Rican soloists. The 90-minute concert is free of charge and registration for HT Virtual Stage is required. More information can be found at chicagophilharmonic.org.
San Juan to Chicago: Un Puente Musical spotlights Puerto Rican musicians Jesús Román Figueroa (trovador), Fabiola M. Méndez (cuatrista), Laura María Pabón (soprano), and José L. Rodríguez (guitar, vocals) performing traditional music from la isla del encanto (the island of enchantment). The program includes Danza El Coqui by Jose Ignacio Quintón, Seis Mapeye by Tito Henríquez, El Cumbanchero by Rafael Hernández, Verde Luz by Antonio Cabán Vales and more.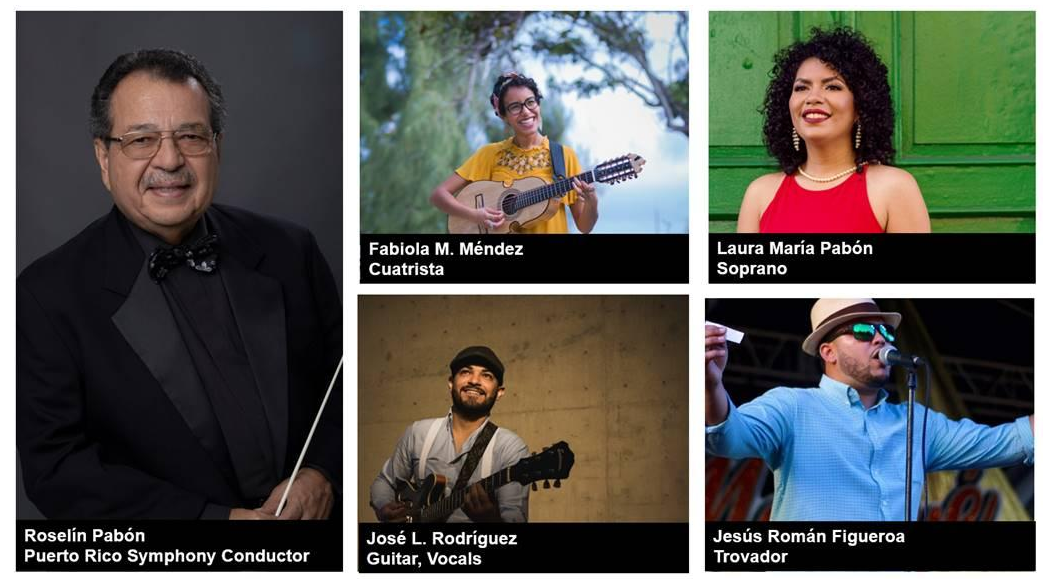 "We are thrilled to spotlight the passionate composers and musicians of our island here in Chicago for a lively concert experience like no other," said Carlos Hernandez-Falcon, Founder and Executive Director of Puerto Rican Arts Alliance. "Whether you are Puerto Rican or not, your summer will be enhanced as you listen to traditional songs played by the world-renowned Chicago Philharmonic orchestra as well as Puerto Rican artists performing on traditional instruments like the cuatro, the national string instrument of Puerto Rico."
San Juan to Chicago will be filmed at the Joan W. and Irving B. Harris Theater on June 25 and is the first of two Chicago Philharmonic concerts to be streamed through HT Virtual Stage.
San Juan to Chicago is made possible by the Harris Theater Creative Future Fund. This project is also supported by Allstate, US Bank, Chicago Community Trust, and the Paul M. Angell Family Foundation. This performance is also partially supported by the Illinois Arts Council Agency.
ABOUT THE CHICAGO PHILHARMONIC SOCIETY
The Chicago Philharmonic Society is a collaboration of nearly 200 of the highest-level classical musicians performing in the Chicago metropolitan area. Governed under a groundbreaking structure of musician leadership, the Society presents concerts at venues throughout the Chicago area that cover the full spectrum of symphonic music. The Society's orchestra, known simply as the Chicago Philharmonic, has been called one of the country's finest symphonic orchestras, and its unique chamber music ensembles, which perform as Chicago Phil Chamber, draw from its vast pool of versatile musicians. The Society's community engagement programs connect Chicago-area youth to classical music by providing access to symphonic concerts, mentorship from Chicago Philharmonic musicians, and performance opportunities.
Founded 30 years ago, the Chicago Philharmonic is known for providing symphonic support to international and national touring companies in all music genres and served as the official orchestra of the Joffrey Ballet for eight years. The Chicago Philharmonic also continues its 25-year association with Ravinia Festival, is a resident company of the Harris Theater for Music and Dance, and performs at all the great concert halls of the Chicago and North Shore area, including Auditorium Theatre and Symphony Center. The Illinois Council of Orchestras has awarded the Chicago Philharmonic "Orchestra of the Year" (2018), "Programming of the Year" (2019), "Community Relations of the Year" (2019), "Executive Director of the Year" (2020), and "Conductor of the Year" (2021).
More information can be found at chicagophilharmonic.org.
ABOUT HARRIS THEATRE'S HT VIRTUAL STAGE
The HT Virtual Stage is a new way to experience the Harris, offering free on-demand music, dance, and conversation from artists here in Chicago and around the world. With new content premiering each week, the Virtual Stage features a mix of familiar favorites, archival performance recordings, and content created specifically for the virtual space. More information at harristheaterchicago.org.
ABOUT ROSELÍN PABÓN
Music Director Emeritus of the Puerto Rico Symphony Orchestra in San Juan, Roselín Pabón has distinguished himself as one of the most versatile conductors in the Caribbean and Latin America.
Recently, Pabón conducted the Puerto Rico Philharmonic Orchestra for the 40th Anniversary Celebration Concert of the Puerto Rico Fine Arts Center in San Juan. In November of 2019 he was recognized by The Puerto Rican Arts Alliance of Chicago with the dedication of the National Cuatro Festival and conducted the Midwest Conservatory Youth Orchestra in a concert of classical and folk music of Puerto Rico.
Since 2011 Pabón has acted as Principal Conductor of Música de Cámara Inc. in New York City. In May of 2015 he conducted the thirty-fifth anniversary concert of this organization, a program of premieres of works by Caribbean, Latin American, and U.S.A. composers. From 2011-2013, he directed the reconstruction of the operetta Cofresí by Rafael Hernández, which culminated with a nomination for a Grammy for its recording with the Puerto Rico Symphony Orchestra. Maestro Pabón has conducted orchestras in Spain, Italy, South America, Mexico, the Caribbean and the United States. In 1981 he conducted for Boricua College in Carnegie Hall in New York and for the Festival Casals in San Juan. Pabón has also conducted the Puerto Rico Symphony Orchestra in concert at the Kennedy Center of the Performing Arts in Washington D.C and on tour of the Dominican Republic and the Virgin Islands.
ABOUT LAURA MARÍA PABÓN
A native of San Juan, Puerto Rico, soprano Laura María Pabón has been featured in a variety of concerts, productions and musical activities in the United States, Canada, and Puerto Rico. She was a featured soloist for the Música de Camara's 25th Anniversary Concert in New York City in 2019 and for the Puerto Rico Symphony Orchestra's Christmas Concert Aguinaldo Sinfónico in 2020. Pabón has sung with a variety of Puerto Rican musical ensembles including the San Juan Philharmonic Chorale and the Lyric Choir of Puerto Rico. She has also participated in a variety of distinguished music festivals in Puerto Rico such as the Casals Festival, Vozarteum Festival and Ópera de Puerto Rico's Gala Zafiro.
Pabón's operatic performances include Despina from Mozart's Cosi fan Tutte with Mannes Opera in 2020, Gretel in Humperdinck's opera Hänsel und Gretel at the Conservatory of Music of Puerto Rico in 2019 and Lisette in Chicago Summer Opera's production of Puccini's La Rondine in 2019. She also participated in a production of Massenet's Cendrillion at the Festival d'Art Vocal in Montréal in 2018. Pabón made her debut at the age of nineteen in Vozarteum Opera Festival's production of George Frideric Handel's Rinaldo as Armida in 2017. She obtained her undergraduate degree in Voice from the Conservatory of Music of Puerto Rico in 2019. She is currently pursuing her graduate studies in Vocal Performance at the Mannes School of Music, The New School in New York City under the tutelage of American lyric soprano Beth Roberts where she expects to graduate in 2021.
ABOUT JOSÉ L. RODRÍGUEZ
Singer and guitarist José L. Rodríguez is from San Lorenzo, Puerto Rico. He was born in May 1987 and his stage name, "Enchautegui'', has been his nickname since childhood. His father was a cuatro player, guitarist, and a member of the música típica ensemble Los Hermanos Rodríguez. Enchautegui currently maintains his independent project as a soloist in a five-musician orchestra concept composed of timbatería, percussion, piano, bass, guitar and vocals. His specialty is popular music (pop) and tropical fusions with Afro-Caribbean rhythms and romantic themes. The singer-songwriter continues to forge his career as a musician and singer focused on presenting his modern art to audiences in an authentic way. 
ABOUT JESUS ROMÁN FIGUEROA
Jesus Román Figueroa began his music education at the age of six at the Cultural Center of the Town of Ciales, Puerto Rico with teachers Jovino Gonzales and Irvin Santiago. In his childhood years, together with his two brothers Josue Román and Rocio Román, he had the privilege of singing on the best stages in the country, including in the Christmas concert of the Puerto Rico Symphony Orchestra under the direction of Maestro Roselín Pabon. Over the years he has participated in the largest cultural events on and off the island. Figueroa has also participated in the Hawaii Puerto Rico Fiesta de comunidad Puertorriqueña, Internacional Festival of Payadores in San José de Maipo, Jornada Cucalambeana Day in Cuba, Jornada de Jóvenes Trovadores en México, Festival of cante de Poetas en España, Encuentro de verseadores en Islas Canarias, and the Festival de Payadores en Casablanca Chile.
ABOUT FABIOLA M. MÉNDEZ
Fabiola M. Méndez has played cuatro, the national instrument of Puerto Rico, since she was six years old. In 2018, she became the first student to graduate from Berklee College of Music with the cuatro as her main instrument. Fabiola has collaborated with high caliber artists including Pedro Capó, Totó La Momposina, Cucco Peña, Danny Rivera, the Symphonic Orchestra of Puerto Rico, and many others. She has also received many honors and awards, among them having the Festival Mapeyé 2011 dedicated to her, the Quincy Jones 2016 award, and a motion in the House of Representatives in Puerto Rico for graduation from Berklee in 2018. Her most recent album "Al Otro Lado Del Charco" was one of the 20 best albums of 2019 in Puerto Rico and is available on all digital platforms.