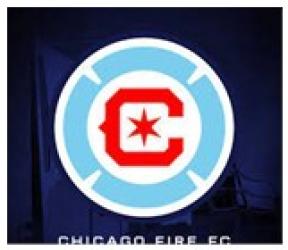 Chicago Fire FC today announced that the Club has signed midfielder Brian Gutiérrez to a new five-year contract. Gutiérrez will now occupy a Homegrown U-22 Initiative slot. His contract with the Fire will run through 2028.
"It has been exciting to watch Guti grow over the past four seasons with the Chicago Fire and become a very important player for the Club," said Chicago Fire FC Sporting Director Georg Heitz. "We take pride in rewarding our Homegrown players for their contributions to the Club and this new contract recognizes the value Guti brings to the organization both on and off the field. We look forward to seeing his continued development in the coming years."
Since becoming the 16th Homegrown player signed by the Club on March 9, 2020, Gutiérrez has played 88 matches (54 starts) for the Chicago Fire first team. He started a career-high 28 matches in 2023, leading the team with nine assists and scoring two goals as a midfielder. Gutiérrez became the third Homegrown player to lead the team in assists in a season and just the fifth Fire player to record nine or more assists in a single season since 2012. 
"It's a tremendous feeling to know that the Club believes in me as a player and as a person," said Gutiérrez. "I'm grateful for the opportunity to build on that confidence and improve on the field, to always do my best for this Club, for the fans and for this city."
Following the 2023 MLS regular season, Gutiérrez was named the Club's Most Valuable Player. Earlier in the year, the Chicago native was selected to the MLS 22 Under 22, presented by BodyArmor, in fifth place, marking the second-consecutive year that a Fire player has been named to the top-five of the prestigious ranking. His 2,399 minutes played in 2023 trailed only captain Rafael Czichos as a field player. Additionally, his 28 starts ranked tied with Czichos for most starts by a field player this season. 
At the international level, Gutiérrez has represented the U.S. Men's Youth National Teams at the U-16 through U-23 levels. Most recently, Gutiérrez was part of the U.S. Men's Olympic National Team that played against Mexico and Japan in a series of friendly matches in preparation for the 2024 Olympic Games.
It is Gutiérrez's third contract with the Chicago Fire after signing a second deal in 2022 that ran through the 2026 season. With the new contract, Gutiérrez becomes the third U-22 initiative player on the Chicago Fire roster, alongside midfielder Federico Navarro and forward Georgios Koutsias.
Transaction: Chicago Fire FC signs midfielder Brian Gutiérrez to a new MLS contract that will run through the 2028 season. Gutiérrez will occupy a Homegrown U-22 Initiative slot.
Name: Brian Gutiérrez
Position: Midfielder
Height: 5'10"
Weight: 141 lbs.
Date of Birth: June 17, 2003
Hometown: Chicago, Illinois
Birthplace: Berwyn, Illinois
Citizenship: United States of America