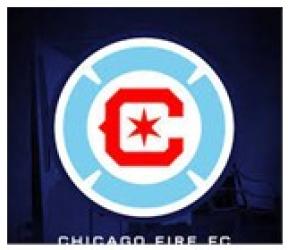 Chicago Fire FC (9-15-8, 35 points) fell 3-2 to Charlotte FC (12-17-2, 38 points) on Saturday night at Soldier Field in the second all-time meeting between the two sides. With the defeat, the Fire were officially eliminated from postseason contention.
The Fire opened the scoring just two minutes and 35 seconds into the match with an unassisted goal from midfielder Mauricio Pineda, his first of the season and fastest goal for Chicago so far this year. The scoring play began with an initial shot by midfielder Brian Gutiérrez, whose attempt was cleared by Charlotte striker Karol Swiderski, straight to the feet of Pineda at the top of the box. The 24-year-old Homegrown midfielder ripped a left-footed shot through a crowded 18-yard-box and into the lower right-hand-corner of the net. 
The Fire doubled their lead in the 30th minute with a dominant build-up play, starting with a perfectly placed cross by Gutiérrez, onto the run of defender Boris Sekulić. Cutting it across the box, Sekulić laid the ball off to forward Jhon Durán, who turned and placed a driven shot into the back of the net, logging his sixth goal of the season. 
The visiting side would later split the Fire's lead in half with a goal from Swiderski, assisted by Adilson Malanda, off a corner kick in the 68th minute before equalizing just eight minutes later with a goal by Nuno Santos, assisted by McKinze Gaines. In the 96th minute, Charlotte found the game-winning finish with an unassisted, close-range goal from Swiderski.
NEXT MATCH: Chicago will head into a FIFA international break this upcoming week, before returning to the field on Saturday, Oct. 1 against FC Cincinnati at 6:30 p.m. at TQL Stadium. The match will be televised live on WGN-TV and CF97 Live, and transmitted locally in Spanish on TUDN 1200 AM. 
Social: Twitter - @chicagofire, @vamosfire (Hashtags: #CF97 #VamosFire) | Instagram - @chicagofire | Facebook
Notes:
Defender Kendall Burks made the first MLS start of his career. 
Midfielder Mauricio Pineda scored his first goal of the season, fifth of his career. 
Pineda scored after just two minutes and 35-seconds, the fastest goal for Chicago Fire this season. 
Forward Jhon Durán scored his sixth goal of the season and now sits just one goal behind Xherdan Shaqiri, who leads the team with seven goals. 
The Fire have stopped the opposition from scoring a first-half goal in 21 of their 32 games, only Philadelphia Union (26) and Minnesota United (22) have done this more often this season.
Box Score:
Chicago Fire FC 2:3 Charlotte FC
Goals:
CHI - Pineda (1) (WATCH) 3'
CHI - Durán (6) (Sekulić 3, Gutiérrez 5) (WATCH) 30'
CLT - Swiderski (9) (WATCH) 68'
CLT - Santos (1) (Gaines 3) (WATCH) 76'
CLT - Swiderski (10) (WATCH) 90+6'
Discipline:
CHI - Durán (Yellow Card) 39'
CLT - Bronico (Yellow Card) 39'
CLT - Swiderski (Yellow Card) 53'
CLT - Jones (Yellow Card) 54'
CLT - Gaines (Yellow Card) 79'
CHI - Bezerra (Yellow Card) 89'
Chicago Fire FC: GK Slonina, D Sekulić, D Czichos ©, D M. Navarro, D Burks, M F. Navarro, M Pineda, M Mueller, M Shaqiri (Reynolds II, 88'), M Gutiérrez (Ivanov, 79), F Durán (Bezerra, 72')
Subs not used: GK Richey, D Bornstein, D Espinoza, M Oregel Jr., M Casas Jr., M Monis
Charlotte FC: GK Kahlina, D Walkes, D Byrne, D Malanda, D Afful, M Bronico (Alcívar, 62'), M Jones, F Swiderski ©, F Rios (Santos, 69'), F Shinyashiki (Gaines, 61'), F Vargas
Subs not used: GK Sisniega, D Sobocinski, F Jozwiak, M Bender, M Reyna, D Mora
Stats Summary: CHI / CLT
Shots: 14 / 14
Shots on Goal: 4 / 6
Saves: 3 / 2
Passing Accuracy: 79% / 83.4%
Corners: 4 / 4
Fouls: 23 / 13
Offsides: 1 / 4
Possession: 54.2% / 45.8%
Attendance: 21,450
Referee: Tori Penso
Assistant Referees: Adam Garner, Kevin Lock
Fourth Official: Chris Ruska
VAR: Edvin Jurisevic, Rene Parra
Chicago Fire FC Quotes
Chicago Fire FC Head Coach Ezra Hendrickson
On the explanation for the team's performance...
"It's just us not wanting it enough. Before I even answer that, I just want to apologize to our fans. They had to go through that a second time this year in a game this important, that we can put ourselves in a good position to extend at least another week, a couple of weeks, extend our playoff hopes. And we just come out of the second half and just decided we're not going to defend, we're not going to play disciplined and just do whatever we want. And so, I apologize for that, because that's not good enough.
As far as how it happened. It's just them wanting more than we did and it's not acceptable. I'm very upset, I'm very disappointed right now. That 45 minutes, the second half, that wasn't a good enough team, I thought, all right. All across the pitch in the second half, we just did not stick to the game plan. You know, guys weren't playing their roles. You know, we have certain guys whose roles are to do certain things. You know, guys are not defending when they should, guys were not playing the ball when they should. It was just like 11 individuals out there in the second half. Even against the Columbus game, I didn't see that. You know, Columbus played a really, really good second half and beat us. Tonight, we just self-destruct.
I don't know, maybe what was on the line, the occasion, got to us a little bit. I don't know, I have no explanation for it, but it's not good enough. And I'm very upset that a team of mine, a team that I coach, could come out facing that type of consequence if we don't win the game and give up the game like that. You know, even up 2-1, you're still in the game, you still have to fight, you still have to play. They are fighting for playoffs so they're gonna run. You have to run. A ball over the top, you can't stop running, you have to run, you don't assume it's gonna go out. Because someone who wants it from Charlotte is going to run, chase it before it gets over the endline and he's going to put a cross in the box for a tap-in. And if you stop running and you stop defending and you think it's gonna go out, that's when you get bitten. That was just not good enough for us tonight in the second half and I'm very, very upset about that." 
On his message to the team in the locker room after the game...
"Basically what I just told you, in summary, that that's not good enough. In front of your fans, with what's on the line, what the occasion was about, put yourself in such a good position, up 2-0. All you have to do is see the game out, but it's going to take some work. And I specifically told them even at halftime, 'guys, do not relax.' These guys are going to come because this is it for them if they don't get back in this game. And we did not match their effort in the second half and that's what's so disappointing for me. And that second goal, that ball over the top, the way we just stopped on that play. Really, really, it's upsetting, it's disappointing. So, the message is just like, you have to take pride when you find yourself in situations like this. You have to do the work that it takes to see out the game. Everyone wants to win. They want to win just as bad as we want to win, but who has the will to do what it takes to win the game? And tonight, they did. We didn't. It's not acceptable. And so basically, that was my message to them: that the effort in the second half was not acceptable."
On the lessons learned as a head coach...
"Well, there are a lot of lessons that I've learned, but right now, I'm just really trying to digest what just took place out there. As far as the season goes, I'm learning the job, I've made some mistakes. I'll be the first one to raise my hand when things don't go right. But, you know, tonight is still on my mind right now and my focus is about what happened tonight. Because regardless of what happened throughout the season, regardless of what mistakes we made throughout the season, we had an opportunity tonight to at least extend our playoff hopes. And we come out and do what we are supposed to in the first half and we don't finish out the game the second half. So right now, that's what's on my mind right now. That's what's bugging me right now. At the end of the season, we'll reflect and talk about the entire season, but tonight, what happened tonight in front of our home fans really hurts, really hurts me. And it's not something that I'm happy about at all. Because as the leader of this team, I gotta make sure I do what it takes to make sure these guys put up the fight. You know, when a team comes and starts pressing you and pushing you like that, you fight back, you fight back. And we didn't tonight."
On Xherdan Shaqiri's exit from the match...
"Shaq was feeling his injury again and so, he needed to be out. He gave it all and he just couldn't go any more with the strain. Because in a normal situation, Shaq doesn't come out of the game, when we need our star on the pitch. So that just was all due to his injury that he's been carrying for a few games now."
Chicago Fire FC Defender Rafael Czichos
On why not capitalizing on a 2-0 lead happened twice this season…
"Yeah we are missing a little bit of consistency. Like I said, it's hard to explain 10 minutes after the game, after a tough loss against a team that was fighting with us for a playoff seed. I don't know, it's hard." 
On Head Coach Ezra Hendrickson apologizing to the fans and what it says about today's performance…
"I think we were fighting and the fans, they saw it. The fans were incredible the whole season, they still came to every home game. And were supporting us even though it's been a tough season. Yeah, I can only say the same, like my coach, we are really sorry for this performance and other performances this year. And I think we have to work hard in the offseason for the next year and to become better." 
On if the good start to the season make the result of this season even more frustrating showing what the team could be capable of…
"Yeah I think we showed at the beginning of the season and then some parts of the season we had good games, we had a four game winning streaks and good parts but most of the time it was tough. I think we have the quality to play a better season. But in the end we struggled with injuries and we missed a lot of key players in many games and it was very difficult for us."
Chicago Fire FC Goalkeeper Gaga Slonina
On how he is preparing for his move to Chelsea in the near future…
"Yeah I think just about being in the present moment. I think that is the best way to prepare for the future, ironically, just trying to do my best every single game to improve. Because seeing those game minutes is obviously different than training. So I think just being in the moment and giving my best every single game and trying to keep on improving daily is what's gonna prepare me the best for the move over there."
On how this result happened for the second time this season…
"Yeah it's pretty hard to put into words how that happened. You know obviously you don't plan to go out 2-0 in the second half and lose 3-2. But it's difficult, it's hard to process. My mind is cloudy right now. I don't really have much words, it's just difficult to take in." 
On if being eliminated from the playoffs in the manner it happened tonight adds a sting to it all…
"Yeah, I mean, you know we strive to be in the playoffs. So not making the playoffs, we can't accept that standard. We got to come out, you know I think there's a lot of things we could've done better in this season. But we have to be locked in, dialed in every single minute. Every single minute matters. But yeah we have to learn from it and we have to move on."
On his emotions tonight considering it could possibly be his last game at Soldier Field…
"I mean, I still try to give everything to the fans. I want to enjoy every single moment, obviously hard to enjoy a game like that. Yeah, just super disappointed. I'm not really thinking about the future right now. I just want to make sure that I can learn from this game. And learn from just being better and trying to help my team in every situation." 
On if it's important to marinate in his feelings tonight to avoid it in the future…
"Yeah I think these moments are crucial for growth. I think if you can use it to try and prove and make yourself better is the most important. You know, obviously it's unacceptable to lose in that fashion. But I think these moments are what build the character, the mentality that you're supposed to have. You know, you can't accept that. We have to go back to training and now even harder. It doesn't matter that we are out of playoffs. Every single game matters. It's about preparing and being ready for the next one."