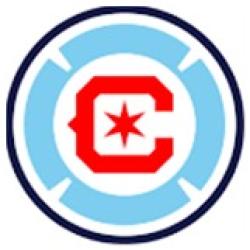 In the first-ever matchup between the two teams, Chicago Fire FC defeated Austin FC 2-0 in the Round of 16 of the 2023 Lamar Hunt U.S. Open Cup at Q2 Stadium in Austin, Texas on Wednesday night, with goals from defender Rafael Czichos and forward Kacper Przybyłko while goalkeeper Spencer Richey kept the clean sheet.
Chicago advances to the quarterfinals of the tournament for the 15th time in Club history, which ranks as the second-most in MLS era (since 1996), per Opta. The Fire will face the Houston Dynamo at home in the next round, with game date, time and broadcast information to be announced by U.S. Soccer at a later date. 
At the outset of the match, Chicago pressed forward, slipping behind the backline on several occasions in the opening 30 minutes. It was captain Rafael Czichos who scored the opening goal of the match in the 27th minute when winger Maren Haile-Selassie's blocked shot led to a Fire corner kick from the left side. Brian Gutiérrez lined up to take the corner, sending a cross that found Czichos on the far end of the 18-yard-box. Czichos sent his header back across the goal and into the upper left corner. The goal marked Czichos's first goal of the 2023 Lamar Hunt U.S. Open Cup and his third goal of 2023 across all competitions.
Forward Kacper Przybyłko doubled the Fire lead just four minutes after entering the match in the 73rd minute for Kei Kamara. Xherdan Shaqiri controlled the ball on the left side of the box, moving toward Austin goalkeeper Brad Stuver's near post. Stuver moved to cover the post and Shaqiri sent a short-range shot right at Stuver, who stood his ground to make the save. The rebound fell right back to Shaqiri, who looked up and sent a sharp ball across the six-yard box, where Przybyłko understood the assignment, sending a one-time shot into the right side of the goal.
Fire goalkeeper Richey kept the lead at two with a save on the line in the 84th minute when Austin sent in a corner from the right side that second-half sub Ethan Finlay redirected on frame with a powerful header. Richey stood his ground, making the save with his face as the ball was cleared from danger.
NEXT MATCH: Chicago heads to the Bay State to face the New England Revolution at 6:30 p.m. CT on Saturday, May 27 at Gillette Stadium. The match will be broadcast on Apple TV+, streamed in English on wlsam.com, and transmitted locally in Spanish on TUDN 1200 AM.
Social: Twitter - @chicagofire, @vamosfire (Hashtags: #CF97 #VamosFire) | Instagram - @chicagofire | Facebook
Notes:
Rafael Czichos scored his third goal of 2023 across all competitions, and his third goal in the Lamar Hunt U.S. Open Cup. The German captain scored twice in the Fire's Open Cup match against Union Omaha in 2022.
Kacper Przybyłko scored his second goal of the 2023 Lamar Hunt U.S. Open Cup, having also tallied against Chicago House on April 26.
Chicago advanced to the quarterfinals of the tournament for the 15th time in the Club's history, behind only FC Dallas (16 times) in the MLS era.
Lamar Hunt U.S. Open Cup rosters are limited to 18 players, unlike 20-player Major League Soccer rosters.
Only one change was made to the lineup that faced St. Louis CITY SC in the Round of 32 of the 2023 Lamar Hunt U.S. Open Cup on May 9 at SeatGeek Stadium.
Captain Rafael Czichos returned to the lineup in place of centerback Wyatt Omsberg. Czichos was joined in the center of the defense by Maurico Pineda, and was flanked by Miguel Navarro to his left, and Arnaud Souquet on the right.
The Argentine defensive midfield duo of Gastón Giménez and Federico Navarro once again paired up to support attacking midfielders Brian Gutiérrez (left), Xherdan Shaqiri (middle) and Maren Haile-Selassie (right). 
Shaqiri, Gutiérrez and Haile-Selassie lined up together for the third-straight match, while forward Kei Kamara returned to lead the attack.
Goalkeeper Spencer Richey once again backstopped the group, getting the nod for the third time in the 2023 Lamar Hunt U.S. Open Cup.
Defenders Jonathan Dean (left upper leg) and Carlos Terán (right knee), and midfielders Chris Mueller (right upper leg) and Sergio Oregel Jr. (right lower leg) were unavailable for selection tonight.
Box Score:
Austin FC 0:2 Chicago Fire FC
Goals:
CHI - Czichos (Gutiérrez) 27'
CHI - Przybyłko (Shaqiri) 77'
Discipline:
CHI - Pineda (Yellow Card) 48'
ATX - Radovanović (Yellow Card) 62'
ATX - Ring (Yellow Card) 89'
Chicago Fire FC: GK Richey, D M. Navarro, D Czichos (capt.), D Pineda, D Souquet, M F. Navarro, M Giménez (Torres, 73'), M Haile-Selassie, M Shaqiri (Burks, 88'), M Gutiérrez (Herbers, 65'), F Kamara (Przybyłko, 72')
Subs not used: GK Gal, D Aceves, F Koutsias 
Austin FC: GK Stuver, D Cascante (capt.), D Väisänen (Radovanović, 46'), D Gallagher, D Lundkvist, M Ring, M Pereira, M Valencia (Djeffal, 46'), M Redes (Fagundez, 65'), M Rigoni (Finlay, 76'), F Zardes
Subs not used: GK Bersano, D Lima, F Urruti
Stats Summary: ATX / CHI
Shots: 9 / 12
Shots on Goal: 2 / 8
Saves: 6 / 2
Passing Accuracy: 87.1% / 83.9%
Corners: 6 / 5
Fouls: 15 / 11
Offsides: 1 / 2
Possession: 57.3% / 42.7%
Referee: Alex Chilowicz
Assistant Referees: Joshua Ell, Meghan Mullen
Fourth Official: Elton García
Chicago Fire FC Head Coach Frank Klopas
On what the 2023 Lamar Hunt U.S. Open Cup means to the team…
"Yeah, I mean, it's special. But we go into every game – and I told the team, every time we step on the field – we go in with the confidence to win. We set a goal early in the year that we were going to do whatever it takes to try to be the first team to reach five – MLS team.
So one game at a time. And this was a difficult place to come and play against a really good team, a very good team. The guys did an amazing job, and you know, great performance by the group. Great individual performance, but the collective group was amazing today, and you know, enjoy the moment, and then our mind shifts now already because obviously there's a lot of games coming and we have a big game Saturday.
So we're on to the next game already. But let's have a safe trip back, enjoy this moment and then regroup tomorrow and start planning for New England. But just an amazing performance from the group."
On the play of Xherdan Shaqiri in the match…
"Amazing. (Shaqiri) is, for me, just an incredible player. He needed games to find his rhythm. You know, it doesn't matter who you are. If you don't get games, just training -- the game gives you the sharpness and the rhythm, and I said after last game, he's just going to be getting sharper and better with every game, and he's just an incredible player that can make a difference in every match and he's shown that tonight. He was brilliant and it was wonderful to watch."
On changing formation to a 3-4-3 for the game…
"Yeah, we just felt that it was the best way for us to be good without the ball and in our defensive shape but also be in a position where now we can really hurt them with the ball. We worked on a couple things that you saw tonight. We had a really good game plan (that) we presented to the players. We were very clear and detailed about everyone's role, and the guys did an amazing job. It all comes down to putting players in spots where they can be successful. Everyone, I mean, there were a lot of great performances, but from a collective group, it was incredible. When you come on the road against a really good team, you know, they put their best foot forward and so did we because both teams wanted to advance. We scored two goals, we created some great opportunities. We got a clean sheet. I think (Spencer) Richey played incredible. The back line played incredible. But the whole team was just superb tonight. And that's what kind of performances you need to win games like this, and we had it tonight."
On how comfortable he is playing Jairo Torres as he continues to come back from injury…
"Yeah, even after the last game, he's training now, which is a plus and he's just getting fitter and sharper.
You saw today, his run. I mean, the first opportunity he had, it's really special, the way he bent the ball and it hits the post and it goes out. But then he gives another pass on the outside of the foot, a perfect weight on the ball, to strike.
He's a very quality player, and he gives us different options, you know, depending how we want to play. He can play out wide and he can play, also, in the middle and he can play, in a 4-3-3, he can play an eight and he can play a ten. He's a quality player. It's great that he's playing now and getting sharper and fitter and getting more confidence. You can see the impact he had in the time he played tonight."
Chicago Fire Midfielder Jairo Torres
On the importance of tonight's victory…
"I think as far as our statement and the group's emotional well being, it's very, very important. It's a plus for the team. It's a happiness for everyone that's involved. We know that each one of these games is like a final. It's a direct pass, direct advancement to the next round.
So we face each game as if it was a final. We know that each game, each tournament, each Cup is important, and we take this as seriously as we do League play."
On his performance and coming on as a bench player…
"Physically, I am feeling really good but I do think that I need to be better. I need to get better so that I can help the team more and be more prepared for these matches. I'm also really happy. I'm really happy with Coach and the opportunities that he's been giving me. I know that I need to really play this role well coming off the bench because it was a long time that I was out, and I know that actually I'm fighting for a spot. I need to earn my spot on the team in order for it to be a healthy competition within the group and I'm just grateful for the minutes that he's been giving me, and I knew I needed to take advantage of them at the max. I also know that I need to give my all for the betterment of the team."