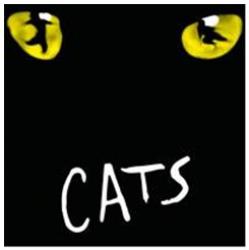 For those  of you who are die-hards and love the musical, you are in for some real treats. The set is a bit different, the lighting and sound, about the same ( with one or two new things), and of course the music is the same, except, the pirate play within a play in the Bustopher Jones segment is gone with a new one about dogs in its stead. I loved it! ( and so did those around me).
The number featuring  "The Old Gumbie Cat" now features a great tap dance bit that truly is wonderful, as is this young and highly energetic cast of singers and dancers. Boy, can they move!
If you are unfamiliar with "Cats" ( where have you been?), The night is a historical one. It is the night of the annual "Jellicle Ball" where all the Jellicle cats meet to find out which one will get their life extended and be able to restart their "nine lives". The true decider will be  handled by Deuteronomy ( tonight this role was handled to sheer perfection by Adam Richardson). As the two and one half hour show continues, we meet many who might qualify, but surely Grizabella ( an amazing portrayal by Keri Rene Fuller) who rocks the theater wither rendition of "Memory" should be the one. ( I hate to spoil this, but I think everyone already knows what takes place).
This is a solid production from start to finish. "Cats" come through the audience to start the performance and several times in between. As I said this is a dynamic cast: Phillip Deceus, McGee Maddox, Lexie Plath, Mariah Reives, PJ DiGaetano, Liz Schmitz, Kaitlyn Davidson, Emily Jeanne Phillips, Tion Gaston ( the Magical Mister Mistoffelees), Tony d'Alelio ( Mungojerrie), Dan Hoy as Munkustrap, Timothy Gulan, Tyler John Logan ( the fearless Macavity), Anthony Michael Zas, Rose Iannaccone, Ahren Victory, Ethan Saviet, Laura Katherine Kaufman, Devin Neilson,  Caitlin Bond, Maria Failla, Nathan Patrick Morgan, Zachary Tallman, Tricia Tanguy and on most nights Adam Richardson. They are terrific!
The music is mystic and built around the poems to tell the story of this annual event. It is an evening filled with dance and beautiful storytelling but as if it were being told by an animal, not a person. It is their stories,transition well from live theater to giant screen. We will have to wait and see.
Meanwhile, "Cats" will be at The Nederlander Theatre , located at 24 West Randolph Street through  August 4th with performances as follows:
Wednesdays  2 p.m. and 7:30 p.m.
Thursdays  7:30 p.m.
Fridays  7:30 p.m.
Saturdays at 2 p.m. and 8 p.m.
Sundays  2 p.m. ( on 7/21)an additional 7:30 p.m.
Tickets range from $30-$110 making it "family friendly" and can be purchased a any of the Broadway In Chicago box offices, or online at www.BroadwayInChicago.com