Lifeline Theatre and Artistic Director ILesa Duncan announce the casting for the revival of ensemble member John Hildreth's adaptation of Kurt Vonnegut's classic Cat's Cradle. Join the famed Hoenikker family on the Caribbean Island of San Lorenzo for a satirical tale of how "pure" scientific research, banana republic politics, and a fabricated, falsely-based organized religion bring about the end of the world. Cat's Cradle runs at Lifeline Theatre, 6912 N. Glenwood Ave. in Rogers Park, from September 1 to October 22, 2023.
Cast members for the production include Shelby Bias, Patrick Blashill, Tony Bozzuto, Anthony Kayer, Vic Kuligoski, MarieAnge Louis-Jean, Jocelyn Maher, Mandy Walsh, and Johnard Washington. The creative  team for Cat's Cradle includes ensemble member Aly Amidei (costumes), Lindsay Mummert (scenic), Saskia Bakker (props), Sarah Riffle (lights), and Stefanie Senior (sound).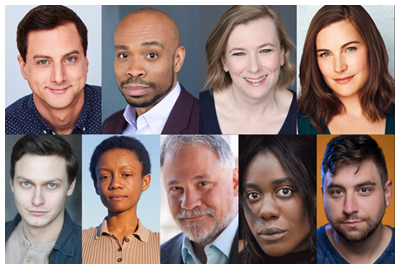 Left to right: Tony Bozzuto, Johnard Washington, Mandy Walsh, Jocelyn Maher, Vic Kuligoski, MarieAnge Louis-Jean, Patrick Blashill, Shelby Bias, and Anthony Kayer
Ensemble member Heather Currie (Dooby, Dooby Moo 2022, So, You Think It's Easy Being the Tooth Fairy?) directs Hildreth's (Treasure Island, Watership Down) invigorating adaptation of one of Vonnegut's most beloved novels for a new generation. 
Of Cat's Cradle's relevance today, Currie notes, "Science and technology will always move forward, but humans must consider the consequences of progress. Challenging the American ego is still at the forefront of our discussions today in 2023. Satire still helps us laugh when looking at the dark parts of being human. At the heart of this story is…who are we as humans, and how can we do better?" 
The production follows Lifeline Theatre's mission of exploring, interpreting, and reimagining books and other literary works to create stories that move us beyond the margins of our own lives. Duncan shares, "The return of Cat's Cradle is an opportunity for us to revisit Vonnegut's story and explore its themes and relevance for a new generation."
ABOUT THE CAST
Tony Bozzuto (Jonah) has been an actor in Chicago for 15 years. Some of his stage credits include The Internationalist at Steppenwolf, Who's Body and The Island of Dr. Moreau at Lifeline Theatre, Skin Tight with COR Theatre, and On An Average Day with BackStage Theatre, for which he received a Jeff nomination.  His television and film credits include Chicago Fire, Boss, and Crisis; commercials for the NFL and T-Mobile; Animator (film); and The Good Fight series (YouTube and Vimeo).
Johnard Washington (Bokonon, L. Boyd Johnson) is thrilled to be working with Lifeline for the first time in Cat's Cradle. Other credits, in no particular order, include: Thirst (Strawdog Theatre-BTAA Nomination Best Featured Actor); At The Table (Broken Nose Theatre-Jeff Award Best Ensemble); Gross Indecency (Promethean Theatre); Hand In Hand (Akvavit Theatre); How We Got On (Citadel Theatre); Our Lady of 121st St. (Kitchendog Theatre-Dallas); The Hairy Ape, The American Dream Is At The Expense Of The American Negro (Oracle Productions); A Hedda Gabbler, The Walk Across America For Mother Earth, Lear, The Skriker, Elephants Graveyard (Red Tape Theatre) Additionally, Washington had two understudy roles at Steppenwolf (King James and The Compass.) Washington is a SMU Grad, attended school at Steppenwolf, is an ensemble member of Strawdog Theatre and Bramble Theatre Company.
Mandy Walsh (Mrs. Crosby, Sandra, et al) happily returns to Lifeline where she has previously been seen as Watson in both productions of Miss Holmes and Miss Holmes Returns, as well as Monstrous Regiment, Watership Down, and The Count of Monte Cristo (U/S). Other Chicago area credits include work with Paramount Theatre, A Red Orchid Theatre, 16th Street Theatre, Windy City Playhouse, WildClaw Theatre, The Factory Theater, and more. Regionally she has performed at Dunes Summer Theatre in Michigan City, IN. She has also appeared on Chicago Fire and in the upcoming short film I Wish I Were Pretty. 
Jocelyn Maher (Angela Conners, Mr. Minton, et al) makes her Lifeline and professional Chicago theater debut with Cat's Cradle. Having relocated to Chicago from the Seattle area where she was born and raised, Maher has had the privilege of working with such theater companies as ACT, Seattle Children's Theatre, Seattle Shakespeare Company, Book-It Repertory Theatre, Seattle Public Theater, and The Horse in Motion. She holds her MFA in Acting from The Theatre School at DePaul University.
Vic Kuligoski (Franklin Hoenikker, Jack, et al) makes his Lifeline Theatre debut. His most recent credits include The Kelly Girls, Last Night In Karaoke Town, and May The Road Rise Up at The Factory Theater. Other theater credits in Chicago include Christmas at Pemberley with Northlight Theatre and Cloud 9 with Eclipse Theatre. His film and television credits include Aaron Sorkin'sThe Trial of The Chicago 7 (Netflix), Felix Pinero's Adjunto, Night Sky (Amazon Prime), Matt Everett's Indie short film You Can Go Home Whenever You Want, and Jennifer Reeder's upcoming feature film Perpetrator, which premiered at Tribeca Film Festival in NYC and will be streaming on Shudder this September.
MarieAnge Louis-Jean (Newt) is an ascending actor, dancer, and writer. Louis-Jean has been making their mark with the Chicago theater community with recent credits including Octagon (reading) by Kristiana Rae Colón and Middle Passage adapted by ILesa Duncan. Recent film credits include Insight directed by Kevin Hooks and Suspension by Kristiana Rae Colón with Chicago Takes 10. Independent film credits include We Have Nothing To Lose by Johnae and The Callbacks by Coda Marcus.
Patrick Blashill (Felix Hoenikker, Mr. Crosby, et al) has been a Lifeline ensemble member since 1994 and has been in over 30 productions over the years, including The Lord of the Rings Trilogy (Bilbo and Frodo), Neverwhere (Old Bailey), Piano Tuner (Edgar/After Dark award), Pistols for Two (Tom), and Midnight Cowboy (Towny), among others. Other Chicago credits include Choir Boy (Steppenwolf- U/S) Much Ado about Nothing (Oak Park Festival Theatre), Long Day's Journey into Night (Eclipse Theatre), The Harvest, Journey's End (Griffin Theatre), May the Road Rise Up, The Kelly Girls (Factory Theatre), The God of Isaac (Victory Gardens), Eurydice (Filament Theatre), and Emma (Reverie Theatre). Films include Visiting Friends and The Dancing Monkey. TV appearances include Chicago PD, Chicago Fire, and Empire. 
Shelby Lynn Bias (Mona, Mrs. Minton, Ms. Pefko), a Lifeline Ensemble member, was previously seen on the Lifeline stage as Isadora in Middle Passage (2020/2022) and Eleanor Tilney in Northanger Abbey. She has had the pleasure of working with Northlight Theater, Chicago Shakespeare Theater, and most recently First Folio where she played Jo March in Little Women. A graduate of the Royal Conservatoire of Scotland, her international credits include Phoebe in As You Like It at Bard in the Botanics. 
Anthony Kayer (Dr. Asa Breed, Marvin Breed, et al) has been a member of Lifeline's Ensemble since 2017. Most recently, he directed Lifeline's world premiere of Extra Yarn earlier this year. Other Lifeline acting credits include Arnie the Doughnut (2011) The Emperor's New Threads, Lyle Finds His Mother (2014), and Jane Eyre (2014). Other Lifeline directing credits include the world premiere of Bunny's Book Club, Bunnicula (2018) and Assistant Director for Northanger Abbey (Non-Equity Jeff Award: New Work-Musical.) Other Chicago credits include work with Steppenwolf (The March), Chicago Shakespeare (Elizabeth Rex), Lookingglass/Uniting Voices Chicago (Sita Ram), Next Theatre (Iphigenia 2.0), the House Theatre of Chicago (The Great and Terrible Wizard of Oz, u/s), inappropriate Theatre Company (R&J: a techno ballet, (the)Forget_Me\Knot,) and Assistant Directing with Lookingglass/Chicago Symphony Orchestra (Adventures with Aladdin.)
SCHEDULE
Previews: Fridays, September 1 and 8 at 7:30 p.m.; Saturdays, September 2 and 9 at 7:30 p.m.; and Sunday, September 3 at 2:30 p.m.
Press Opening: September 10 at 2:30 p.m.
Opening: Tuesday, September 12 at 7 p.m.
Regular Run: September 15 – October 22: Fridays at 7:30 p.m.; Saturdays at 2:30 p.m. and 7:30 p.m.; Sundays at 2:30 p.m.
TICKET INFORMATION
Tickets to Cat's Cradle are on sale at https://lifelinetheatre.com/performances/2023-2024/cats-cradle. Season memberships for the 2023-2024 are also available now. To purchase season memberships or for more information call the Lifeline Theatre Box Office at 773-761-4477, or visit www.lifelinetheatre.com.
ABOUT LIFELINE THEATRE
Lifeline Theatre is located at 6912 N. Glenwood Ave. in Chicago's Rogers Park neighborhood. Lifeline is easily accessible by CTA (Red Line Morse stop/buses) and free parking is available at Sullivan High School (6631 N Bosworth Ave, lot located on the corner of Albion and Bosworth) with free shuttle service before and after the show. Street parking is also available. Lifeline is accessible to wheelchair users and visitors who need to avoid stairs. 
Founded in 1982, Lifeline Theatre is known for staging innovative adaptations of great works of fiction as well as commissioning original work. In 1987, Lifeline Theatre added KidSeries plays for children and families, and has been producing full seasons of programming for both adults and children ever since.  Over the course of forty seasons and over two hundred productions, Lifeline Theatre has made not only an indelible mark on the Chicago theater scene, but an invaluable contribution to the theater world at large. Lifeline's dedicated artistic ensemble has developed one hundred and forty-six world premiere literary adaptations and original plays, nearly forty of which have had a life beyond their Lifeline premieres, with over three hundred subsequent productions spread across over forty U.S. states, six Canadian provinces, plus productions in England, Ireland, Australia, South Africa, and Guatemala. Additionally, four scripts developed at Lifeline Theatre have gone on to U.S. national tours, and over a dozen have been published. Lifeline Theatre has garnered a total of fifty-three Jeff Awards (Equity and Non-Equity), including sixteen for New Adaptation, New Musical, or New Work.