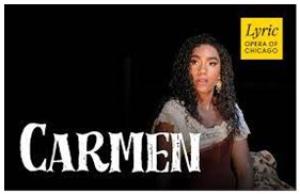 ****HIGHLY RECOMMENDED**** Ask anyone that you may know, whether they are an avid patron of the arts, merely possess a casual interest in classical music or have never attended a theatrical production in their lifetime, to name an opera -- any opera -- chances are extremely high that they will mention Carmen, Georges Bizet's 1875 work is so universally beloved that even non-opera fans will be familiar with much of its iconic score. Carmen is one of the top three operas that are presented by opera companies, both large and small, throughout the world each year.
With its popularity notwithstanding and many feeling that it may be presented much too frequently, some may shy away from seeing yet another production of Carmen.   However, the current offering at Lyric Opera of Chicago, featuring two stellar leads and one sensational soprano in her Lyric debut, is not-to-be-missed.  4 BIG SPOTLIGHTS
One of the reasons that this Carmen is so riveting is the superior direction of Marie Lambert-Le Bihan. As a director, she has crafted full-bodied and all-encompassing portrayals from her entire cast, including the singers in minor roles as well as the numerous dancers that make up the large ensemble. These characters are all strong-willed and high-spirited, with passion flowing rapidly through their veins. It is easy to be transfixed by their desires and sympathize with their dilemmas.
Also of note are the sets designed by Robin Don, which consist of a different locale for each of the four acts. Subtle details from the opera's opening set piece are mimicked on stage in the last act, which lead up to the shocking and devastating finale.
Mezzo-soprano J'Nai Bridges, in what is quickly becoming one of her signature roles, makes one of the strongest Carmens of recent memory. Bridges not only possesses a magnificent vocal instrument but she is also a very smart actress who makes shrewd choices in her rendition of one the most complex, and ultimately misunderstood, heroines in the entire repertoire of opera.
Take, for instance, her very first aria in Act I, which occurs while Carmen makes her initial appearance. The melody will be instantly recognizable to everyone in attendance. Most ladies who are fortunate enough to get the opportunity to sing the role of Carmen will use this moment to hit the stage running at full-throttle like a house afire. The problem with that approach is that they have peaked much too early and now have nowhere to go with their characterization. Bridges wisely utilizes a much different style, highly seductive yet more low-key. The aria instead becomes a springboard to a fully developed character who enjoys toying with the soldiers at that moment -- but then casually tosses a rose to the next one she has her eye on -- which will eventually seal her fate. To put it plainly, Bridges' Carmen is simply sublime.
Enough praise cannot be bestowed upon tenor Charles Castronovo, who sings the role of Don Jose, the impassioned soldier who risks it all as he falls madly in love with Carmen. Is there any role that this man cannot sing? After nearly reinventing the role of Nemorino in "The Elixir of Love" last season at Lyric, it seems that he can do anything. Matching Bridges every step of the way, Castronovo proves once again to be an extremely accomplished singer who is also an exceptional actor.
In a highly nuanced performance, Castronovo is so much more than the typical virile and one-dimensional Don Joses that you may often encounter. Starting out as a loyal and law-abiding soldier, this Don Jose has credibility -- thanks in large part to Castronovo's spunk.  Eventually he spirals downward, deserting the army and joining the revolutionaries who Carmen supports. By evening's end, Castronovo's desperation as Don Jose to have Carmen all to himself is palpable.
The surprising discovery of this production of Carmen is the South African soprano Golda Schultz, in her Lyric debut, as Micaela, the young country girl sent by Don Jose's mother to find him in the hopes that she may become betrothed to Don Jose. Schultz is all chaste innocence during her appearance in Act I. But look out for her steely resolve in Act III. Schultz's aria during that act is astounding, and she nearly steals the focus away from the two stars. Not an easy task, by any means.
If you have seen Carmen multiple times and want to revel once again in Bizet's glorious score (deftly conducted by Henrik Nanasi), this is as solid and complete of a production as any you will ever experience. There is much to love here. If you have never seen " Carmen before, this is an incredible place to start.
_______________________________________________________
Carmen continues through April 7, 2023
The remaining performances are:
Wednesday, March 22 at 7:00 PM                                                                                              
Saturday, March 25 at 7:30 PM                                                                                                    
Thursday, March 30 at 2:00 PM                                                                                                   
Sunday, April 2 at 2:00 PM                                                                                               
Friday, April 7 at 7:00 PM
Running time is approximately 3 hours and 30 minutes with two intermissions             
FYI:  Lyric Opera, Lyric Opera House, 20 N. Wacker Drive, Chicago.  FYI lyricopera.org/newseason.