**** Highly Recommended **** TimeLine Theatre is known for their thoughtful, well-researched, intelligent plays based on real people, real history.  In addition to meeting those criteria, Campaigns, Inc., a story about the very first political consulting firm – and its female founder – is poignant and surprisingly funny and so very relevant today!  Guess what?  Dirty tricks in politics have been around for a long time!  Kudos to Director Nick Bowling, Campaigns, Inc. is one of my top ten plays for 2022.  4 BIG Spotlights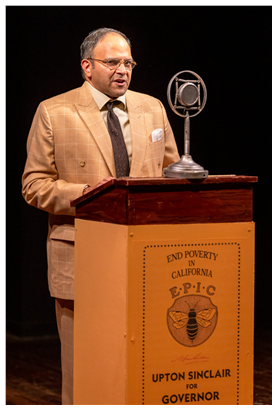 It's 1934, in the midst of the Great Depression, and well-known author Upton Sinclair (Amish Jethmalani) is running for governor of California against Frank Merriam (Terry Hamilton).  According to his dear friend, Charlie Chaplin (Dave Honigman), Sinclair is looking like a shoo-in because of his popular EPIC (End Poverty in California) project. 
It was looking like Merriam, a foul-mouthed blowhard, who'd became governor after the death of his predecessor, was going to do lose the election unless somebody did something.  George Hatfield (Mark Ulrich), a toady who wanted to be lieutenant governor, brought in a couple of brash young people, Leone Baxter (Tyler Meredith) and Clem Whitaker (Yuriy Sardarov), who promised to win the election for him.  Merriam gave them less than 24 hours to come up with a plan.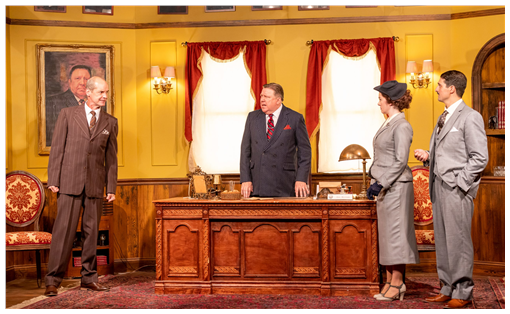 In an all-night session at their office, Leone came up with a brilliant idea – using the words and phrases Sinclair wrote in his books against him in a mass media campaign.  When he countered with a brilliant speech, they countered with news reels against him.  The final blow, although he was almost apoplectic at the suggestion, Merriam actually endorsed FDR's New Deal, which meant Sinclair didn't get FDR's endorsement.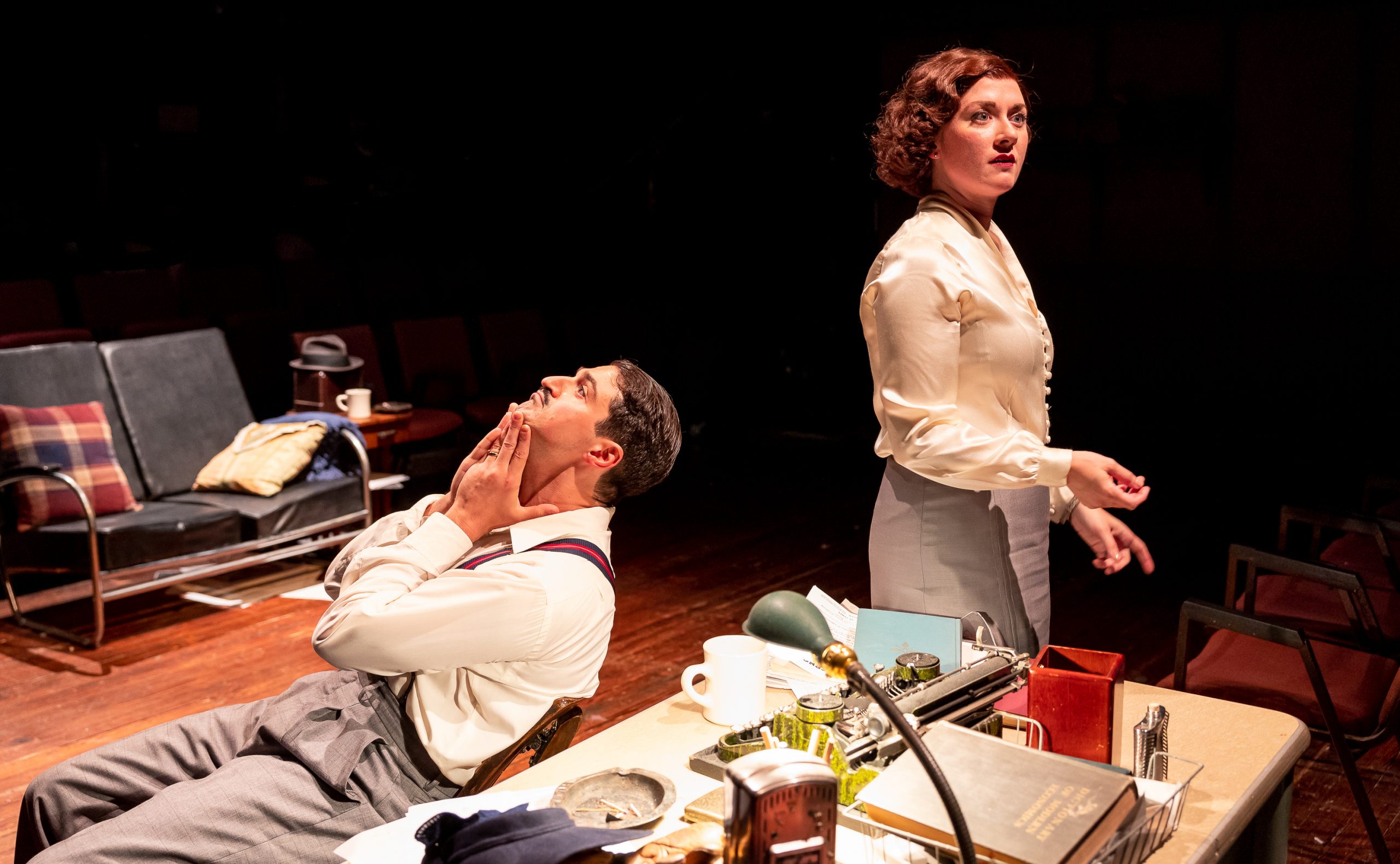 By the way, David Parkes played a photographer, Douglas Fairbanks, Kyle Palmer, FDR and Louis B. Mayer.  Jacqueline Grandt played a reporter, Mary Pickford, Eleanor Roosevelt and a waitress who hoped Sinclair would win. 
With TimeLine back in their own space for the first time since the pandemic, they were able to come up with some creative staging for Campaigns, Inc.  The audience enters the space through a large open archway, with tiered seating on both sides.  Clips from old black and white movies were playing on an oversized movie screen opposite to the archway.  After we were seated, my friend Al Bresloff wondered how they would cover that arch during the performance.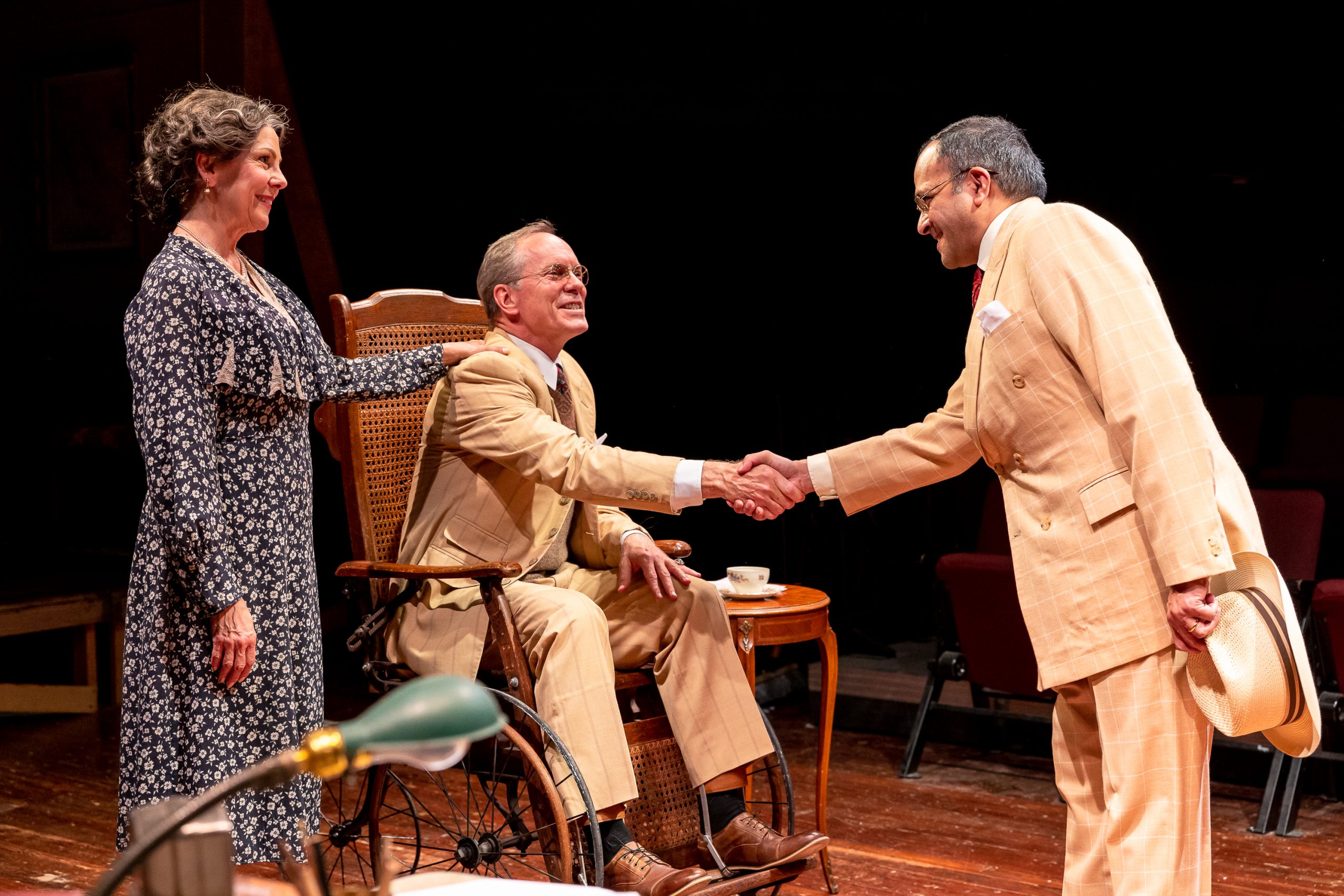 Campaigns, Inc. opened as a movie with titles and credits followed by a blackout.  During that blackout, stagehands rolled that whole screen across the floor, revealing Merriam's office.  The screen reversed into that open arch, filling it completely.  The reverse side was Sinclair's office.  During another blackout, the screen was rolled back to its original location to screen a huge audience for Sinclair's speech.  Back in the arch, it displayed Merriam's favorite golf course.  When the screen wasn't moving, the action was in the middle of the floor, often in the Campaigns, Inc. office.  The center space also became the United Artists studio and the White House.  Kudos to Scenic Designer Sydney Lynne for the creative staging.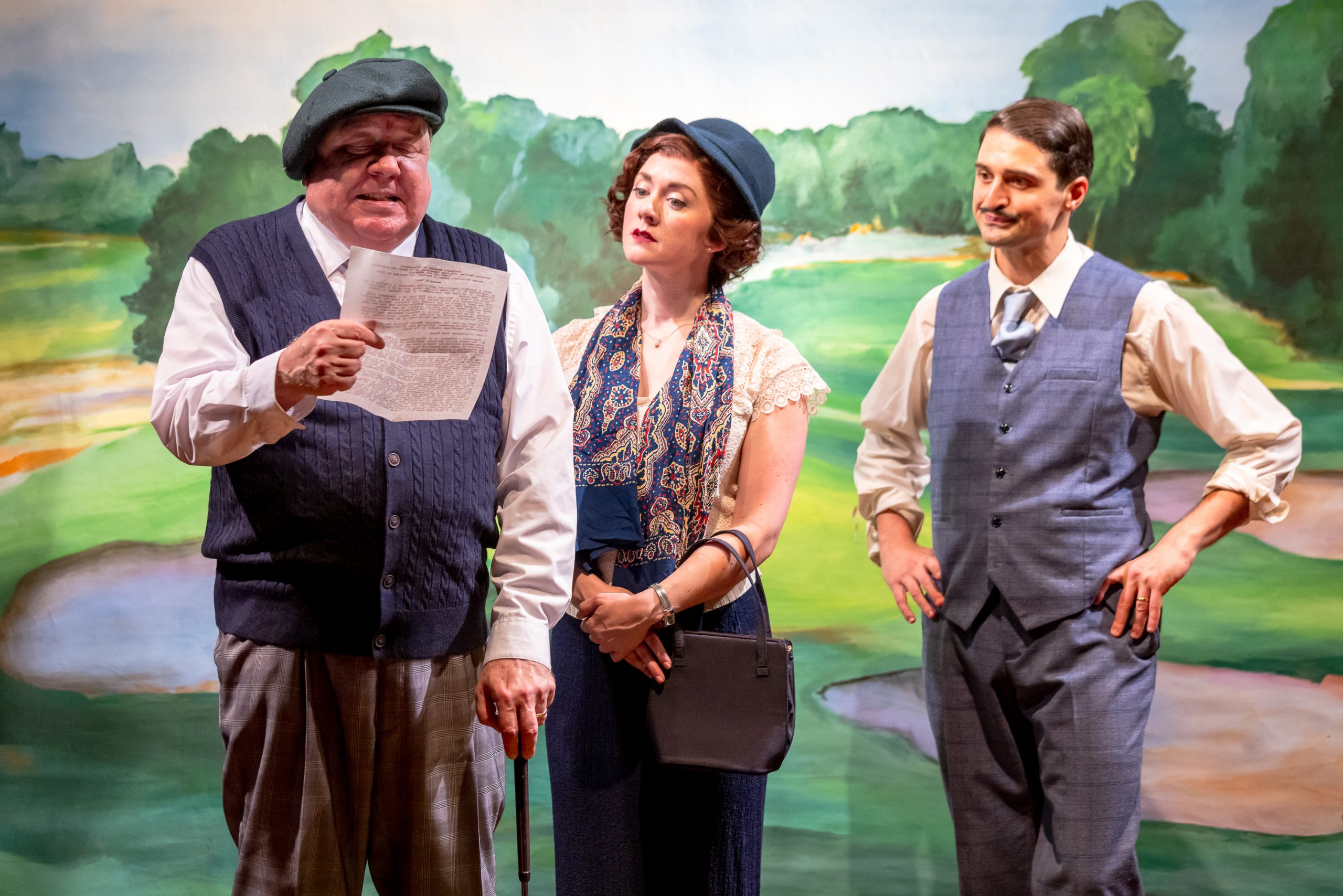 By the way, I loved Sally Dolembo's costumes which could have come straight out of the newsreels! 
Note: Guests must show proof of vaccination with photo ID before entering the theater.  Guests are required to wear masks while inside the building.
Campaigns, Inc. runs through September 18th at TimeLine Theatre, 615 W. Wellington Avenue, Chicago.  Parking apps are your best bet for parking in this busy neighborhood.  Running time is one hour, 40 minutes, no intermission. 
Performances are Wednesdays and Thursdays at 7:30 pm; Fridays at 8:00 pm; Saturdays at 4:00 and 8:00 pm; Sundays at 2:00 pm; except Sunday, August 21st will be at 4:00 pm. 
Accessible performances: Distanced Performances, Sunday, August 21st at 4:00 pm and Thursday, September 1st at 7:30 pm; Open-captioned Performances, Friday, September 9th at 8:00 and Saturday, September 10th at 4:00 pm; Audio-described Performances, Friday, September 16th at 8:00 pm.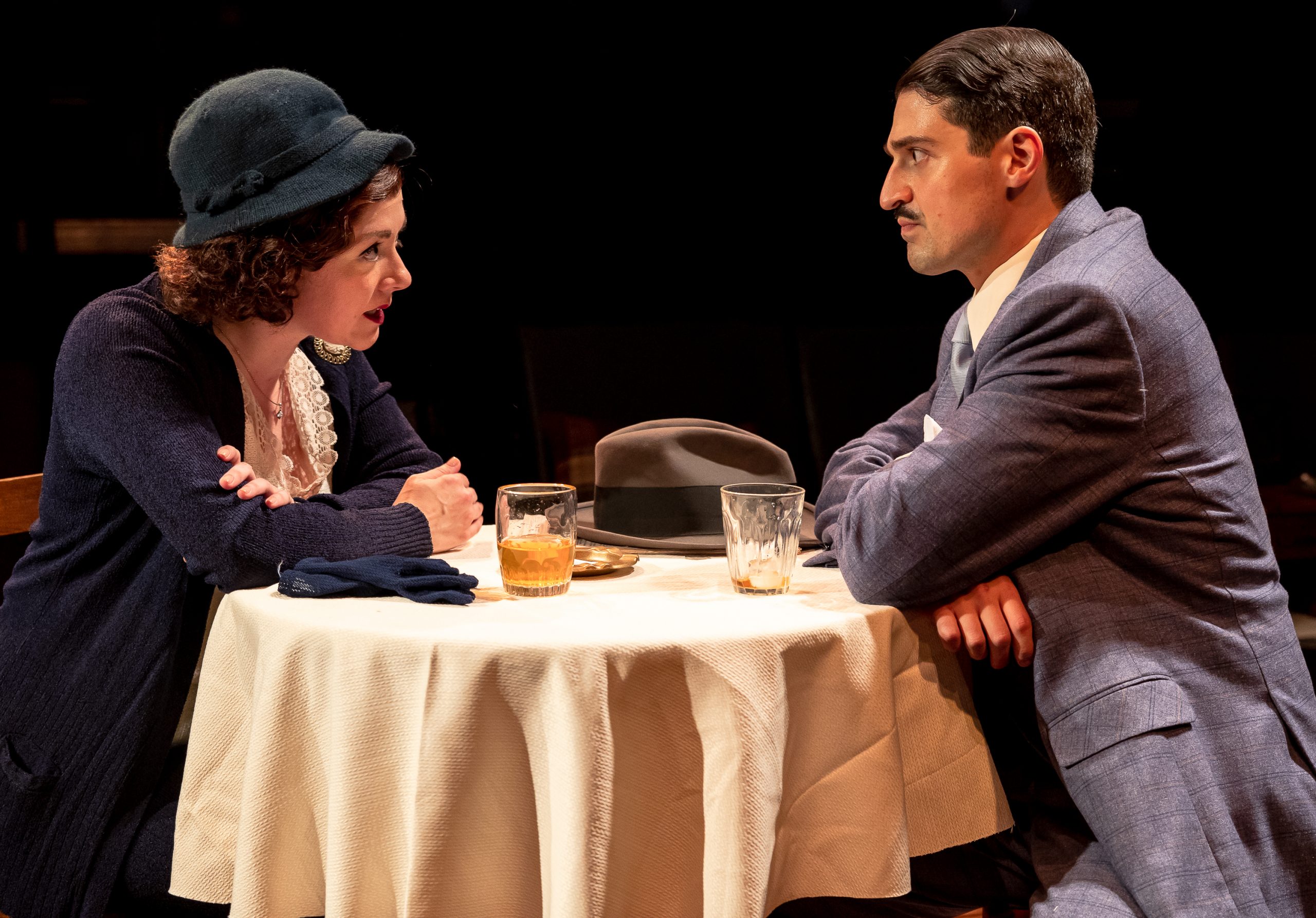 Tickets range from $42-$57.  As a member of TCG's Blue Star Theatre Program, TimeLine offers $25 tickets to U.S. military personnel, veterans, first responders and their spouses and family.  FYI (773) 281-8463 x6 or www.timelinetheatre.com.