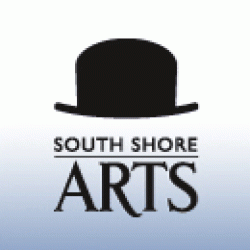 South Shore Arts presents the 78th Annual Salon Show, September 13–November 6, 2021. The exhibit will take place at the Center for Visual & Performing Arts, open Monday through Saturday from 10am-3pm, as well as online at SouthShoreArtsOnline.org. The submission deadline is Friday August 13 by 5pm.
SUBMISSION GUIDELINES
Eligibility
All fine art media are accepted, including painting, drawing, photography, sculpture, fiber, glass, mixed media, digital/video media, ceramics, and jewelry. All work must be original and completed within the past two years. Ineligible work includes assigned class work or work previously exhibited by South Shore Arts. All work must be suitable for display. Paintings can be framed or unframed. All work that will hang on the wall MUST BE FITTED WITH WIRE or D-RINGS. SAWTOOTH HANGING DEVICES ARE UNACCEPTABLE. Work must not weigh more than 150 pounds. Shipped work must conform to UPS regulations.
Entry Qualifications
Artists must be 18 years or older. He/She must reside or have been born int he state of Indiana; or be a member of South Shore Arts; or reside or work in Cook County, Illinois
How to Submit Your Work
Artists are to submit digital images online using the online application form OR by sending a USB in mail to 1040 Ridge Road, Munster IN 46321 Att: Briget Covert. Images must be saved at a resolution of 300dpi, with an image size no smaller than 4 inches in either direction (width & height) and saved as .jpg files. Name your image files with your last name, the first initial of your first name and the number of entry, 1, 2, 3.
Example: If your name is Barbara Smithson your filename would be smithsonb1.jpg (.jpg files only)
If you are submitting two-dimensional work, i.e., drawings, paintings, prints, you are allowed a maxi-mum of 3 images, one for each entry. IF YOU ARE SUBMITTING THREE-DIMENSIONAL WORK, i.e., reliefs, sculptures, ceramics, you may submit 9 images, one full-view and up to 2 details of each entry. (Please use a, b, c in addition to your file-name to indicate that these are full-view and detail images.) Please do not include artist information on image. Entries without required images will be rejected.
Entry Fee
$25 allows for two (2) entries, ADD $5 to submit a third entry. Please pay online or you may also make checks payable to South Shore Arts and indicate Salon Show Entry Fee on the memo line of the check. Your online submission will still be accepted with out an online payment and will be noted upon receiving a check in the mail. If sending via mail the fee must accompany the entry form, and this will constitute a complete entry and ONLY complete entries will be accepted. Complete entries MUST be submitted Online by 5:00 pm, Friday, August 10, 2021. This is NOT a postmarked by date. Entry fee is non-refundable. Complete entries should be emailed or submitted Online.
*Please make note USBs will not be returned.
ONLINE APPLICATION FORMS
Submissions are due Friday August 13 by 5pm.
Submission for two 2d pieces can be found here.
Submission for three 2d pieces can be found here.
Submission for two 3d pieces can be found here.
Submission for three 3d pieces can be found here.
Notification
Notification of accepted/declined artwork will take place following the jurying process. Notification will be sent via email no later than Monday, August 22, 2021.
Delivery of Accepted Work
Accepted artwork can be shipped or delivered in person on Friday, September 3 from 9am-3pm or Saturday, September 4 from 10am-1:00pm.
If shipping your artwork, please clearly address it as follows:
South Shore Arts, ATTN: Bridget Covert, Salon Show, 1040 Ridge Road, Munster, IN 46321. If you are shipping your work, please include a pre-paid shipping label for the return of your work at the conclusion of the exhibition.
Sales
South Shore Arts receives 35% of sale proceeds. Indiana sales tax is applicable. Work in the show will be listed for sale unless otherwise instructed. All sold work must remain on view for the duration of the exhibition. A payment check to the artist will be issued within 30 days of the exhibit's close.
South Shore Arts reserves the right to rejury or reject any work not meeting the requirements, mis-represented in the images or work that is too fragile for exhibition. By submitting your work, paying the entry fee and providing your signature, the artist asserts that he/she has read and complied with the rules of eligibility.
The Juror
This year's Juror, Tom Torluemke (born, Chicago, Illinois) is an Indiana-based, contemporary American artist. His practice spans 40 plus years and includes painting, drawing, sculpture, and installations in various mediums. He is known for his powerful; no holds barred approach to subject matter relating to socio-political, ethical, and humanistic themes.
Solo and group exhibition highlights include: "Fearsome Fable – Tolerable Truth" at the Hyde Park Art Center, Chicago; "After Glow" at The Chicago Cultural Center; "The Inland See: Contemporary Art Around Lake Michigan," curated by James Yood; "Critic's Choice" at Jan Cicero Gallery in Chicago; "Present" at the Hyde Park Art Center in Chicago; "In the Company of Strangers" at the Brauer Museum of Art, Valparaiso, Indiana; "Bounce" at the South Bend Regional Museum of Art in South Bend, Indiana; "Peace in the Arts" Baíhai International Peace Conference in San Francisco; "The Alabama Watercolor Society Exhibition" at the Birmingham Museum of Art; and the "In Indiana" series at the Indianapolis Museum of Art.
He was a featured speaker at TEDx PurdueU at Purdue University, a winner of the Great Ideas Competition of the Arts Council of Indianapolis for his project "Light The Way," and a recipient of the Efroymson Contemporary Arts Fellowship (Central Indiana Community Foundation).
With over 30 public art commissions throughout the Midwest, they serve as a testament to the relevance and scope of his ideas and his ability to present them in a meaningful context within their communities.